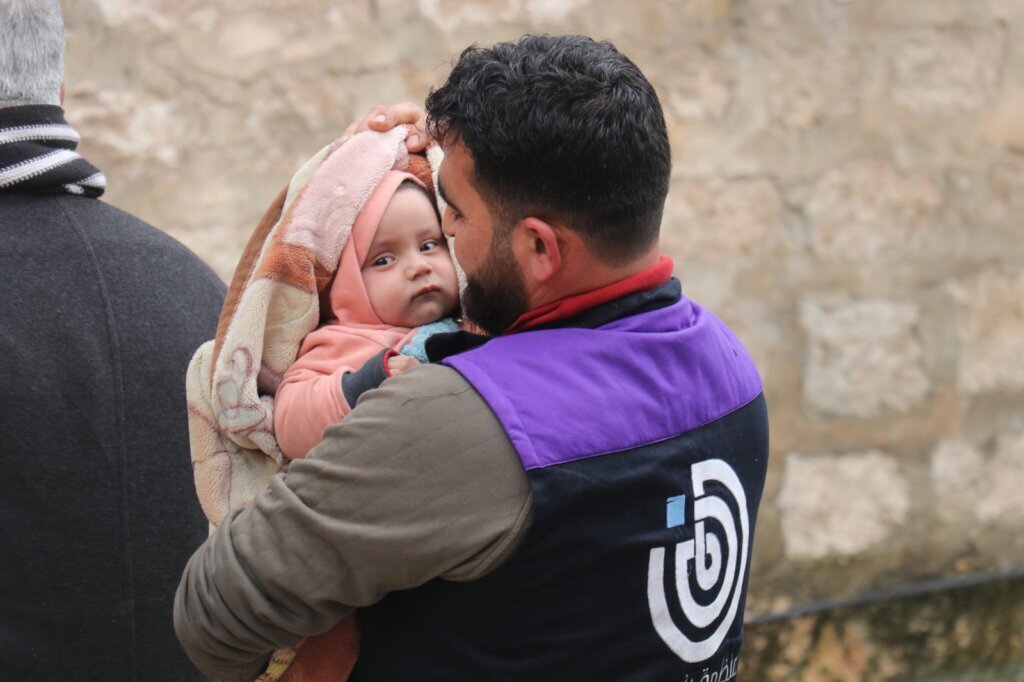 Thank you for your generous donation to the Turkey and Syria Earthquake Relief Fund. It's been nearly two weeks since devastating earthquakes struck Turkey and Syria, and your donation is already making a difference, supporting emergency responders and providing food, clean water, medicine, and shelter for earthquake survivors.
Tragically, more than 40,000 people have been killed in Turkey (officially known as Türkiye) and Syria, making the earthquakes one of the deadliest in recent decades. Millions of people across both countries have been affected, and survivors' needs remain urgent.
In Turkey, the destruction of critical infrastructure, like hospitals, in earthquake-affected areas has left tens of thousands of survivors displaced. In Syria, the impacts of the earthquakes have worsened the plight of millions of people in northern parts of the country amid 12 years of war. The impacts of the earthquakes will differ based on the situation in each country. But there are many tragic and overlapping effects, like the deaths of parents and other family members that leave injured children unaccompanied and in need of protection.
In response to this crisis, GlobalGiving is making 12 emergency grants today to our vetted nonprofit partners at the forefront of earthquake relief. This is our second round of emergency grants to support community-led disaster relief and long-term recovery, with more support to come as needs grow and evolve. Here is a snapshot of some of the work your donation is already supporting:
The Jafra Foundation for Relief and Youth Development is a registered organization in Lebanon that has been a crucial source of support for Palestinian refugees in Syria for more than two decades. The earthquake's impacts in Syria have left hundreds of thousands of refugees and internally displaced people homeless and injured. They have minimal access to life-saving aid due to a variety of factors, including strict sanctions and the United Nations' response, which has been criticized as slow and inadequate. In the face of these extremely difficult circumstances, the Jafra Foundation's team is quickly getting essential resources like mattresses and tents to survivors in three Palestinian refugee camps and providing other avenues of support like mental health services to children that have survived the earthquakes.


LÖSEV (Foundation for Children with Leukemia), an organization with a dedicated track record of serving cancer patients across Turkey for more than 20 years, is working quickly to meet the needs of the more than 7,000 registered cancer patients in its network in earthquake-affected areas in the country's south. From the first hours after the earthquakes hit, the organization was in direct contact with its patients to provide cash assistance, emergency shelter, and access to emergency health services. The organization also evacuated its patients from the devastated areas to safe zones with improved access to critical health facilities.
Cagdas Yasami Destekleme Dernegi (Association in Support of Contemporary Living)

is a Turkish organization founded in 1989 focused on education. The organization has identified at least 3,600 of its students in earthquake-affected areas that are in need of emergency support. According to their estimates, more than 70% of the students have been displaced from their homes. The organization is providing emergency cash assistance to the students and their families so they are able to purchase warm clothes, communication supplies, and find transportation out of affected areas.
Survivors across southern Turkey and northern Syria need urgent support. Thanks to your generosity, we are committed to providing that support now and in the years ahead through our vetted partner network. We will share updates with you via email again soon as our partners continue to advance community-led disaster relief and recovery. You can find a list of GlobalGiving nonprofit partners that have received grants this week from the Turkey and Syria Earthquake Relief Fund at the end of this report.
Thank you again for your support. It will continue to make a difference for the people of Turkey and Syria in the critical days, weeks, and months to come.
With immense gratitude,
Chase + the GlobalGiving Team
Nonprofit Partners Receiving Emergency Grants
Alawite Islamic Charity Association
Association for Solidarity with Asylum Seekers and Migrants (ASAM)
Bunyan Genclik ve Kalknma Dernegi
Cagdas Yasami Destekleme Dernegi (Association in Support of Contemporary Living)
Educational Volunteers Foundation of Turkey (TEGV)
Jafra Foundation for Relief and Youth Development
Kadin Emegini Degerlendirme Vakfi
LOSEV Foundation for Children with Leukemia
SEMA Insani ve Tibbi Yardim Dernegi