By Simran Rawat, Tasnim Elboute, Susannah McCandless | for the Project Team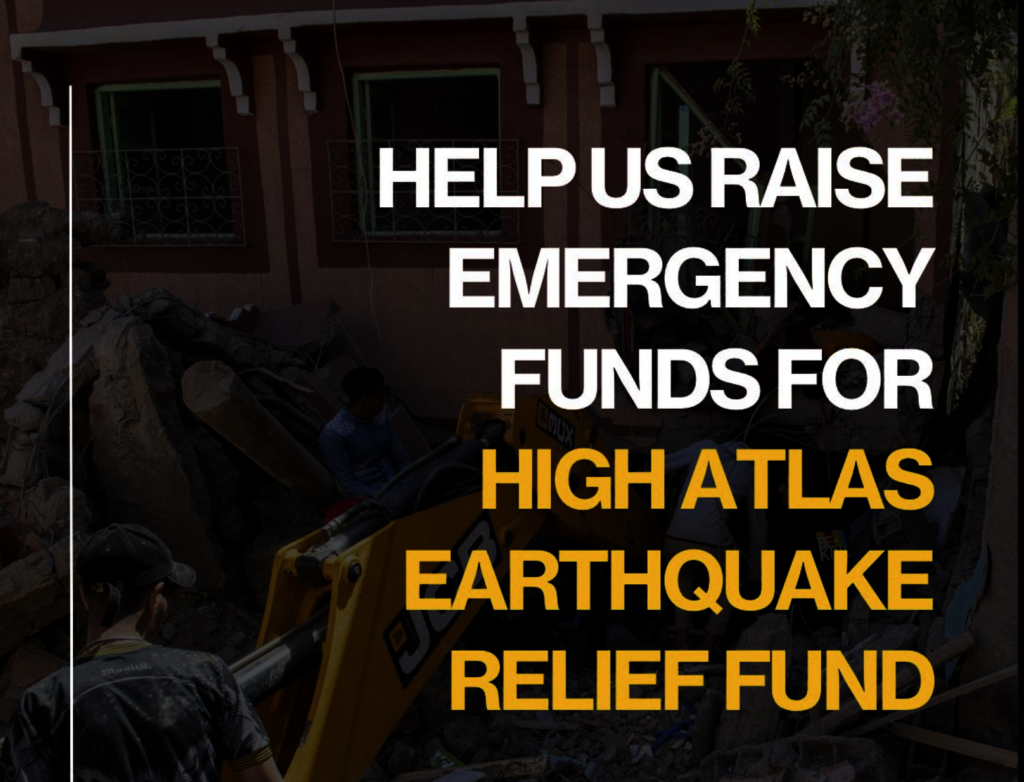 Thanks to your generosity and that of hundreds of incredible donors, we have raised 98,500 GBP in 72 hours across our 2 crowdfunding campaigns, here on GlobalGiving and on PayPal. We have also received generous donations for our relief efforts from Choose Love Foundation and the Hans Wildorf Foundation.
What we did today:
Today our GDF and MBLA (Moroccan Biodiversity and Livelihoods) team made its way towards the epicentre in Ighil, where roads were opened for the first time. We followed the bulldozers and were amongst the first medical aid to reach the area. We continue to coordinate transport (see image): we are organising medical caravans that bring volunteer doctors and nurses as well as medical supplies to areas of greatest need. Our visit today covered villages Aguerd, Ighrem and Warti. We also tried to reach the village of Agrd, but roads were still blocked.
What we learned:
In the epicentre, communities have already evacuated homes, so we provided them with covers and blankets (see image). We have also provided water storage units. There continued to be aftershocks in the area today and we noted with sadness that most homes have been rendered uninhabitable in Ait Lkak, where one of our organization's plant nurseries is located (see image of another nursery, below).
Most communities in Imegdal have now received initial deliveries of food, water and first aid. On day 1 of our delivery efforts, we covered 9 villages, and on day 2 we covered 15.
What we will do next:
We are now urgently trying to provide tents, mattresses and thermal clothing to communities, to prepare for bad weather due to start Thursday, 14 September.
To do so, we've established partnerships with DHL's Humanitarian Assistance branch to ship supplies from different parts of the world. We are currently mobilising networks and sponsors to donate supplies that are scarce in Morocco. Can you help? Email Tasnim,
New and continuing collaborations
We are also now collaborating with the animal charity SPANA for a combined approach to help animal-dependent communities, and with VItal Voices, founded by former US Secretary of State Hillary Clinton.
Today we gave updates to the UK Foreign, Commonwealth & Development Office (FCDO) to provide them on-ground expertise in advance of their upcoming visit to the High Atlas. We also continued to support news coverage with live inputs from the field.
Friends, a deep bow of gratitude for making our work possible--
Abderrazak, Emily, Fatiha, Fayçal, Gary, Hafida, Hakima, Lorén, Lorenza, Nessie, Nihad, Simran, Susannah, Tasnim, Ugo, and Youssef for the Global Diversity Foundation team
Abdellah, Ahmed, Fadma, Ferdaousse, Hamou, Hamid, Hassan, Ibtissam, Meryem, Mohamed, Omar, Rachid, the other Rachid, Soufiane, Touda, and the other Youssef for the Moroccan Biodiversity and Livelihoods team
Additional Images:
-Some of the blankets and covers we delivered Tuesday (Source: MBLA INstagram, @mbla.morocco, 12 Sep 2023 video still)
-Team member & community researcher Hamid, who is from Imegdal, thanking donors for aid delivered. (Source: MBLA Instagram, @mbla.morocco, 12 Sep 2023 video still)
-A joint GDF/MBLA High Atlas plant nursery at Ouikmaden, pre-quake (Source: MBLA Instagram, @mbla.morocco, 31 Jan 2023 video still)
-Messaging encouraging coordination of aid delivery (Source: GSF INstagran, @global_diversity 10 Sep 2023)