Project Report

| Apr 25, 2023
On Soils, Ocean, & Climate Change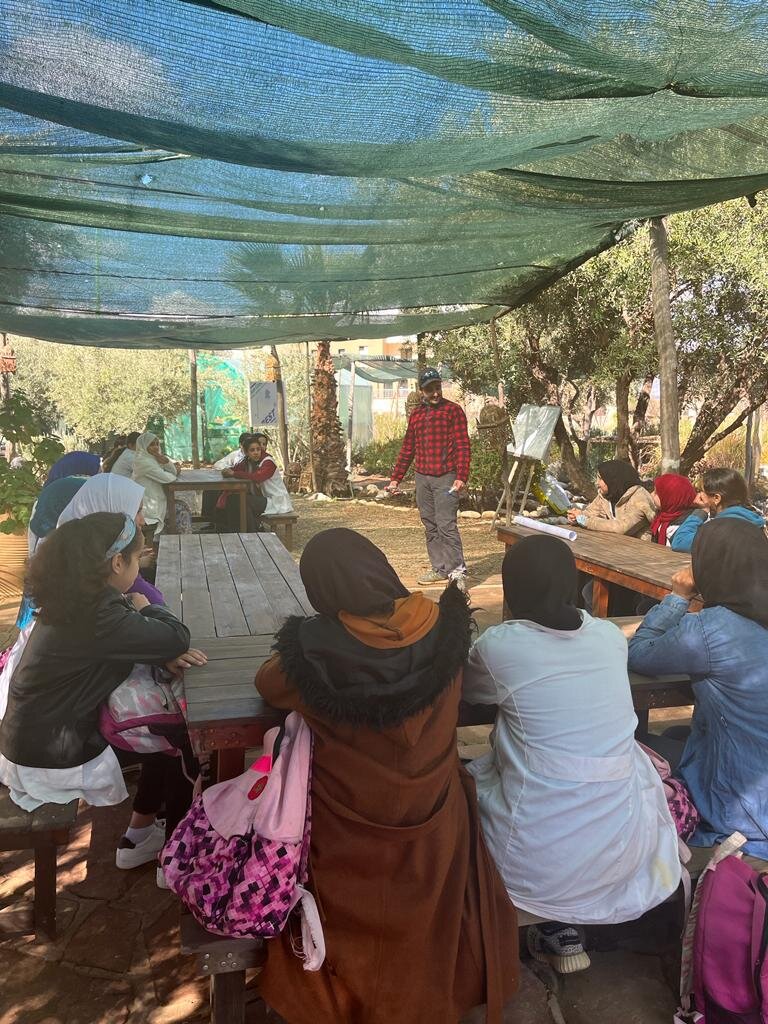 The beginning of 2023 has been a very busy time period for our Dar Taliba (boarding school) girls in the Ourika Valley. Due to school exams, various school vacations, and the holy month of Ramadan, it's been a busy season for the girls. However, we were able to get down to Dar Taliba at the beginning of March to host a workshop with the girls, despite all the scheduling madness.
On March 3, 2023, Dr Omar Saadani Hassani, our agroecology coordinator, did a workshop with 20 girls from the Dar Taliba entitled Life in Our Soils, where he talked about the stages of soil formation, ocean formation and climate change. Our team is always excited to create safe spaces like these for the Dar Taliba girls because they allow the girls to explore who they are and their creativity, while also giving them the opportunity to learn about the environment and what they can do to protect it.
The first activity of the workshop was a drawing activity, where Ourika's most talented girls, at least in our opinion, drew countless drawings that portrayed the plant life cycle. Each drawing was unique and gave us an interesting window into the curious minds of these young ladies.
During the workshop, Dr Omar taught the girls about the crucial role that soil plays in our ecosystem and the different stages of soil formation. As always, Dr Omar explained these topics, which can be a little dry, in a fun and lighthearted manner that kept the girls focused and engaged throughout the entire workshop.
Initially, Dr Omar was only going to focus on the topic of soil. However, after seeing the excitement and enthusiasm of the Dar Taliba girls grow during the workshop, he decided to also talk about the ocean, the stages of its formation on the Earth and the water cycle.
Dr Omar concluded the workshop with a discussion about climate change and the negative impact that it's having on our environment, food security and economies. This topic created a lively debate among the Dar Taliba girls and gave them an opportunity to think about the global climate crisis and express their opinions on it.
The end of the 2022-2023 academic year in Morocco is fast approaching. However, before it ends, we hope to deliver more educational workshops to the girls at the Dar Taliba in Ourika Valley on various topics including the benefits and uses of different medicinal and aromatic plants, biodiversity, sustainable eating practices for a healthier planet, and seed and plant care for independent growers.
As always, we would like to thank you, our GlobalGiving family, for your ongoing support of the environmental educational activities that we do for the girls at the Dar Taliba in Ourika Valley. We hope 2023 has been an amazing year for you so far and we look forward to sharing our next update with you this summer.