Project Report

| Sep 22, 2023
Reaching Ouarzazate province and reflections on mental health - Update 20/09/23- 11 pm Morocco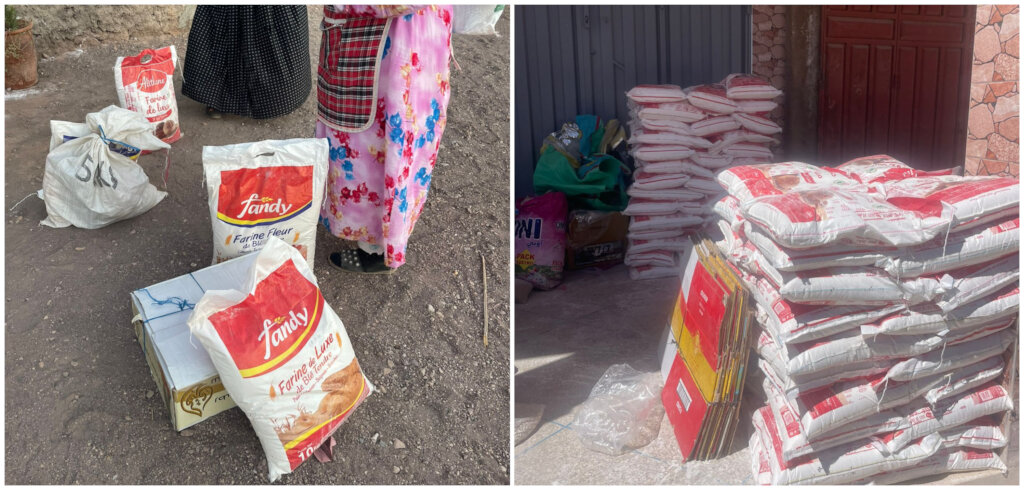 Thanks to the generosity of hundreds of incredible GlobalGiving donors, we have raised nearly 63,000 USD through this campaign. This support enables us to continue our daily efforts in supporting High Atlas communities as they recover from the devastating earthquake, which took place almost two weeks ago.
Today, our team reached Tazenakht in the Ouarzazate province, an earthquake-affected region and home to one of our Moroccan Biodiversity and Livelihoods Association team members, Soufiane. Our relief efforts began with distribution in the Amazer douar. Tomorrow and day after, we will be extending our assistance to two additional douars, Ait Aissa and Talate, which have experienced substantial material losses. Unfortunately, supplies had not reached these areas before our arrival. In total, we have provided 180 food baskets, 69 blankets, 67 mattresses and 5 solar lamps.
We were able to respond to an urgent request for food from one of our cooperatives in Lalla Takerkoust and mobilised and delivered food supplies for 30 families in a day. We also arranged a translator for the Aerial Recovery team to help them continue providing medical aid in Tineskt.
Additionally, we delivered 24 tonnes of animal feed from AKSAM to Imegdale. Due to high demand from the surrounding villages for fodder, we will be sending two more shipments of 16 tonnes each this week with the aim of halting locals from selling their remaining livestock. We are also planning to support communities in building shelter for their livestock so that they can continue the relationships they hold dear with these animals, which have been a vital part of relief efforts.
Next steps:
Access to toilets are crucial to keeping people healthy and maintaining good hygiene in the wake of the earthquake. We therefore collected plumbing materials to build toilets in response to a specific request from one of our cooperatives.These supplies will soon reach them, alongside winter clothes and shoes.
We have also started developing strategies and partnerships for mental health, with emphasis on gendered approaches and children's mental health.
Finally, GlobalGiving will match 50% of any one-off donation up to $50 until Saturday 23 September. Please consider donating or sharing our campaign with your network, we would be incredibly grateful.