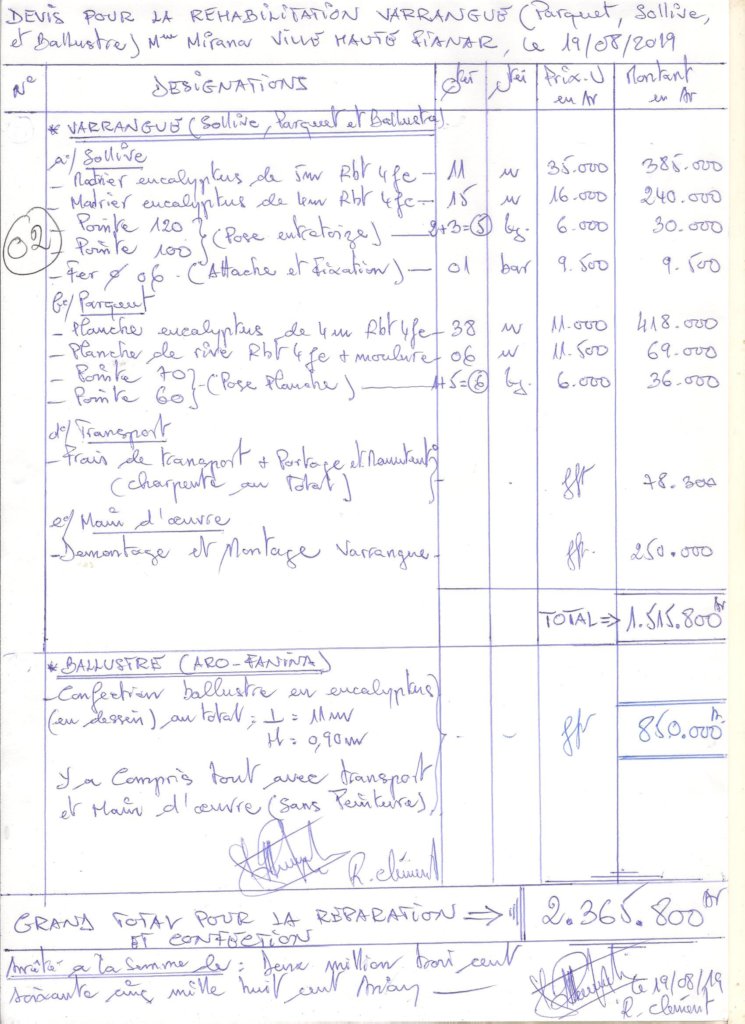 Dear Donor,
This month —thanks to you—we can celebrate wins, like "the renovation of a historic landmark to become Anay center". We would like to thank you very much for your donation. Your support not only helps ensure that we can continue to positively influence ignored labor pools of young adults to serve Madagascar hospitality and tourism industry, but also signifies the preservation of the architectural ensemble of the Old Town Fianarantsoa.
There are thousands of inspiring projects here on GlobalGiving, so we're grateful you chose to support our work. Thank you for being a part of our team of supporters that are making our project a reality. We have been working hard to finish the renovation of this historical landmark to host our activities. Your contribution is precious to us. As transparency matters to us, so please see hereafter a summary of where your money goes:
Amount raised from 40 donors during July Accelerator 2019
August. 22. Total Disbursement USD #253942: $252,44
July 24. Total Disbursement USD #249903: $1,843,12
Total Disbursement MGA: Ar6,286,680
Transfer funds
Purchase of materials for windows and doors wood treatment
Date: July 27, 2019
Amount: MGA 405.000,00
Ref. 28AW00000466
Transfer funds
Purchase of materials for ceiling treatment
Date: August 08, 2019
Amount: MGA 417.000,00
Ref. 28AW00000510
Transfer funds
Purchase of materials for wood floor treatment
Date: August 12, 2019
Amount: MGA 405.000,00
Ref. 20OW00009075
Transfer funds
Purchase of paints, stains, solvents for balcony
Date: August 24, 2019
Amount: MGA 331.000,00
Ref. 28AW00000549
Transfer funds
Carpentry work and workforce payment for balcony
Date: August 24, 2019
Amount: MGA 2,215.800,00
Ref. 28AW00000548
We are thrilled to keep you posted and send you updates about our upcoming accomplishments through GlobalGiving to tell you about the impact you've made. We look forward to delivering you more news including the final version of the balcony once ready soon. Stay tuned!
Until then, please see here after a short summary of our upcoming actions:
$1019.07 will help finish all rooms for 3 floors: cements, stones, sand, prep materials, symbolic fees for our local champions, wall treatments. The beginning of a dream come true after an endless road trip
$342.85 will help us getting all plumbing accessories: pipes, toolkits, valves, drains, faucets, cocks to help our residents stay clean
$342.85 will finish the fence: workforce, purchase of bricks, cements, sands, stones, etc. and this will keep our residents feel secure
$314.27 will pay two transportation of items: cements, bricks. The Old Town is not reachable by car
$312.27 will pay for local equipment and items in the kitchen to feed our volunteers
$217.00 will provide employment for 1 local graduate for 2 months as program animator
$142.85 will help maintain the learning space to feed the mind for a year
We hope you enjoy learning about our work and continue to stay engaged with us. We couldn't be more grateful for what we've achieved, together. We can't thank you enough for the generosity that you share with us. To all volunteers, donors, partners, local champions, we wish you and yours a blessed month. Misaotra Tompoko! Merci Beaucoup!
With gratitude,
Halt Poverty Team