Project Report

| Jul 31, 2023
Periods is a pain, but menstrual hygiene is a gain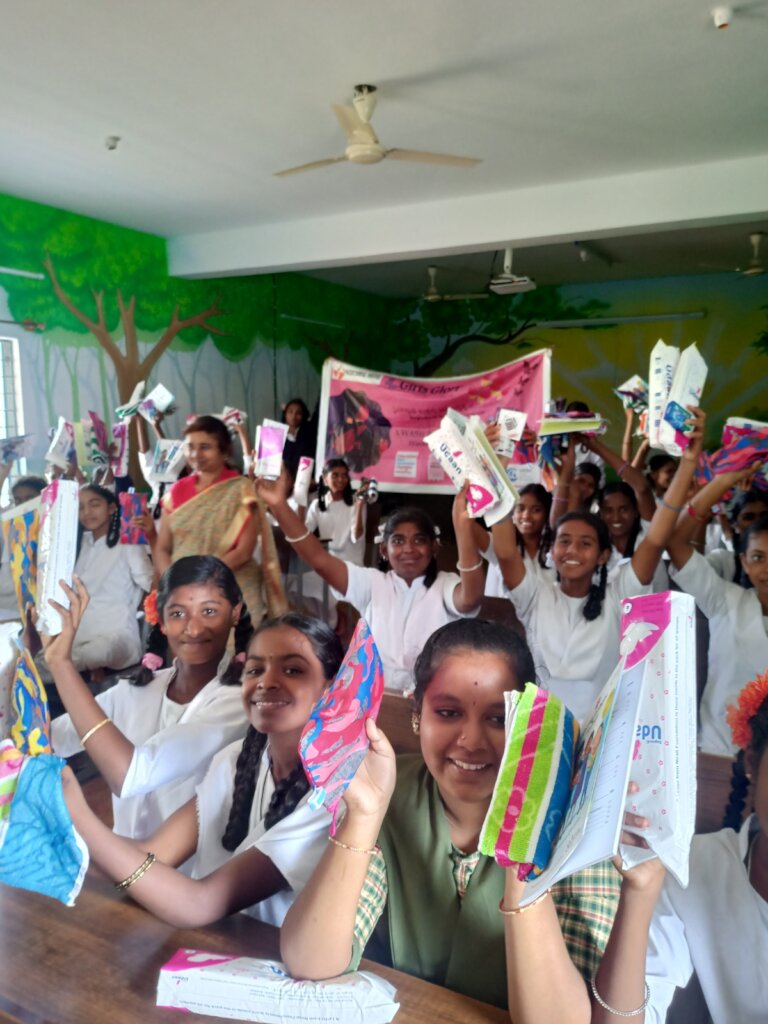 After their summer break, students at government schools have returned to class. We are more than eager to begin our work as change agents at this time of year. We are very appreciative of donors like you who give us the confidence to encourage girls to continue their education, which in turn lowers absenteeism in schools.
During this quarter, we collaborated with 4 government schools in urban and rural areas of Bangalore. Through the Girls Glory Project, workshops on WaSH & MHM for girls were held. The WaSH awareness program was presented to 653 pupils this time. The significance of maintaining toilet cleanliness and keeping oneself clean was stressed to beneficiaries.
Important lessons for pupils...
The need of maintaining personal hygiene, taking regular showers, and the fact that brushing one's teeth is just as crucial as dressing in clean clothes was taught to all students. "Be a Boss, always brush & floss" was the rhyme we taught them to rhythm. Additionally, we instructed them on how to maintain proper hydration, by consuming a good amount of water in order to remove any toxins from their bodies. The students were thrilled to discover all of this in an enjoyable way.
All of the children were given a brief introduction to the basic handwashing practices. Wash, Wash, Wash—especially after using the restroom and before eating. The proper way to sneeze and cough was also discussed with the students.
The need of eating a balanced diet full of fresh produce, whole grains, and lean meats to energize the body and strengthen the immune system was stressed to the children. We talked about getting enough sleep and cutting back on screen time because our bodies need time to recover and regenerate.
As the saying goes, "Cleanliness is next to godliness," thus keeping surfaces that are touched frequently clean and germ-free can also be a healthy habit to develop.
A step toward advancement...
Four schools had menstrual hygiene awareness programs. Nearly 653 girls were able to receive our message. The significance of period hygiene, proper disposal of sanitary napkins, and the misconceptions and taboos surrounding menstruation were explained to the students. The workshop is conducted in a simple to understand manner for an adolescent age group because of the way Reaching Hand has developed it.
Before we began discussing a sensitive and uncommon issue, we conducted an icebreaker to help these young girls feel at ease. Then we instructed them on how to use a sanitary pad and discussed puberty, premenstrual symptoms, misconceptions and taboos, hormones, the menstrual cycle, Etc.,
All pupils receive a period hygiene kit and a comic book about menstrual hygiene. We have noticed that this book is empowering all the girls to be confident and get over the timidity that comes with being a girl in their neighborhood.
The workshop was finished with a lesson on understanding one's body.
In the making…
In Bangalore's rural area, 19 new toilet units are being built. They will be accessible to 1269 beneficiaries in all.
Future Plans
To make it easier for pupils to attend school without difficulty, we intend to construct many more restrooms and educate many more children.
Once again, we want to express our gratitude to all our supporters without them are effort would not be possible. Their kindness has benefited us and impacted our project.