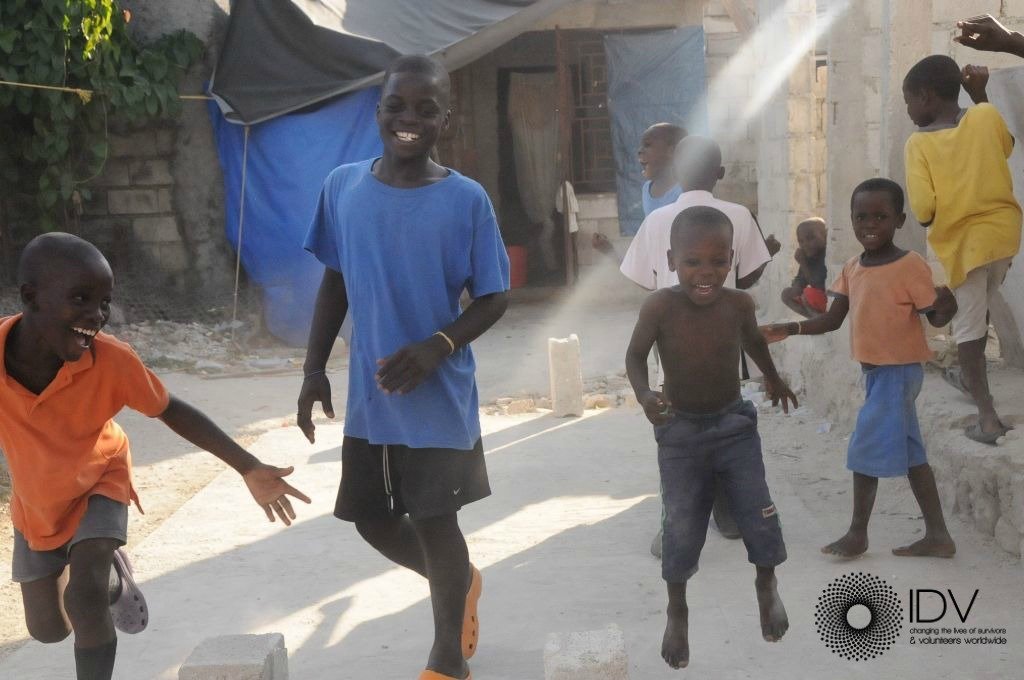 Thank you so much helping to provide a safe home for Haitian orphans.
Since September 2010 more than 2,200 of you have donated in excess of $158,000 to this project. This incredible outpouring of love and generosity has kept a roof over the heads of the children at the HTDC (SMDT in french) orphanage.
Your donations have also sent the kids to school, and provided them with nutritious food, healthcare and caregivers to deal with the mountains of cooking, cleaning and entertaining that comes with almost thirty children!
Your support has meant the world to us, and the kids, particularly when we think about how far we've come together.
We first met the children in the summer of 2010. Their house was destroyed by the devastating earthquake earlier that year. As a result, they were living in one small room and a tent, which flooded almost daily. They were constantly short of food, the kids were often sick, and the staff had no means to send the children to school.
Survival was a daily battle for the orphanage and all the children in its care. But then you came along, and transformed their lives with your kindness and generosity.
Today, the orphanage has a network of partners, but your donations still provide over 70% of the funding required to meet the kids basic needs on a monthly basis. You've also continued to pay the orphanage's rent every year.
But, while we're incredibly grateful for your gifts, we've always also been conscious of the children's dependence on external support.
So, for the last few years we've also been raising funds to buy the orphanage a bus. And, thanks to the amazing support of donors like you, we now have enough funds and the bus purchase will happen in the next few weeks.
As well as being used to give the kids days out, the bus will be rented out during the school day to generate a vital income for the orphanage. At the moment this income is projected to be around $750 a month.
However, even with this new income secured, the orphanage will still need another $1,000 (around £800) each month to meet the kids needs. What's more the orphanage's rent is now due and they desperately need help to make this vital payment.
The landlord originally asked for $16,000 in advance for the next two years, but in the wake of Hurricane Matthew he's kindly agreed to accept $7,000 for 2017. This is a much easier target, but sadly one we're still short of at the moment.
There's also other worries ahead for the orphanage as well.
IDV itself is a small charity, and for the last six years we've done absolutely everything we can to keep our overheads as low as possible. But despite this we've been struggling this year to "keep the lights on". Unless something changes soon we're sadly facing closure in March of next year.
If this happens then we'll be unable to keep supporting the children at the orphanage. This is obviously a worrying situation, and one we're working hard to address.
We're talking with the orphanage's other supporters, and looking at ways they can help more to fill the gaps. One of these partners, a French organisation called Cassiopee Pour l'Orphenalit SMDT, is already helping with the bus purchase, so there are positive signs.
However, we're still concerned that the other partners won't be able to fully step in immediately. In fact, it may take many months for the transition to completely happen.
So, between November 29 and the end of the year we're aiming to raise $19,000 (around £15,250) to meet the children's needs through 2017.
These funds will first be used to pay the orphanage's rent for the year in advance. Our plan is to then transfer the remaining balance to the orphanage, who will use it to meet the kids other basic needs for the rest of the year.
We know this is an ambitious target, and that you've already given so much. But if you're able to dig deep for one final push then you can ensure that the orphanage, and its other partners, have the time they need to adjust.
Our campaign will officially launch on November 29 and, thanks to GlobalGiving, this is a great day to give our appeal a flying start. That's because on November 29 your donations will* be matched by 50%. So, if you can, please help us provide a safe home for these beautiful children in 2017.
As always, if you ever have any questions, please don't hesitate to email Andy@IDVolunteers.org. I would be delighted to hear from you.
*Donations will be matched while funds remain. Note that there will be separate match funding pots on both GlobalGiving.org and GlobalGiving.co.uk. Full T&C's will also be available on the day itself.
For more updates about our work please like us on Facebook or follow IDVExec on Twitter. You can also email Andy is you would like to be added to our direct mailing list.