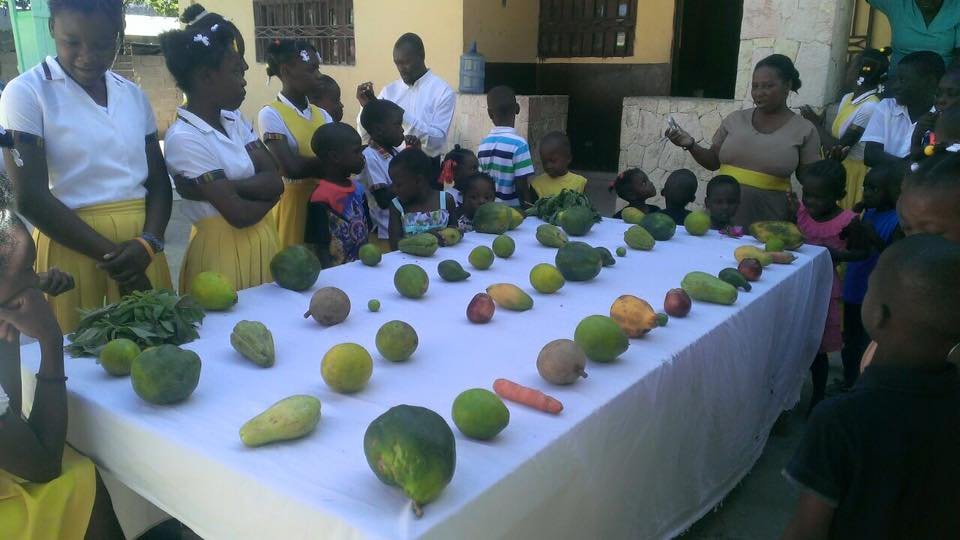 Thanks to your fantastic generosity we're continuing to provide a safe home for the beautiful kids at the HTDC orphanage in Haiti.
And, as well as keeping a roof over the kids' heads, your support is also allowing us to provide food, school and healthcare too. This is amazing in itself, but it also means the orphanage staff have been able to spend time organising some fun, educational activities to keep the kids entertained and engaged with their amazing home country.
For example, one of the challenges Haiti faces is poor agricultural productivity. It's estimated that locally grown products only meet 45% of the population's food needs. As a result food is often imported and is very expensive, particularly in such a poor country.
This is a complex problem to solve and to highlight the issues May 1 is both Agriculture and Labor day in Haiti.
Carlo, the orphanage director, wanted the kids to start understanding this important issue and so he organised a special event at the orphanage. Here's what he had to say about the day:
"We organized this event for agriculture day with different type of local fruit and food to teach how it is important to protect our environment, why they should plant trees and explain to them how deforestation can cause erosion.
All schools and community start to get involve to this event because every day this problem causing too much other problem, we know we need to start letting the kids know about that.
[One of the kids] Nathanaelle think the agriculture event was very important and productive, and they had to eat dinner with only local food, not like their regular meals.
She think all the kids should get to know more about environment, deforestation and all the problems the world might be facing in future. She understand now why we should all [be] involve and contribute for a better Haiti and the world".
But it doesn't stop there. Later in the month, on May 18, the kids also celebrated Haitian Flag day, which is one of the most important days in Haiti due to the country's history.
Carlo again explained more about this:
"After ten years of fighting, the battles of the revolution came to an end in 1803 and the declaration of independence took place on January 1st 1804, where Haiti declared itself free.
On this day Haiti become a nation, and we abolished slavery. Five months later, its first flag as a nation was ready on May 18 1804. The colors of that flag was blue and red and this flag of pride and freedom is celebrated every year on May 18.
[Another of the kids] Nefky said the Flag day event was fun, they play that day and the teachers teach them more about Haiti History and how we have this flag from all the slavery fight. He think he know more about Haitian history now and is proud".
We think it's great that the kids are thinking so much about both their history and future while having fun at the same time. This is all only possible because of you - thank you so much!
We know you've already given so much but more funds are always needed to keep the kids safe and learning too. So, if you can, please consider making another donation today.
As always, if you ever have any questions, please don't hesitate to email Andy@IDVolunteers.org. I would be delighted to hear from you.
For more updates about our work please like us on Facebook or follow IDVExec on Twitter. You can also email Andy is you would like to be added to our direct mailing list.