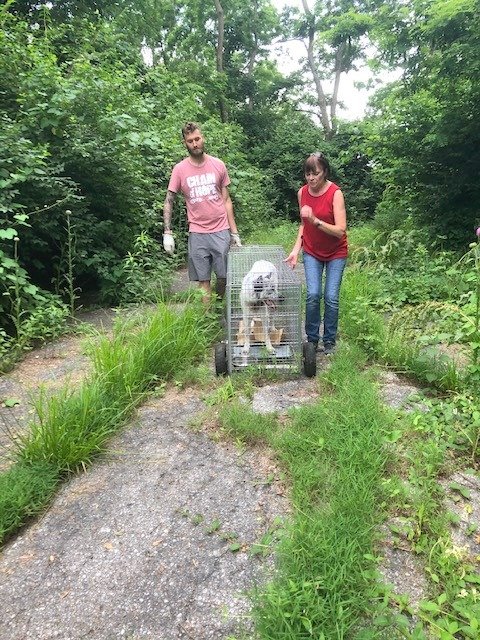 Chain of Hope was called several months ago about a stray dog that was hanging out in the woods. He appeared to have an injured neck. The caller told us that there appeared to be dried blood around his neck and that even though no one could get very close to this dog, they could smell a horrible smell coming off of him from a distance away. She had been putting food and water out for him, but no one could get close to him. I told her that I would head over with a trap.
I saw this dog when I first got over there, but then he ran back into the woods. He was a large, black and white male and I could see a lot of dark-colored fur all around his neck. I showed the woman how to set the trap, and left a pack of hot dogs and some canned food. When we still didn't have this boy the next day, I took the trap and dragged it far back in the woods and set it. I got a call later that day that the dog was in the trap! Success! Now we could help him.
When we got this boy back to our facility and got him out of the trap, he was very sweet and happy to be rescued. He did stink very badly from his wound. There was a lot of pus coming out of his neck from an obvious infection.
We named this boy Charlie and this began a long journey of trying to get Charlie's neck to heal. He was sedated more than once and the wound flushed and cleaned with a drain put in it. His neck still didn't heal. The veterinarian finally x-rayed Charlie's neck and discovered that there was a broken needle in his neck! Charlie had somehow swallowed a needle, it had broken and it was lodged in his neck! That was what was causing this infection. Charlie went back into surgery to retrieve the broken needle, which was not an easy task.
Even after this, Charlie's neck did not heal. It got a little better, but something was still very wrong! Charlie went back to the vet. We remembered what the vet had told us when he had found the needle. He told us that the only thing that he was worried about was that he hadn't found a thread or string. Well, Charlie ended up going back into surgery. It was a difficult surgery trying to find a thin thread in all of the tissue in the neck. It was quite a surgery, but the vet found a fairly long piece of thread! That's why his neck would not heal completely, poor guy. He had had five surgeries, four drains and endured a lot of discomfort until we could figure it all out.
Charlie recovered in a foster home and did very well. He had also tested positive for heart worms and had to endure that treatment next. Heart worms are parasites that are passed to dogs from infected mosquitoes and the treatment can be hard on the dog. Poor Charlie went through that medical procedure as well.
Charlie's wonderful foster mom who had cared for him so well through much of his ordeal, decided to adopt Charlie! Charlie lives with her forever now and will have a great life! When we first trapped this boy, we never would've guessed that he'd swallowed a needle and thread. We never would've guessed that his care was going to cost us about $5,000, but we think Charlie is worth every penny! Thank you for your support so that we can help dogs like Charlie!