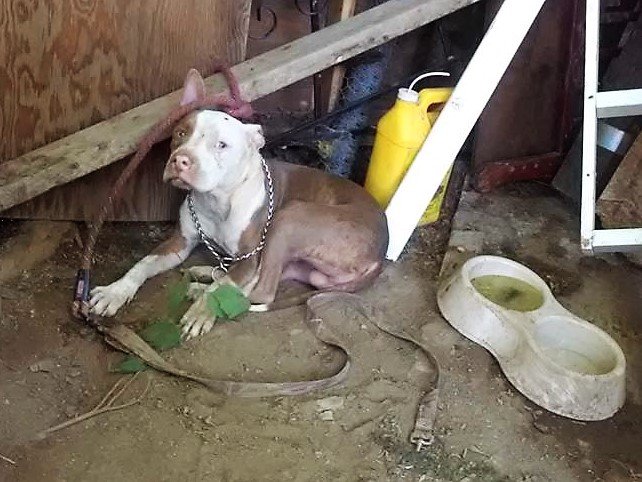 perseverance [pur-suh-veer-uh ns] noun. Steady persistence in a course of action, a purpose, a state, especially in spite of difficulties, obstacles, or discouragement…
We received a call from a man saying his dog was really sick. From what he described it sounded like it could be parvo.
OUR COURSE OF ACTION.....get there, there was no time to waste.
When we first saw Patton, he was laying in the dirt, tied up with a leash. He had flies all over him, he was dirty and he looked very ill. He had thrown up in his water bowl. His eyes were hollow.....he looked so sad, like he had given up. The man had gotten this dog from someone in the neighborhood. Said he was fine the first day, then stopped eating. He was now very ill. Having no resources to provide care for this dog, he relinquished Patton to Chain of Hope.
Our PURPOSE...end suffering. The STATE....dire. We rushed to the emergency vet.
We were right, he tested positive for parvo. Patton was treated, and we left with what seemed a small pharmacy. Full of meds to help him fight, we got him settled in at Chain of Hope in a soft clean bed, continued to give him fluids, made sure he had food and clean water, and let him rest. We felt hopeful that we could turn this around. He had something to fight for and we were fighting, praying, right along side him. Thinking he was about two years old, we hoped he was big enough and just strong enough to recover. We are usually treating parvo in small vulnerable puppies. A fighter he was, and for a brief time we felt he would pull through. He rallied enough to feel the love of caring devoted people around him, making sure that if it were his last moments, it would be the best he ever knew.
And it was.
We face DIFFICULTIES...OBSTACLES....DISCOURAGEMENT....every....single.....day. We PERSEVERE so that Patton did not leave this earth in the dirt, cold, suffering and alone. He left this earth in comfort, knowing love and compassion. We PERSEVERE because we know there are more out there....our PURPOSE...to end suffering.
Your support makes it possible and we thank you.