15 members of the HRMM medical team from Antioch, California have the hit streets of downtown Lima at the doorsteps of the birthplace of St. Martin Deporres. The team is comprised of doctors and nurses who will provie care to over one thousand patients at the VIDA project "Casa Hogar.".

The Team provies basic Internal Medicine and will be focusing on youth and the elderly, as Casa Hogar runs both youth and senior programs. The team will set up shop right in the street with tents to care in Lima's poorest neighborhoods. The VIDA team faciliated the transportation of over $250,000 in medicine and supplies to be used during the two week mission. In addition peruvian medical students have joined the mission to hone their skills and learn from physicians and nurses who work at some of the most presitgous medical schools in the United States. These students are working on a program to establish ongoing care after the medical team leaves.

This effort is the result of the hard work of VIDA Peru, HRMM, Peruvian Ministry of Health, San Francisco Consul General of Peru and VIDA USA.
Povert, natural disasters and political challenges have continue to plague the Ecuadorian healthcare system. VIDA is partnered with the Junta de Beneficencia de Guayaquil, a 115-year old charity based in Guayaquil that operates large hospitals as well as several clinics and nursing homes in this large port city. They provide free medical care to 500,000 patients a year who are among Ecuador's poorest citizens. VIDA provides them with medical supplies and equipment that they desperately need and helps to alleviate costs in serving the poor. Junta's vast network makes them particularly effective in responding to the regions impacted by the quake.
VIDA needs your help!
VIDA covers all costs of the shipment and we need to raise additional funds to send our next container. This container to Guayaquil will primarily carry medical equipment donated from local Bay Area hospitals. Hospital beds, gurneys, exam tables, wheelchairs, walkers, crutches and other ambulatory equipment will fill the container to the brim. On an ongoing basis we drive around the Bay for scheduled equipment donations -so that when an event happens - such as this earthquake - we are fully prepared to respond in Latin America.
Your support will go directly to covering the shipping costs and import fees!
Thank you for helping us to achieve our goals.
Regards,
The VIDA Team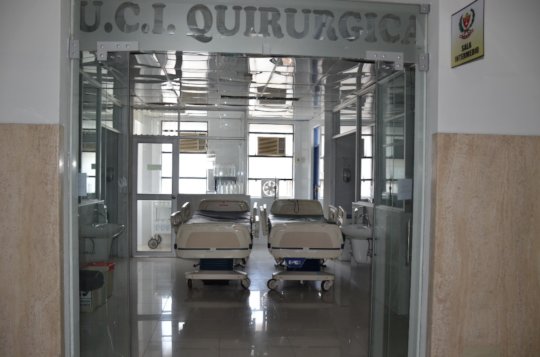 VIDA thanks GlobalGiving donors for your support! VIDA has just sent two containers carrying nearly $1million in aid in response to the 2017 tragic floods and ongoing healthcare needs in Peru. As reported in previous reports, 300 plus hospitals/clinics were destroyed and the infrastructure remain damaged - roads and bridges washed out and entire communities swept clean and millions still lack access to healthcare.
VIDA is working with our partners and the government to help rebuild the healthcare infrastructure. The government is donating warehouse space and dedicating transportation resources to transport the aid to the impacted communities and we are ramping up our efforts. Hospital beds, exam tables and ambulatory supplies is critical to get these hospitals back up and running.
To that end, VIDA's last two containers have focused on these items, carrying 62 beds, 24 gurneys and 26 exam tables and topped off with walkers, wheelchairs, and crutches as well as a sundry of medical supplies.
We are in the process of securing funding for the next containers and appreciate the support of the Global Giving community!
WARNING: Javascript is currently disabled or is not available in your browser. GlobalGiving makes extensive use of Javascript and will not function properly with Javascript disabled.
Please enable Javascript
and refresh this page.