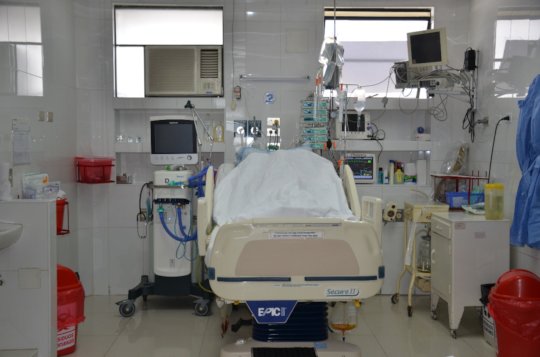 VIDA is excited to announce that Peru's Ministry of Health has entered into a partnership with VIDA to facilitate the customs clearance and in country distribution of medical equipment and medical supplies to the communities devestated by the floods. This partnership is reducing the international shipping costs by 40% and will eliminate all costs for shipping inside Peru. This means that your support will help more people than ever before. This develoment along with the increase in donations from hospitals accross California will enable VIDA to ship a record number of containers to Peru in 2018. As this report is being written, there are two containers on the water and one airlift of much needed medicines is set to happen on July 20th. Thank you for your continued generosity!
The struggles of Haiti remain. Now that Haiti has fallen almost completely out of the news cycle, the flow of donations, as many feared, has slowed to a trickle. The international aid community new that the challenges of Haiti would require decades of effort, as an already impoverished society and dysfunctional political system is not solved with short term solutions. VIDA continues to aid Haiti through the equipping of medical missions travelling to the country. They bring much needed care and compassion to people in need. We ask for your continued support. VIDA can equip a single medical team with up to $50,000 in aid with little shipping expense. A $500 donation completely outfits a team that will treat hundreds of patients who have been denied access to healthcare for decades. We thank you for your support and helping VIDA remain a viable reality in the lives of so many people in need.
15 members of the HRMM medical team from Antioch, California have the hit streets of downtown Lima at the doorsteps of the birthplace of St. Martin Deporres. The team is comprised of doctors and nurses who will provie care to over one thousand patients at the VIDA project "Casa Hogar.".

The Team provies basic Internal Medicine and will be focusing on youth and the elderly, as Casa Hogar runs both youth and senior programs. The team will set up shop right in the street with tents to care in Lima's poorest neighborhoods. The VIDA team faciliated the transportation of over $250,000 in medicine and supplies to be used during the two week mission. In addition peruvian medical students have joined the mission to hone their skills and learn from physicians and nurses who work at some of the most presitgous medical schools in the United States. These students are working on a program to establish ongoing care after the medical team leaves.

This effort is the result of the hard work of VIDA Peru, HRMM, Peruvian Ministry of Health, San Francisco Consul General of Peru and VIDA USA.
WARNING: Javascript is currently disabled or is not available in your browser. GlobalGiving makes extensive use of Javascript and will not function properly with Javascript disabled.
Please enable Javascript
and refresh this page.