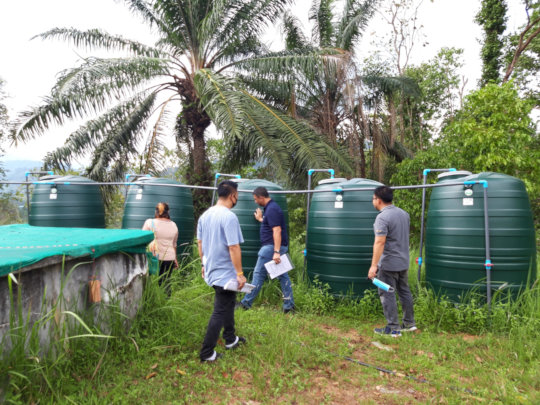 While it hasn't been that long since the last update, we wanted to share some exciting news that is a follow-up to our previous report.
As many know Thailand has been in the middle of one of its most severe droughts in decades, but Mother Nature finally cooperated and two large rainfalls occurred on April 22 and 23, 2020 providing much needed relief for the crops and fruit tree saplings on the Thai Child Development Foundation (TCDF) farm.
As we write this update at the end of May, the rainy season is expected to start in June and traditionally lasts until approximately mid-October.
In addition, the Thai irrigation company who have stepped in to support the implementation stages of the water management system applied and were given special permission by the authorities to travel into the region to visit TCDF. The purpose of their visit was to walk through the project against the proposed system and in particular take a careful look at the tiered mountainside land and the uphill water pumping solution that has been developed to ensure feasibility. We wish to thank the local authorities for recognising the importance of this project and approving the travel request during the COVID restrictions.
At this time, we're incorporating the feedback from the team on the ground and once the COVID restrictions are lifted in the Pak Song region, the dates for the installation will be scheduled.
The special needs school that is supported by this project remains closed in accordance with the COVID-19 lockdown. However Thailand is slowly reopening, and we hope that the children will be able to return in the next couple of months. Once TCDF's school reopens, we will send a short follow-up with that news.
We'd like to thank again those that have given to this special project. Your donation not only supports an group of incredible children but moves TCDF along its' path to be self-sustaining in the next five years.
Our very best wishes to all to remain safe and healthy.