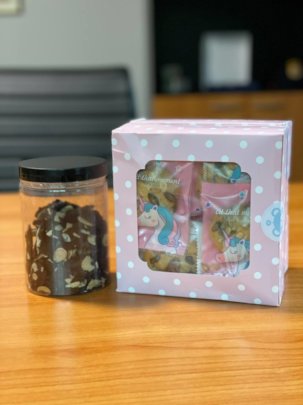 B (not her real name) was trafficked since she was only 10 years old. She was sexually abused from a very young age. At the age of 13 she ran away and asked for help from our team. We worked with the government contact and trusted police partner. Within 24 hours, our team was able to get her protected under the government witness protection program. She had to travel far away from home to be protected, and our team was able to help her settle and provide all the necessities that she needed to start her new life in a safe place.
In July 2021, we were able to help her to connect with services and get school supplies including a new uniform, as she has to move to a new school in a new location. She still continues to study online since the country is under the COVID-19 lockdown.
We continue to recieved calls from different clients who are extremely traumtized by online sexual exploitation. Many of the girls go on to become victims/witnesses for sex trafficking cases. Because this issue creates complex trauama, we continue to support them online via chat or phone calls as much as we can. Some of the girls contemplate committing suicide, some of them suffer from low self-esteem and PTSD. Your donations help us to continue to provide for their medical care, including transportation to and from medical facilities. Our team is trying our best during this difficult period. We are committed to walking along side of each of our clients, and want inspire hope for their futures. We know that we cannot do all of this without your support. So,thank you for your partnership, and for your commitment to protect and provide for children rescued from sex trafficking.
Our Highlights!
Official Handbook Online
In cooperation with TICAC (Thailand Internet Crimes Against Children), World Childhood Foundation, and other partners such as prosecutors and judges, HUG launched the online version of "eXposed- A Survivor Handbook" via Facebook Live. We had over 10,000 views, and one girl asked for help immediately following the event. Please see the link to download our English and Thai version of the handbook.
Links: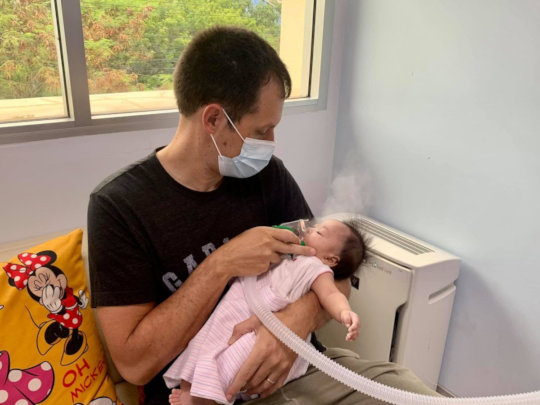 A few months ago we started caring for a baby girl that we nicknamed Grace. She was born to a 14-year-old mother, but was abandoned at the hospital with a note on the birth certificate that said she was a donation to the hospital. A brain scan found that she might have a developmental birth defect called Schizencephaly. In addition, a doctor told us she may have complete hearing loss and/or blindness. We know she can hear because she loves music and listens to us read to her every day, but we aren't sure how her vision is yet. We met with a major adoption agency that is legally authorized by the Thai government to facilitate international adoptions and they added her to their special needs program. The prospect of finding a family is not good, but they reaffirmed their commitment to help find one while we continue to provide her with care. We need to see a specialist to get a more specific diagnosis and treatment plan, but Bangkok is currently on lockdown with the recent Covid outbreak. We hope to get her to see a specialist there soon. In addition, we are applying for a royal medical grant that would provide Grace with free top of the line medical care. We don't know all of her physical challenges yet, but we are committed to doing everything we can to give her the highest quality of life we possibly can because EVERY life matters. Thank you for helping us support infants like Grace!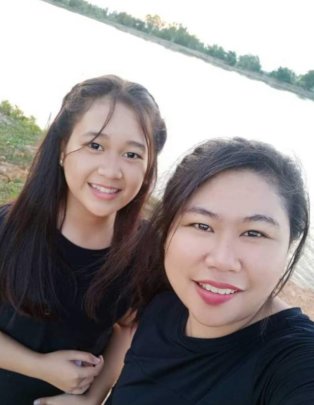 "Daisy" (not real name) lives with her parents and brother in Kalasin Province, in the Northeastern region of Thailand, or what Thai people call the Isaan region. Unlike the rest of Thailand, this area is relatively dry and people are quite poor. Most of the villagers in this region work as farmers, and the income from this occupation is barely enough to support a family. As a result, some families have a tough life. Often, either the father or the mother has to find work in other provinces. Fortunately, Daisy's parents are both at home. Her father works as an electrician, but her mother had to close her beauty shop due to a health condition that made it impossible for her to work with her hands to cut hair.
Daisy is studying in high school, intending to attend college after graduation. A college education is one of the few avenues for children in this region to escape the cycle of poverty. Daisy is currently attending a government High School but still has expenses that her family must cover. Since her mother had to stop working, their income was not enough to cover school expenses. Her parents were very stressed about how Daisy could continue her education. Thankfully, a local Church became aware of their need and invited the family to apply for help through the Education Matters program. Daisy was accepted into the program and is able to continue her education!
Education Matters not only helps with scholarship funds but also provides a mentor for each student. As a result, Daisy meets regularly with a mentor who gives her the help and support she needs to make sure she can achieve success, both in school and in life! Your support helps keep children like Daisy in school and gives them a very different life!
WARNING: Javascript is currently disabled or is not available in your browser. GlobalGiving makes extensive use of Javascript and will not function properly with Javascript disabled.
Please enable Javascript
and refresh this page.