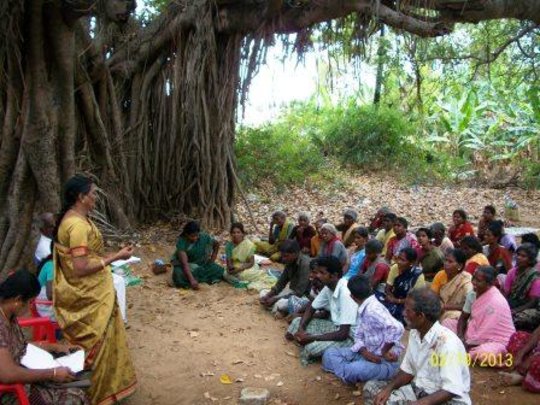 January – March 2013 Report for Biodiverse Agri Trainings to Youth(Proj #6265)
implemented by VOICE Trust, India in collaboration with GlobalGiving, USA
through supports from Friends of Earth in USA, India, Europe.
Agriculture is the backbone for all in society.
Such an important Agriculture is getting severe beatings on account of global warming and climate change, besides, less and less economic viability.
But, Agriculture has to go on for healthy food, good environment and better economic viability. It is very important that Youth take interest to continue Agriculture.
So, Mrs. A. Jecintha spoke to village leaders on February 16, 2013 and appealed to send their young sons and daughters for Biodiverse Agri Trainings to continue Agriculture.
The Album with 10 photos relates to Biodiverse Agri tips given to Youth. Seasonality Analysis exercise (Refer photo #4) attracted the Youth. VOICE Team told them to go in for short duration crops (pulses, millets, Vegetables) to adjust to availability of water, so that Agriculture can continue to feed humans and the livestock and also to fetch money for meeting other life needs.
Continuity from April 2013
10 Youth staying in Siruganur village have shown interest to visit Model Farm of VOICE Trust where 9 models of Organic Manures and Bio Pest Controls are kept. Through them the spread effect is expected during May and June 2013.
Finance of Project #6265 closed on 31 March 2013
Rs.1,60,525/- (Indian Rupees one lakh sixty thousands five hundred and twenty five) received from Global Giving in January 2011, has been spent during 2011 and 2012. Only Rs.3525/- was left as of January 2013. Even this amount was spent on 31 March 2013. Thus, it is nil balance as of April 1, 2013.
To continue or not to continue Project #6265
Only if you, Friends of Earth in USA, India and Europe come forward to support this project, VOICE Trust will continue this Biodiverse Agriculture Project. If not, VOICE Trust will be forced to close activities by June 2013.
Hence, a Special Appeal is made to you to kindly contribute for Project #6265. Your donations of US $ 10, 20, 50,100 or Euro 10,20,50,100 will ensure continuity of Project #6265. Hence, kindly extend your help and cooperation.