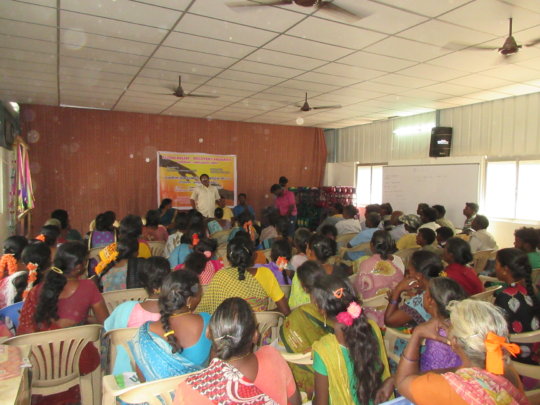 Survival Relief Packages prepared by VOICE Trust with financial assistance received from donors through Global Giving were distributed in the beginning of January 2016. Report of this has already been presented to you.
During March 2016, Second Phase Flood Relief and Recovery Programs were continued with help received from donors through Global Giving.
*150 flood affected families of Ekkaduthangal who still continue to live on the sides of the streets near metro station were given taurpaulin sheets to use as a temporary roof cover for protecting them from sun heats and rains also given were kerosene stoves to cook their food. This was a big help for them to heat water at night for taking medicenes and such an activity was not possible earlier because near by families objected to using firewood for country mud oven. Once again they were given rice in cloth bags and groceries for cooking.
*100 school children identified by Kalaipattarai through Cine Director S.P. Mukilan, were given school bags.
*160 flood affected families of Saligramam were given survival relief packages.
*40 inmates of Orphanage also helped with relief goods.
VOICE Trust is continuing to receive informations from flood affected families that the relief goods received by them because of help from donors through Global Giving has led them in a big way to return to normalcy. VOICE Team thanks the donors and appreciates Global Giving for using us as effective instruments in flood relief activities.
Special Note: Many requests have come from school Children from Flood affected areas in Chennai for educational supports beginning from June 2016 when the new academic year commences. If it is possible for you dear donors to extend such helps please assist through Global Giving.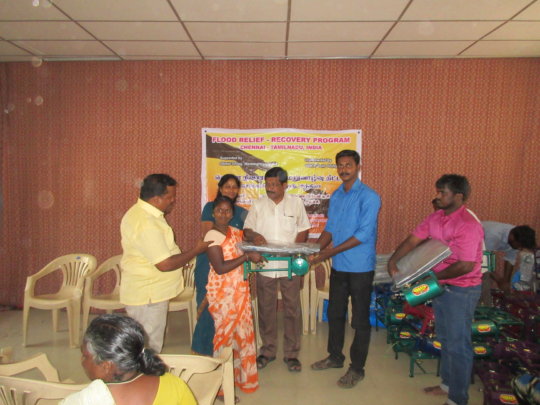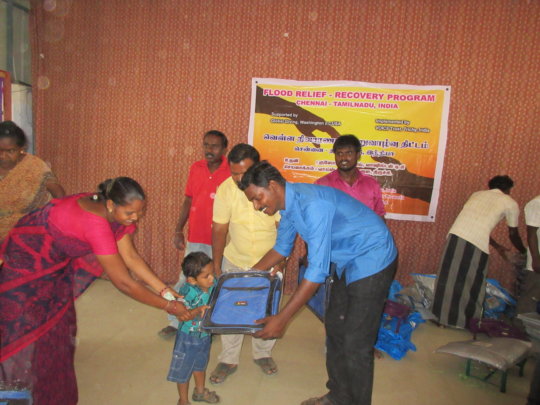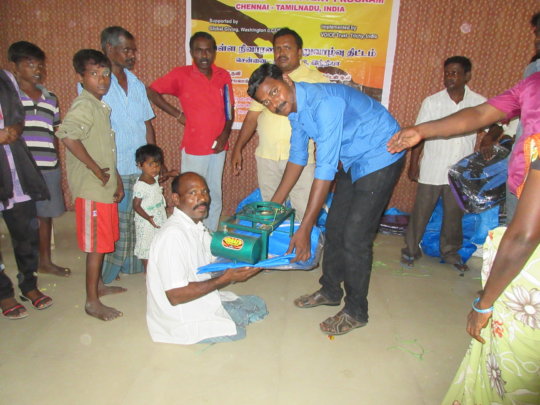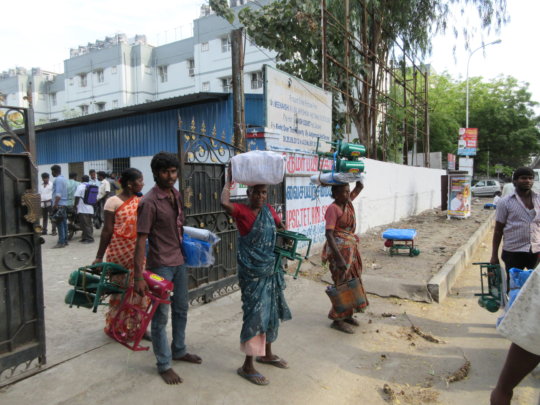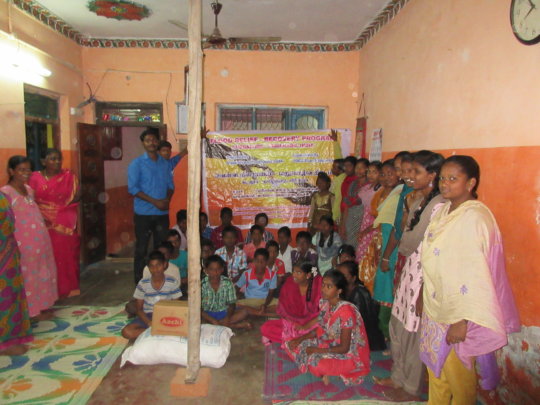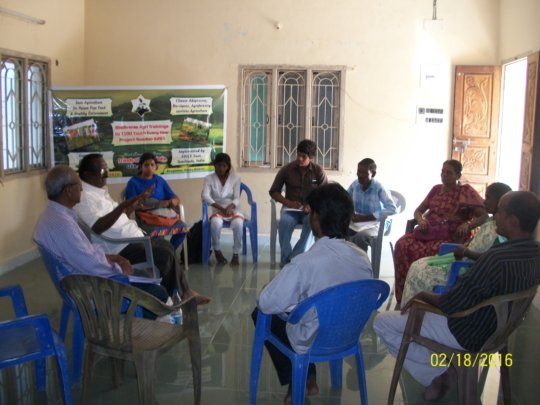 Youth leaders were given directions on February 18, 2016 by Mr. N. Krishnasamy, former Director of Central Integrated Pest Management Center of Government of India for extending helps for farmers faced with imbalances in pest - predator counts. For, pest infestation is one of the serious problems in agricutlure leading to crop failure and loss of economic resources. Often, huge amounts of money are spent on pesticides.
Another meeting was organized for Youth Leaders on March 1, 2016 and this time the topic was healthy and local specific seeds. Because, many farmers complained about less quality seeds. Mr. S. Yoganathan, expert in organic seed banking gave tips to youth to replicate quality seeds for distributing to more number of farmers. For, present seeds are not only costly but also efficency ratio is below 50%. It is better if it is above 75%. Best is 90%.
Field visit was organized on March 3, 2016 to the field of farmer Sesuraj of Irungalur and tips for biodiversity were given in order to increase productivity and decrease over expenditure. He is an opinion leader in Irungalur village. He has promised supports to Youth intrested in agriculture. He has opted to accompany the youth to neighbouring villages like Magilam, Purathakudi, Manikapuram, Konalai, Kalpalayyam.
Thanks to Friends of Earth for supports through Global Giving for the past 5 and half years, successes are coming in the field of agriculture through introduction of biodiverse systems from seed to harvest. Youth are going into 74 villages this year to stop sale of agriculture lands and to start profitability through biodiversity.
Tie ups with local markets around Trichy and captial market in Chennai, the Head Quarters of State of Tamil Nadu are planned from June 2016 for further strengthening agriculture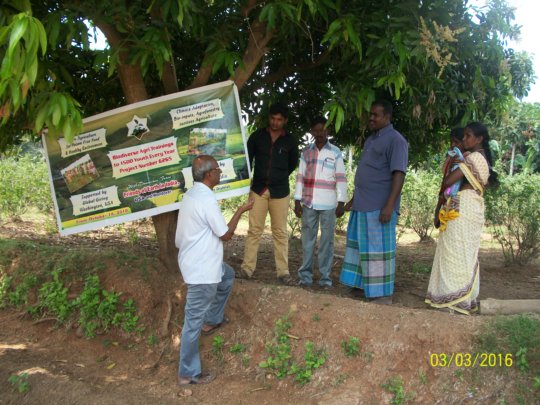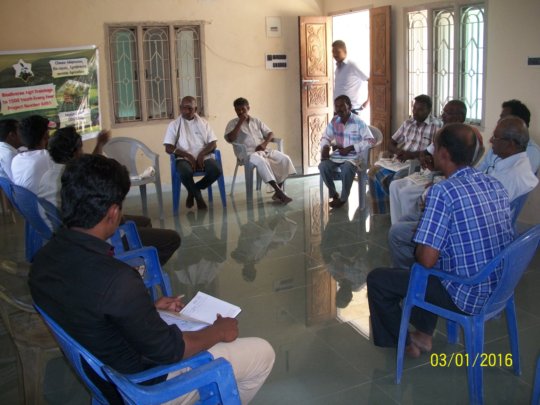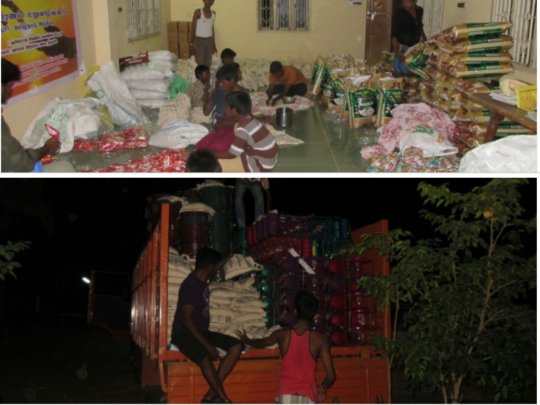 1014 voiceless people without political influence who could not receive any assistance after the floods of December 2015 were selected by VOICE Trust in collaboration with local NGOs like PMSSS, HESAT, Kalai Pattarai and need assesment was done for procuring useful materials which could enable them to move forward in flood recovery processes:
Kurinchikudi - Valasakadu villages, Cuddalore District in collaboration with HESAT - 204 families
Kalkunam - Kurinchipaadi villages, Cuddalore District in collaboration with PMSSS - 100 families
Bhuvanagiri - Pitchavaram villages, Cuddalore District in collaboration with Kalai Pattarai - 150 families
Ekkaduthangal - Chennai in collaboration with Kalai Pattarai - 150 families
Salligramam - Chennai in collaboration with Kalai Pattarai - 160 families
Resource poor School Children in collaboration with Kalai Pattarai - 100 students
River bank villages bordering Kumbakonam area in collaboration with Kalai Pattarai - 150 families
Relief and Recovery packages where given to 804 flood affected families with Tarpaulin sheets to be used as temporary roof for the huts damaged by floods, rice in cloth bag with words : "Take up cloth bags - Give up plastics" and cloth bags will become manure but plastics will add to toxicity, wheat, cooking oil, grocery items, cooking vessels and bucket.
100 flood families of Kalkunam - Kurinchipaadi villages are given goats to confidently move forward in life by increasing income generation for 100 flood affected families.
150 homeless people of Eakattuthangal are supported with cooking stoves since they found it difficult to use firewood at night for fear of fire accidents
100 school children from resource poor families affected by floods in Chennai are assisted with school bags along with confidence building resource materials to boost them in their studies at this hour of crisis.
Thanks to Friends and well wishes who helped VOICE Trust through Global Giving for extending relief and recovery for flood affected families. We appreciate your concern for giving a new start in life after the great loss due to floods in December 2015.
True, we had huge applications from flood affected families. But, we had to restrict to 1014 families including 100 school Children. We had to organize hall meetings to deliver the goods in an orderly manner.Some families organized local transportation to take home the relief goods. Others are making alternate arrangements.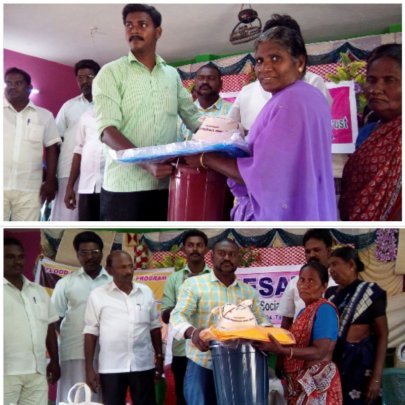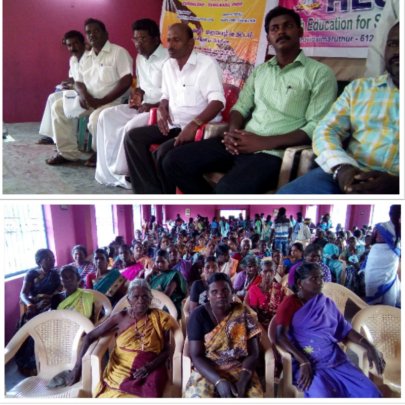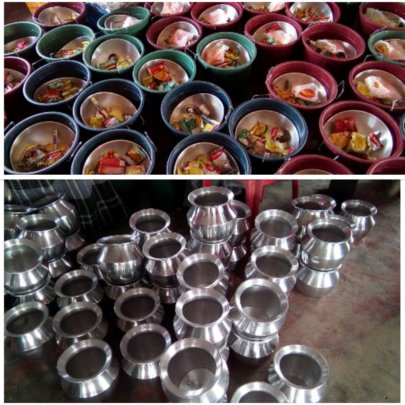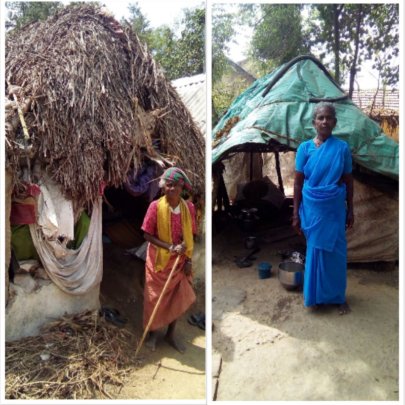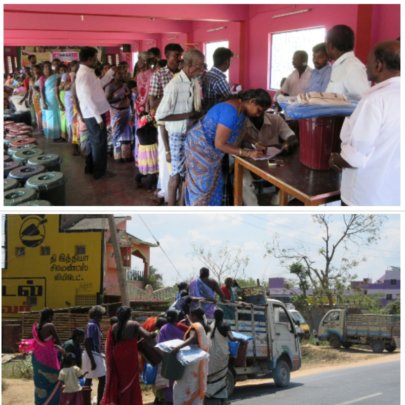 WARNING: Javascript is currently disabled or is not available in your browser. GlobalGiving makes extensive use of Javascript and will not function properly with Javascript disabled.
Please enable Javascript
and refresh this page.