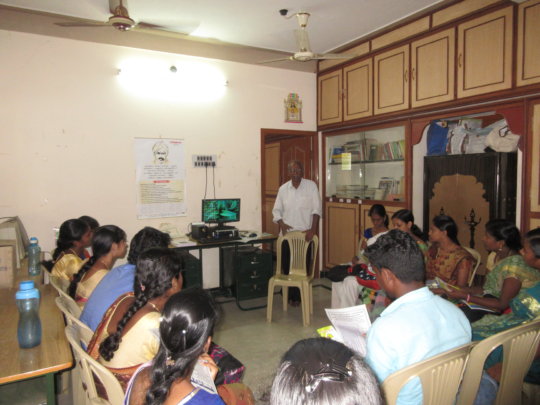 Project # 6265: Biodiverse Agricultural Training to Youth.
Implemented by : VOICE Trust, Trichy District , Tamil Nadu, India.
Supported by:Friends from world over through Global Giving, Washington, USA.
Progress Report for October – December 2016
Thanks to you and all Friends of Earth for choosing VOICE Trust to encourage youth to take to agriculture and to give them nature centric techniques for strengthening agriculture. In 6 years, coverage is above 10,000 youth. But, our focus is on discovering relevant strategies for continuing agriculture.
From October 2016, 7th year of project has began. VOICE Trust is continuing to motivate youth, either to come to direct works or to extend supports for others involving in agriculture. Any small opportunity, we use them for bio diverse agriculture for poison- free food, pollution- free life and poverty- free society.
Special activities during October- December 2016: (Photos attached).
1. 18 students from Holy Cross College given orientation on biodiverse agriculture.(October 5, 2016).
2. 11 students from Roever College introduced to nature centric agriculture. (October 24 – 31, 2016).
3. Exposures in farm fields of "Thazhuthalapatti" Village surroundings. (November 2016).
During December 2016, VOICE Team is convincing farming communities to stand upto severe drought experienced in our work locations not experienced in 100 years. Supports from youth will be great help for farmers. Hence, we appeal to you for your collaboration.