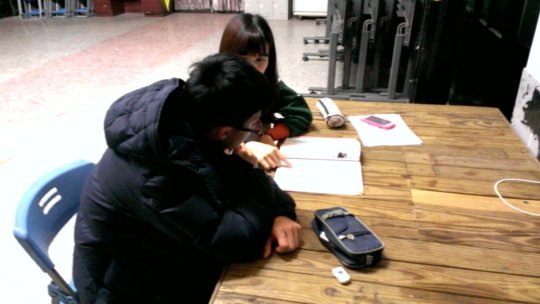 Youth in the Mustard Seed Youth Home have less opportunity to learn. Through the "Vulnerable Youth Learning and Education Project", youth have gotten many chances to learn, to explore their inner strength, and to increase their life experiences and social adaptability. During the process, we have found development and improvement of these youth. We also have found that their school performance and self-confidence are improving.
Teacher's Feedback:
Tutoring for Youth in the Mustard Seed Youth Home is critical. They don't have much motivation to learn because they are from dysfunctional families, and for some reasons they are close to giving themselves up. Therefore, they don't have much interest and motivation to learn.
However, we found that they don't really want to give up. They have lower learning motivation because they are not able to catch up with school learning schedule and also are not able to do well in school works. This causes many disappointments to them while learning. Thus, when we were recruiting tutoring volunteers, we made it clear that please teach youth from the very basic level in order to generate youth's learning interest. Afterward, tutoring volunteers can teach youth upper level depends on youth's learning performance.
On top of that, we also care about their self-development. So, we bring in some talent program to youth and we hope they are able to raise their self-confidence through developing their interests. These youth are from poor families, they don't have much chance to learn talents such as playing music instruments. In the Mustard Seed Youth Home, we try to offer them the chance to learn music theory and play music instrument. We found they got many accomplishments from learning music and also know "no pain, no gain" during learning music instruments. Youths are willing to spend more time on practicing and want to go to next level.
Youth's Story:
Alex:
Alex and Tim are brothers. When they first arrived at the Mustard Seed Youth Home, they were strongly self-defended. In the past, their gambling-addicted mother always let them drop out of school and play computer games at home. So, when the youth home teacher was explaining to them about the rules at the Mustard Seed Youth Home, the facial expression on the two of them displayed their impatience.
After a period of time, they have become their home teachers' and school teachers' good helpers. The youth home offers tutoring services for youth. Through the tutoring and hard-work, Alex, the older brother, even got seventh place in his class twice. He is also expecting to score into an ideal high school so that he can improve the family environment in the future.
Implementation:
1. Tutoring Class:
We offer subjects of Math, English, Art, Language, Society, and Science for youths to learn. In 2017, we will provide youths 400 hours tutoring (40 weeks).
In this semester, 14 youths are participating to learn. They are attending the tutoring class 163 hours (18 weeks). So far, 9 youths have gotten significantly improvement on their school performance.
2. Talent Class:
We offer Jazz drum, electric guitar, BASS, guitar, piano, keyboard, and music band classes. Total 60 hours (20 weeks). Through the talent classes, youths are able to develop their emotional management and adaptability in group life.
In this semester, 10 youths are taking talent classes. They have highly improvement on emotional management and adaptability in group life; also, they have higher self-identification and more self-confidence through learning music. Besides, they have less fear to express themselves and are willing to use the ability of music appreciation in their daily lives.
Activity or Event in the Next Three Months: 5 days 4 nights Cycling Tour Camp
Photos of the Project: