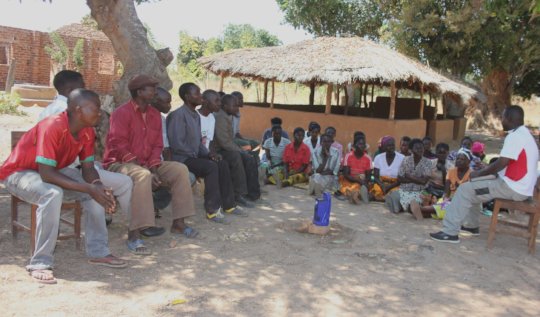 In 2011 COMACO was working with around 80,000 very poor smallholder farmers in Eastern Zambia. Many started as wildlife poachers or charcoal producers to support their families in the belief that they couldn't make a living from farming. Others were susistence farmers, barely able to eek out a living for their families. COMACO changed all that. One of the biggest problem was lack of knowledge.
Their weekly radio program, Farm Talk, grew increasingly popular with rural farmers. However, it was quickly discovered that farmers didn't own radio sets. That's when COMACO first contacted us and procured their first thousand Prime radios from us.
Farmers were organised into cooperatives. These cooperatives also served as listener groups, as it was quickly realized that groups listening to Farm Talk were more effective than farmers listening on their own. This way, farmers listened together, discussed what they learned and collectively acted on the information. Yields started increasing, along with incomes.
Fast forward six years on, COMACO is now working with an astonishing 180,000 farmers – more than half of whom are women. All farmers must sign a conservsation pledge to practice organic, conservation, climate-smart sustainable agriculture.
And as COMACO has expanded, we've grown with them. They've not only procured thousands more Prime radios, they're now using Lifeplayer MP3 units for two main purposes. One, to reach those areas that don't receive a radio signal, and secondly for continuing education.
There are six levels of farmers within the COMACO structure. Targeted content is pre-loaded on to the Lifeplayer units for each level of farmer. As one goes up the ladder to a lead farmer, cooperative leader, area leader, etc., they need to broaden their knowledge to include farmer management, bookkeeping and marketing. Then they must take an exam. Many farmers, especially women, are illiterate, so listening is the best way for them to learn.Their exam can also be oral.
COMACO have recently informed us that they are expanding into the farmlands surrounding the lesser known North Luangwa National Park. COMACO-supported farmers are found extensively around the larger and better known South Luangwa National Park. The North Park is also more isolated and has fewer tourists each year.
By having informed and committed farming cooperatives around North Luangwa, it is hoped that poaching and charcoal production will be curbed. Due to poor radio signal strength in the area, mainly Lifeplayers pre-loaded with conservation farming content will be used.
As COMACO grows and expands, we look forward to growing with them and helping rural farmers increase their livelihoods through increased knowledge.
(Photos courtesy of COMACO)