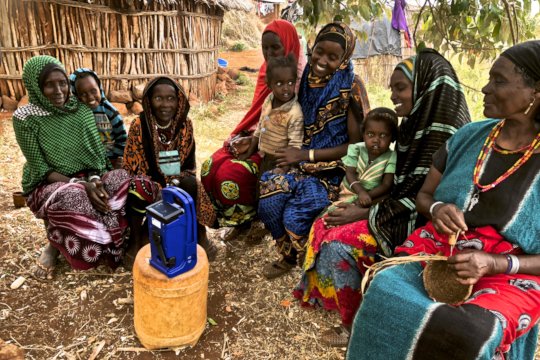 We call this initiative Her Voice as it gives women in deep remote areas in Northern Kenya an opportunity to make her voice heard. And after months of unforeseen delays, it has launched in Marsabit County in collaboration with our partners Horn of Africa Development Initiative (also a GlobalGiving organisation).
Marsabit County is not only Kenya's largest, it's also one of its poorest with some of the highest levels of female illiteracy 90%. This vast area, which is twice the size of Maryland, has a population of only 300,000, most of whom are livestock keeping pastoralists. Some are nomadic.
Historically, pastoral women have had negligible participation in communal development and decision-making. Socio-economic, cultural and religious biases (whether Christian or Muslim) have relegated females to the periphery and their contributions to society are not fully appreciated. They have been subjected to harmful cultural practices like female genital mutilation (FGM), early/forced marriage, and lack of access to education, health care and other services.
Due to the increasing frequency of drought and the migration of men to cities seeking work, more women are heading households. Women are participating in non-traditional activities such as livestock trading, petty trading of goods, and income generating activities like charcoal making. And yet very few are functionally literate in Swahili and even fewer in English. They live on the frontline of climate change and their traditional way of life is disappearing.
Now these pastoral women, who never have had the opportunity to listen to the radio, are listening to targeted audio content in their own language, in addition to tapping into the local stations. Most are either Borana or Gabra speaking. They also are recording their own local knowledge and voices singing.
They need new knowledge and to build new skills. The Lifeplayers are being integrated into HODI's community resilience initiative. The women will learn basic literacy and numeracy, have access to maternal health information and become active participants in climate related initiatives. Further they'll be able to listen and record programs in Gabra and Borana for playback later to their community.
While we were in Marsabit we trained HODI's projects team at their Marsabit office, who were highly enthusiastic about the Lifeplayers. One person remarked that the Lifeplayers would help make their jobs much easier. In addition, we started the distribution process in local villages to great delight.
We sincerely hope that you will continue to support this high-impact and much needed initiative.