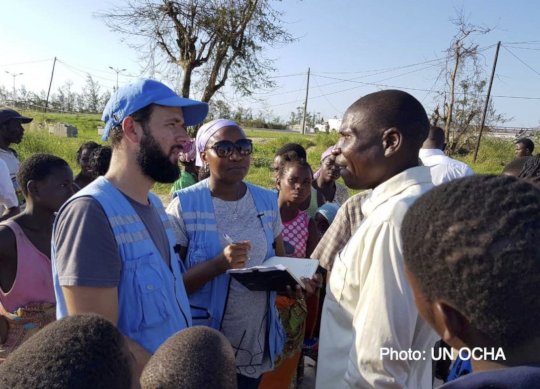 Cyclone Idai made landfall at night on 14 March 2019 near Beira, a city of 500,000 in central Mozambique. Idai left more than 600 people dead; more than 1,600 people injured, and an estimated 1.85 million people in need of support in Mozambique alone. In May, there were cumulative 6,750 cholera cases and eight deaths with the epidemic considered under control. Malaria cases in Sofala Province have continued to rise, with 26,787 cases registered. Idai also wreaked havoc in eastern Zambian and southern Malawi.
A second cyclone, Kenneth, made landfall in Cabo Delgado Province in the north on 25 April. At least 45 deaths have been reported and 18,029 people were initially reportedly displaced, according to the National Disaster Management Institute (INGC).
Together, these category 4 cyclones in the span of just six weeks created one of the worst weather-related disaster on record to hit the entire southern hemisphere on record. Cyclone Idai destroyed about 1.8 million acres of crop land and Kenneth a further 70,000 acre, creating longer term issues around food security. Nearly 80% of the country's labour force works in agriculture.
Mozambique has only a 45% literacy rate in rural areas and even less for women. This makes radio all the more important. Radio remains the most vital communications medium in the country. Community radio networks were knocked out in both storms. One of our partner organisations, First Response radio got local stations up and running, however, very few people had radios.
When cholera broke out, local language audio MP3 content was loaded on a phone. An aid worker got on a motorcycle with a megaphone and drove to schools and makeshift camps where people congregated to play the messages. Although highly innovative and helpful, this is not sustainable.
So far, we've sent 200 of our new Fenix radio-lights to survivor families of Cyclone Kenneth. We let our on-the-ground distribution partner CARE International best determine where they are most needed. Priority will be given to families with disabilities and those who lost loved ones.
Many more Fenix units are needed, especially with the increasing food insecurity and continued lack of formal housing. Survivors need to know the latest news from the government, where to get the aid they need, what to be mindful of health-wise and much much more. The TV cameras are gone, but the need continues to grow. People don't have money to buy radios, phones or even airtime. With a Fenix, then everything is free, in addition, to light at night.