Project Report

| Jul 21, 2022
A Strong Ally and Partner for Youth Development!
By Julie Regatta, Hazel Ann Lenida | SIDECO Youth Coordinator, NATCCO Training Officer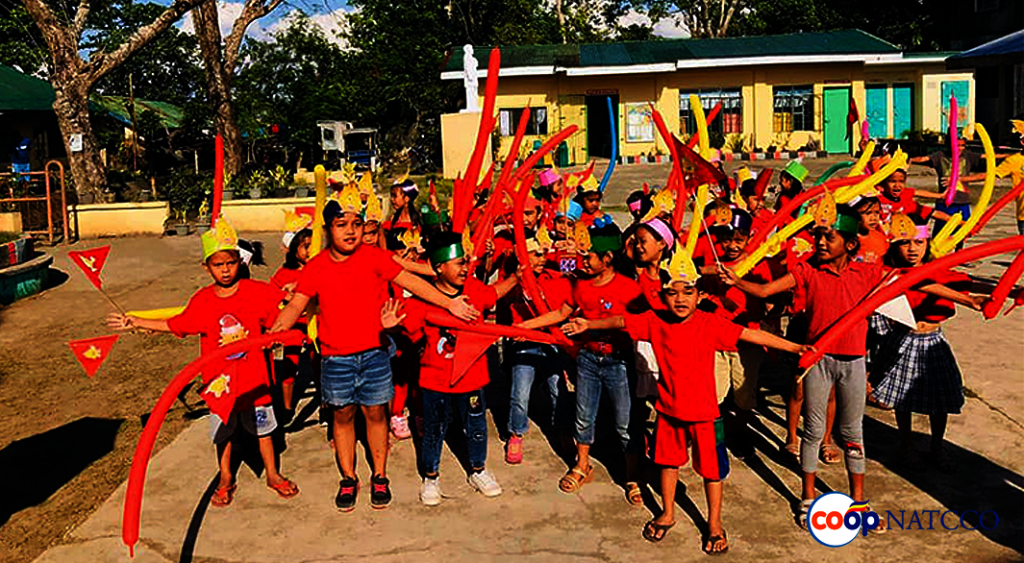 The Aflatoun Program of San Isidro (SN) Development Cooperative was implemented last January 30, 2015. For the past 7 years, we already partnered with 18 schools across Naga City and Calabanga, Camarines Sur. These schools have active Aflatoun saveres that even their teachers and parents became members to save money for thei future purposes. We already have a total of 4,823 Aflatoun savers, 1,259 Kiddie Youth Savers (KYS), 206 Afaltoun Teachers and 116 teachers trained. In total, we gave 3.3 millin pesos savings and deposits for Aflatoun and 2.6 million pesos for KYS.
Before the pandemic we had a lot of activities, seminars and programs both for the Aflatoun savers and for the teachers that made them even more enthusiastic about saving their money. One thing they were excited about was the recognition and awarding of the Highest Aflatoun Savers and Depositors as well as the Christmas Party every December. It's just a few of their most awaited events to make them more motivated because of the tokens they were about to receive. The primary purpose is to teach these children how to handle their money and know the value of saving. Through this, we can be able to help them realize that savings are important no matter the amount it is.
To continue the increasing engagement of the Aflatoun savers and the youth, we conducted various events before the pandemic came. We conducted a lot of launching activities for our partnered schools in Naga City and Calabanga, Camarines Sur. We also conducted the Teacher's Training for them to understand more the advocacy of the Aflatoun program for the youth and for its savers.
We also attended the Youth Entrepreneurship Training last May 22 – 24, 2019 for them to know how to start a small business according to their age and be able to manage it. In order to apply their knowledge, we have decided to conduct it in their own schools. Each profit will gain they will put it in their Aflatoun Alkansya so that they will know if they were doing it in the right way.
We also had our 2 consecutive Summer Youth Camps last May 2019. The said event was full of laughter and enjoyment. Especially when it comes to their team buildings, they had shown their strategies, talents and skills for every task they were about to comply with.
Last January 2020, during the anniversary of SIDECO we have launched 6 Aflatoun partner schools at Calabanga West District, Calabanga Camarines Sur. In the Aflatoun Program, some of the teachers and the pupils of the said program became members of Aflatoun savers and depositors.
Last 2021 Brigada Eskwela we have distributed face masks and alcohol to our partner schools. It is to abide by the protocol given by the government by always wearing of face masks and hand sanitizing due to COVID-19.
Bicol Federation of Dairy Cooperative Youth Camp last August 26 – 27, 2021 at Churinga Eco Resort, SIDECO youth was being invited to attend the Youth Camp of BFDC. Ms. Sheena won the crown, she was the Queen of the said event and Ms. Arah was the 1st Runner Up. The
Beauty Queens of SIDECO and they served as a pride of SIDECO.
Last March 24, 2022, we attended the virtual Aflatoun International Day via Zoom which the participants participated actively by answering the questions given by the speaker. It was a great experience for the kids to attend such an event for them to be able to see their future being one of the savers of the Aflatoun Program.
Last April, this year, 8 big boxes of books arrived from the United States of America. Reach for the Star Foundation -sponsored reading materials for kids. These books will be distributed to the selected Aflatoun partner schools in Naga City.
Recently this June, we have distributed the books to our selected partner schools. They were so thankful that these books would be very helpful for their school reading programs for the kids.
Lastly, the awarding of the certificates of recognition for the top 10 highest savers of Aflatoun and top 10 highest savers of Kiddie Youth Savers this June 25, 2022 at the 49th General Assembly of SIDECO.
Truly that whatever the circumstances and hindrances it may be, nothing can stop us from doing these activities just for our youth savers and depositors. We are looking forward for more activities to be done by Aflatoun to its savers and depositors.
"Do not save what is left after spending; instead spend what is left after saving."
- Warren Buffett