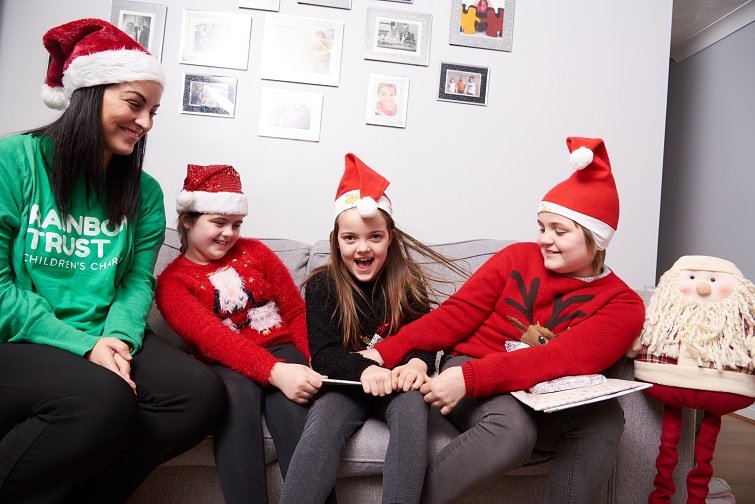 Thank you so much for supporting children with serious illnesses by funding our projects to give quality time to children and their families at a difficult time in their lives.
Sabrina is one of our Family Support Workers, in the North East Team:
"Working for Rainbow Trust humbles me, it keeps my feet on the ground and reminds me of what is important in life. The families that I support are allowing me into their lives at what is likely to be their worst times, this is precious. I support people of different ages and with different conditions and if I can make their day a little easier, help make happy memories or create a smile then it's a job well done!"
Our Family Support Workers help children to keep up at school, as well as enjoy days out with siblings or time to talk to someone who understands what they are going through. They help the family get to hospital appointments and stay with them through long treatments, so they aren't alone.
Sabrina supports Nicola, whose daughter Sophie was diagnosed with leukaemia two years ago:
"My husband Paul and I have three daughters and our world was turned upside down. But it was thanks to Rainbow Trust Children's Charity that were able to face the difficult road ahead.

One morning I met Sabrina, a Family Support Worker, at hospital. She explained how Rainbow Trust helps families like mine. Within weeks, Sabrina was driving the girls to school so they didn't miss out on their studies. It meant that Paul could go to work and I could stay with Sophie at the hospital so she wouldn't be alone.
Soon after Sophie's diagnosis, she was admitted to intensive care and put into a coma while her body tried to fight several serious infections. We were told that she'd have to wake up on her own, if she was going to survive. Just days before Christmas, Sabrina arrived at the hospital with presents for the girls. I'd been in hospital with Sophie so I hadn't had time to shop and we'd all but cancelled Christmas. Then, on Boxing Day, we had the best present of all. Sophie opened her eyes.
Since then, she's been responding so well to treatment that she's ending chemotherapy in January. Sabrina has been with us every step of the way, giving the girls time to enjoy childhood and being there for me too, when I needed someone to talk to, who understood how difficult it was to juggle hospital, school, work and home life."
Please spread some Christmas joy this festive season and donate to Rainbow Trust's project to help raise funds to reach more families who are caring for a seriously ill child.