First, a quick announcement, then on to the latest news you won't want to miss!
Has your membership expired in 2021? Don't fret - a great opportunity to renew or provide a year-end donation with guaranteed matching funds is just around the corner:
Starting September 13th, GlobalGiving's "Little by Little" campaign will match 50% of your donation up to $50!
And when we add up these generous acts of kindness together, it results in a BIG IMPACT for our parrots!
Please mark your calendars and help support our foster flock this September! (Ps: If you choose to make this a recurring monthly donation, an additional one-time match at 100% will be unlocked after your fourth consecutive monthly gift in January!)
Visit our GlobalGiving Profile page HERE between September 13 – 17, to qualify for the match and thank you!
Because of YOU - 4 More Parrots Found Homes!
Because of your support, four more parrots were adopted since spring! Pogo, a male Rainbow Lorikeet (adopted by our new Vice President Kris, more on them later,) Lilly, a female Congo African Grey, Lucky, a male Greenwing Macaw, and Rigsby a special-needs (missing his feet,) male Congo African Grey.
We're especially thrilled that Rigsby found a family who already had a Congo African Grey ("Doodle") also missing his feet, just like him! His new mom and dad are understanding and patient with Rigsby (who loves to interact, vocalize and dance, but not be handled too much.) They're also extremely talented and created a unique, multi-level, wide-cushioned-perch and toy/food system that is easy to clean and allows Rigsby to move around on his "stubs" for maximum "dance party action!" Besides being a fabulous dancer, Rigsby is also wicked-smart and figured out his new set up quickly. We are looking forward to sharing more about this clever cage design in a future update – it is truly amazing!
Congratulations to the families and our former flock members who found each other! We hope you enjoy some of their "homecoming portraits" throughout this newsletter.
When Will In-Person Events Return?
We wish we had better news but at this time, PEAC is not scheduled to attend any in-person events. However, our adoption team is still working hard and with safety precautions in place. If you're interested in bringing a new feathered family member into your life, don't hesitate to reach out to us at any time!
Our classes are still on Zoom Video Conferencing and the last ones for the year are on: August 28th, September 26th, October 23rd and November 13th from 1pm to 4pm (Pacific time.) Remember: registration is free to PEAC members! Otherwise, there is a $10 fee, per person. All monies help support veterinary care, enrichment, and healthy meals for our current foster parrots. Please visit www.peac.org to sign up.
Welcome our New Board Members and Officers
Last month, the Board elected new directors to serve for term 2021–2023, and officers (for term 2021-2022.) We're proud to announce our board and officers as follows: Barbara Crouse (Board Member and Secretary,) Gail Bradford (Board Member and Treasurer,) Dory Thompson (Board Member,) Kelly Flynn (Board Member and President,) Sue Peterson (Board Member,) Beth Lipski (Board Member,) and Kris Feneque (Vice President.)

We wish to thank Carrie Mix for her many years of service on the board. She is stepping down to focus more on fostering and we'll still get to enjoy her amazing energy at future events. Thank you Carrie!
Now let's all cheer a warm welcome and get to know a little about our newer directors and officers.
New Board Member: Sue Peterson: Sue and her husband Ron, have both been volunteers for PEAC for many years and if you've attended one of our events, you likely saw their smiling faces. It all started when Sue and Ron rescued a 1 1/2-year-old Congo African Grey parrot 12 years ago. Once they got him home, they quickly realized they had no idea what would make him a happy and healthy bird. They found PEAC, started attending our educational seminars and eventually became fosters.
Currently they have three personal and two foster parrots (all Congo African Greys – we like to call them our "grey specialists!") Sue and Ron work equally hard at caring for them as they share the cleaning duties, sprouting grains and whipping up some delicious vegetable chop. Sue (along with volunteer Gail,) runs our adoption program and helps PEAC with answering Petfinder inquiries, evaluating incoming parrots and home visits when needed. According to Sue and Ron, Parrot Education and Adoption Center is their purpose. We are truly grateful for their many years of dedication, passion and hard work. Without Sue and Ron, the PEAC nest just wouldn't be the same.
New Board Member: Beth Lipski: In 2013, Beth moved from the Bay Area back to her hometown of San Diego. She really wanted a pet-companion to join her and in May of 2014, Beth brought home Henry, a male cockatiel.
After purchasing Henry (and not having done her homework about parrots, she says,) Beth began to realize just how different having a companion bird was than other pets. To learn more about Henry, she began visiting Free Flight, (a local parrot sanctuary.) Eventually, she became part of a docent team and was at the sanctuary every weekend to educate the public on parrot species, behavior, anatomy, etc. Beth made it her mission to help the public (and people who already had parrots), better understand their companion bird and just how special and wild parrots are.
In speaking with the public, it became very clear to Beth that some people had misconceptions about bringing a bird into their home too, so it was especially important to her to help them better understand and think carefully about their choice. About two years ago, Beth was at public animal adoption event and found PEAC's booth. She began volunteering with PEAC at events and has since become active writing social media posts and teaches the "Enrichment for Your Companion Parrot" class, a requirement for PEAC adopters. She has also teamed up with Kris to be our new Volunteer Coordinators! Thank you, Beth, for your tireless dedication to making this a better world for our birds.
New Vice President: Kris Feneque: Kris, a native New Yorker, currently resides in the Inland Empire with his 22y/o Umbrella Cockatoo, Coco, and Rainbow Lorikeet, Pogo. He rescued Coco while living in Florida nine years ago, and recently adopted Pogo from PEAC. Kris enjoys taking Pogo out for walks (in a "flight suit" with a leash – which is hard to see in their photo since it matches Pogo's brightly colored feathers,) and both of Kris' birds enjoy getting exercise while taking turns in their outdoor aviary too.
During the day, Kris works as the Director for Trade and Training for the luxury appliance division at Samsung. When Kris isn't taking care of his "zoo" at home, he enjoys spending time at the San Diego Zoo or frequenting theme parks (pre-COVID). Kris has always had an interest in volunteering and was formerly a docent for the Orlando and Melbourne Florida Zoo.
His interest in working with PEAC was a natural fit with his passions for parrots and educational background both professionally and within the zoos. Kris has been leading our social media and marketing efforts and has teamed up with Beth to be one of our new Volunteer Coordinators! Last month Kris jumped at the chance to be Vice President and we couldn't be happier to have his help! Thank you, Kris!
Inspired to be a Volunteer for PEAC?!
Won't you join us and the rest of the Parrot Education and Adoption Center flock and give your time, energy and help to rescue and rehome companion parrots? We can use every talent from being a foster to helping at future events or behind the scenes in administration. If interested, please visit our website at www.peac.org and click on the "Contact Us" button! You can also call us at 619-287-8200, email us at parroted@peac.org or simply reply to this newsletter!
We're on Linktree!
Ever wish there was a "one-stop link" to find all our adoptable parrot profiles, website, news, social media and fundraising efforts? (Ps: we're still rocking a See's Candy campaign through the end of the year – so get ready to send those holiday treats and help benefit our parrots!) The service "Linktree" does just that! Save THIS LINK to your phone or computer and quickly go to what interests you most about PEAC! https://linktr.ee/peacsd
Meet 3 Parrots Who Still Need a Loving Home
PEAC has 10 parrots who are currently available for adoption. You can find all their bios and photos at peac.petfinder.com. Meet the three we're featuring this month!
Maria: Maria can pick a pepper better than any Yellow-naped Amazon we know! This beautiful boy is ready to pick out his new home, where he can be his spicy self!
Pastorita: Every day is more wonderful with Pastorita, aka "Rita," the Green-cheeked conure. This sweet boy loves spending time with his Foster Mom, chirping the day away - Won't you warm up your world with this "wovable" boy?
Rocky: Rocky is a 50-years-young and beautiful Blue & Gold macaw who is looking to make a great first impression. He's a seasoned boy that is looking for a confident owner to match his energy. Are you ready to meet this amazing macaw?
Summer may be ending, but our gratitude for your support is evergreen! Stay well and thank you for making a difference in our parrots' lives!

Warmest wishes - PEAC, Love and Parrots!
Kelly Flynn, President, Parrot Education and Adoption Center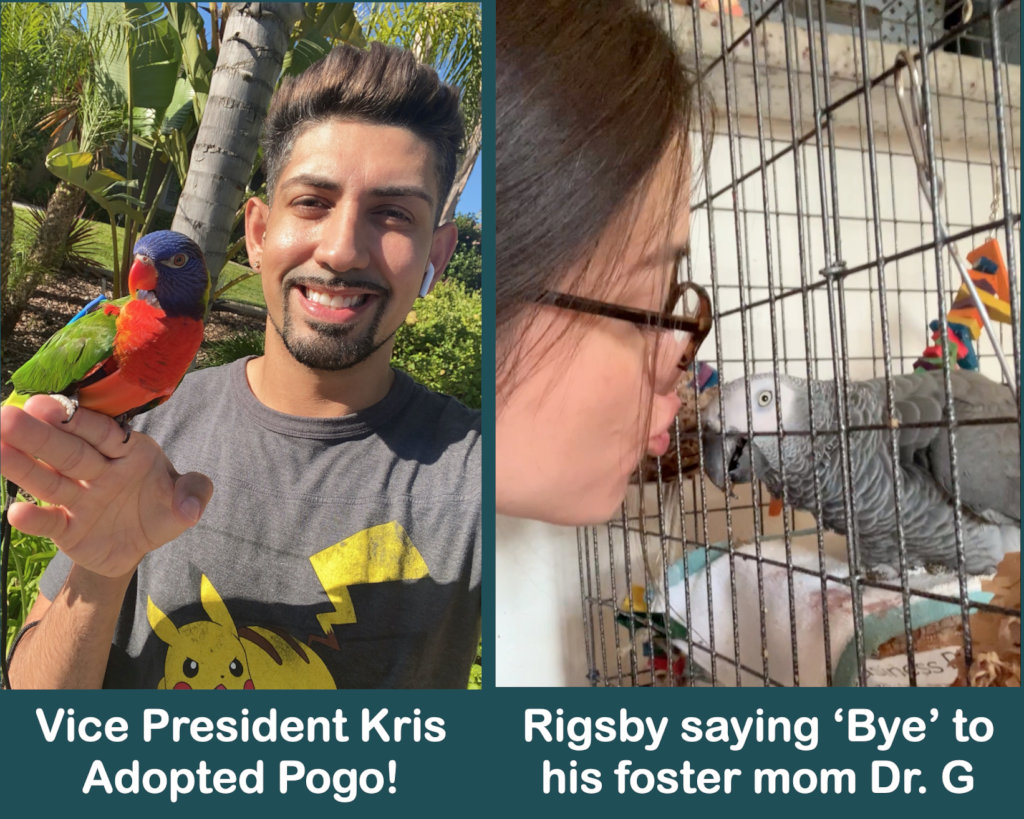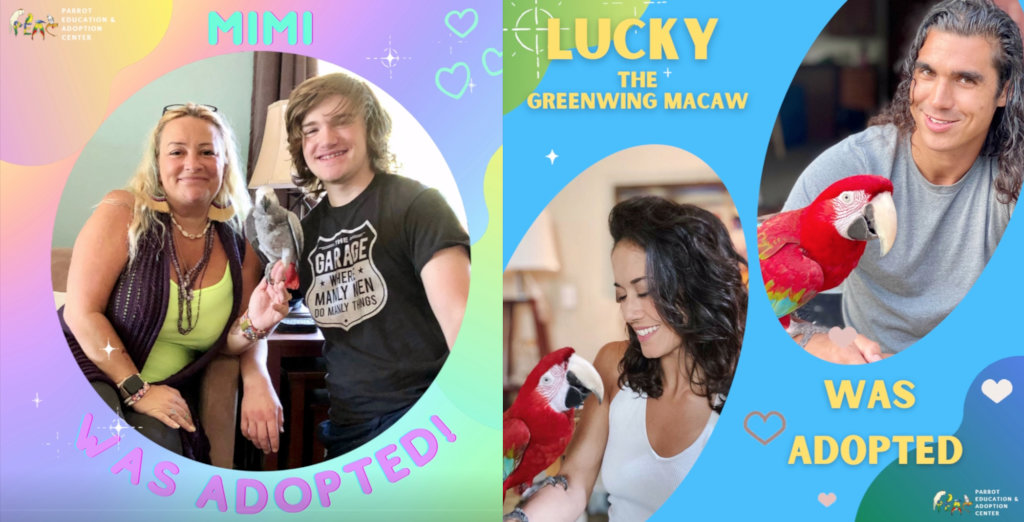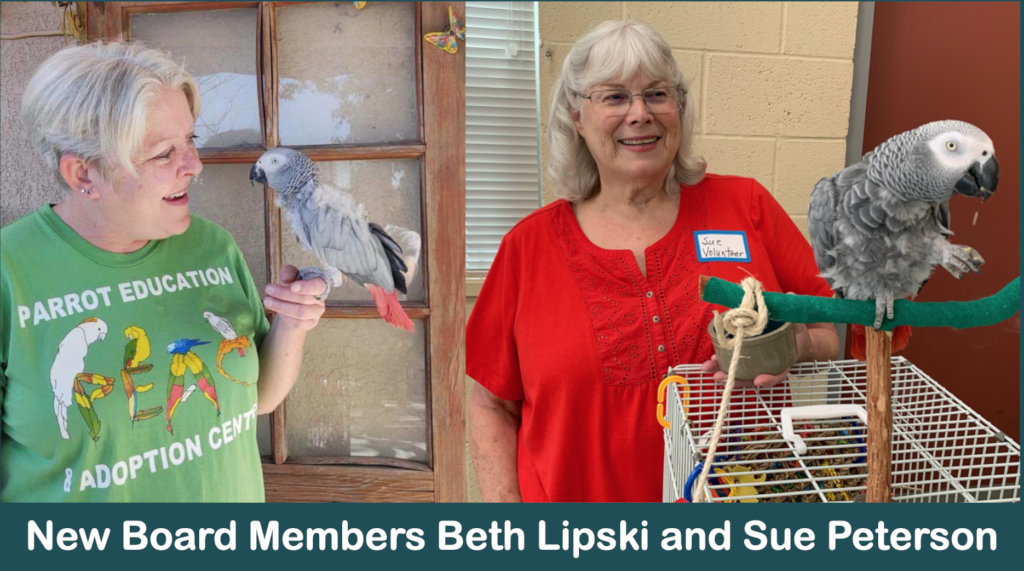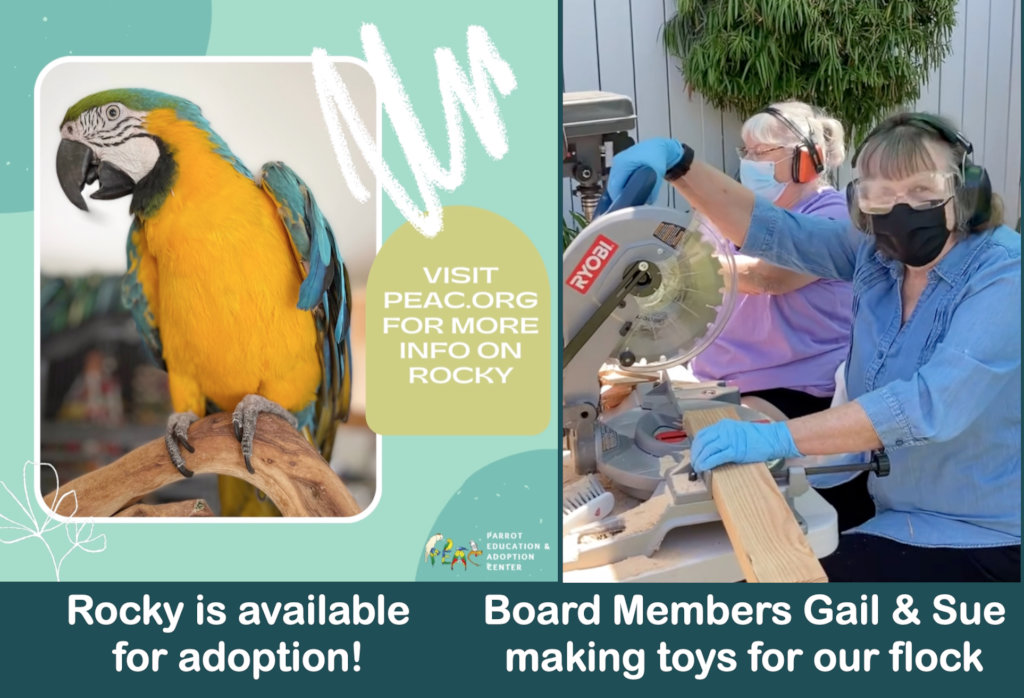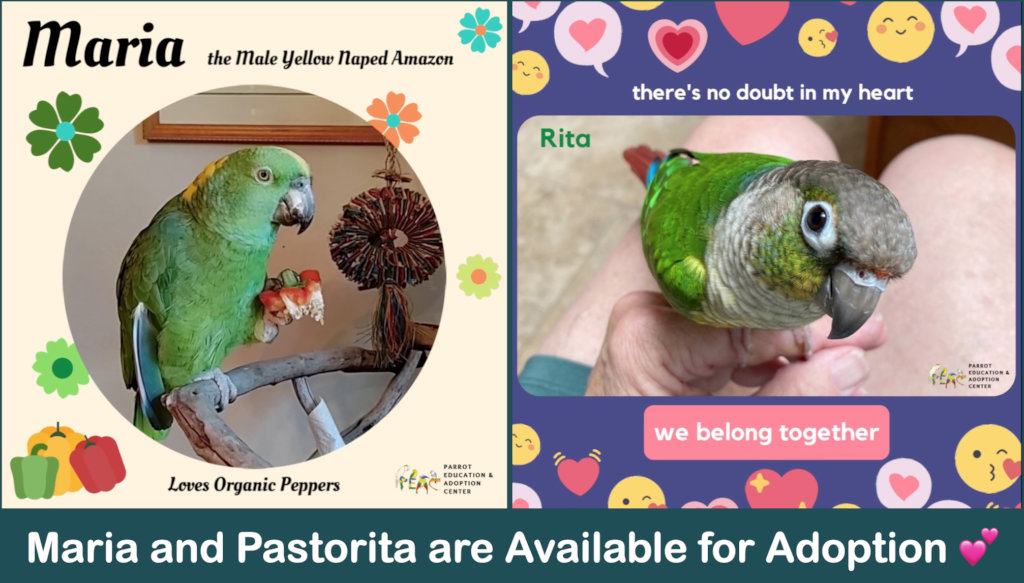 Links: