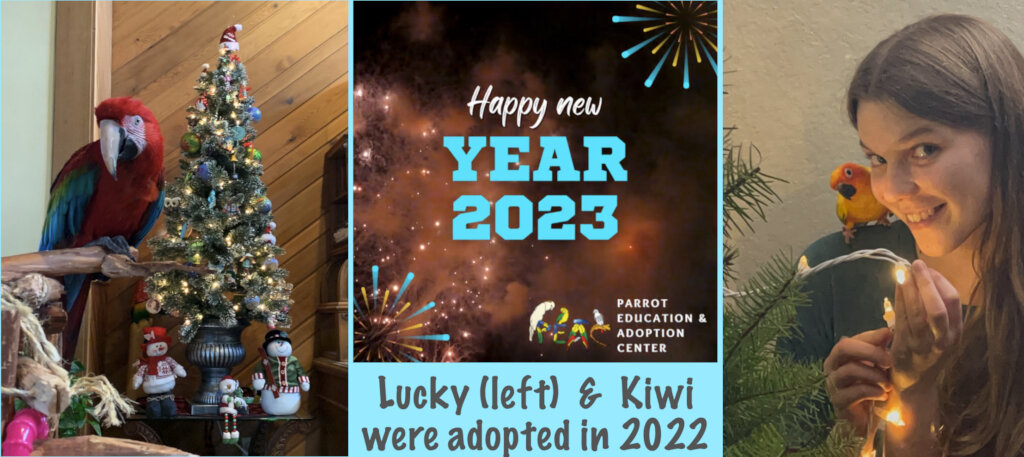 Dear Friends,
As we reach the final hours of 2022, we wanted to express how truly grateful we are for our ever-growing flock of supporters who share our passion for educating companion parrot owners and supporting adoptable parrots in their search for a new family.
You are our parrots' best advocates, ambassadors and influencers, not just monetary donors. Your voices and action make a difference and together we are an unstoppable force for parrot rescue and education!
In 2022, you ensured that our foster parrots found a soft place to land and Bandit, Austin, Sarge, Diva, Lucky, Pappy, Smokey Joe, Buddy, Skye, Riney, Maria, Copi, Pastorita, Shiloh - were all cared for, loved and rehomed this year thanks to you!
Will you help us make 2023 an even better year? Here are several ways you can get involved:
Become a volunteer! We are greatly in need of foster homes for our adoption program and for staff support in our communication, social media, education and membership programs. We'd love you to join us!

If you wish to make a financial gift, there is still time make a tax-deductible donation by December 31st. We can also accept contributions from a retirement account, donor advised fund or gifts of stock.
Please check with your place of work about employer matching programs to help your donation go even farther!
And spread the word about PEAC with your friends. Could you forward this email to at least one person who may love our mission?
Everything accomplished this year was because of your generosity and continued dedication to supporting our parrots.

We thank you from the bottom of our hearts.
With gratitude and wishes for a bright and happy new year!
Kelly Flynn, President, Parrot Education and Adoption Center