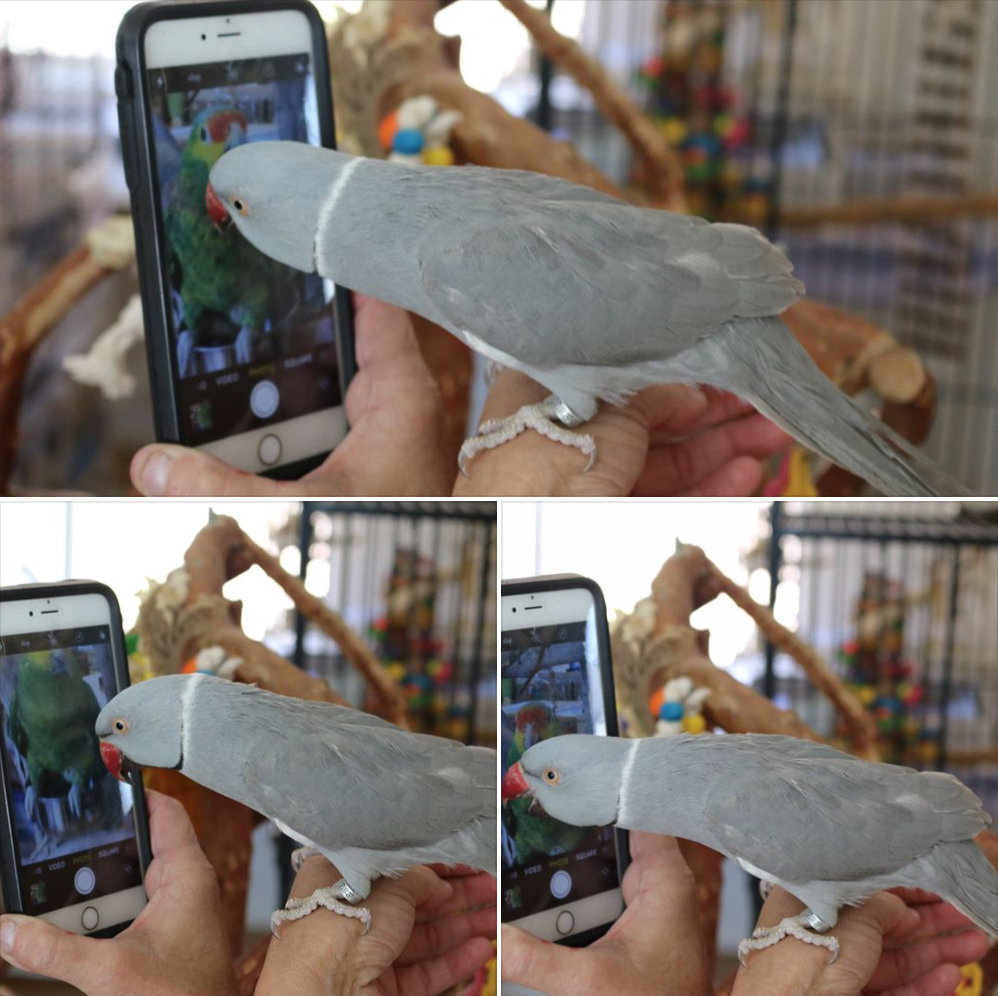 Happy September Members!

Remember PEAC on "Remember Me Thursday"
This summer has been a slow one for PEAC with only one adoption. And as much as that one adoption brings us joy, we also wonder if our message is reaching the right audience. We have truly lovable parrots available for adoption, many of whom are still with us from last year - like Polo, the Red-lored Amazon, who is exceptionally sweet-natured, or Skye, a handsome, young Ringneck parrot who gives kisses and loves adventure. Families who are looking for a parrot (or any pet,) often think of pet shops first, before visiting local rescues and shelters. LET'S CHANGE THAT on "Remember Me Thursday!"
TOMORROW Thursday, September 26th, our volunteers will be at Balboa Park to join Helen Woodward Animal Center for a candle-lighting ceremony to raise our voices together and make the world take notice of orphan pets in San Diego and around the world for "Remember Me Thursday." Helen Woodward started Remember Me Thursday to "shine a light" on all the pets waiting in rescues to be adopted and has developed into a large social media movement – maybe you can't adopt every parrot who needs a home, but you CAN tell everyone about pet adoption this Thursday and help amplify our message!
A parrot's long lifespan, (upwards of 15-20+ years for smaller species, and 30-45+ years for larger species,) means that each parrot may have seven to eleven owners during their lifetime, according to a study by Best Friends Animal Society. Add to that, a parrot's unique (and often challenging,) requirements for care and they may be one of the most re-homed pets in America.
It's time to shine a light on adoptable pets like Polo and Skye and share the importance of pet adoption and rescue – ESPECIALLY FOR PARROTS!
So, on Thursday, whether or not you can join us in Balboa Park, help us spread awareness worldwide and tell everyone about adoptable pets waiting for forever homes. #RememberMeThursday will be taking over social media so tweet, tag and share the beauty and life-saving significance of pet adoption on Facebook, Instagram, Twitter or "whatever hip snappy social media place" the kids are visiting lately!
SHARE one of PEAC's adoptable parrot profiles, forward this newsletter to a friend, or tell us your story about parrot adoption and don't forget to tag it with #RememberMeThursday and #RememberTheRescue. Eighty percent of individuals are influenced to take action by a peer's suggestion on social media – YOUR VOICE makes a difference, and together we are an unstoppable force for parrot rescue and all orphaned pets around the world!
Don't forget to follow us on @peacsandiego (twitter,) @peac_sandiego (instagram,) and @peac.org (facebook,) – all of our adoptable parrot profiles are available at: peac.petfinder.com , just click on "view our pets". Thank you for being a voice for our adoptable parrots!
Thank You for your Generosity
PEAC wishes to thank ALL of our donors whose monthly and annual support makes everything we do possible! Please stop by one of our events and introduce yourself, we really want to give you a big hug and high five for your incredible dedication to our parrots. You've given all of our parrots a second chance at finding a loving and educated home. Words just can't express the true gratitude we feel.
Most recently we had some especially "nutty" fans who made our parrots' day by sending them a big box of mixed nuts from Nuts.com! Thank you Mavis F., and Marcin G., each for your generous gifts! And should the fall season inspire you to get nutty, you can find our pre-selected packages ready for donation at Nuts dot com under "Gifts" and then "Charities." They will ship directly to us – and please put your name on the 'message' so we can send our thanks!
You may have noticed that our website is undergoing some construction. There may be a few hiccups while it's being updated but we hope to be finished soon. Special thanks to one of our newest volunteers Leandra from Digital Mogul Marketing, for all her hard work and diligence – we can't wait to make it even easier for you to find our adoptable parrots and register for classes on our new website! Woo woo!
Recent Adoptions
Lucy, our Alexandrine parrot, has been adopted! Her new family had experience with Alexandrines in the past and were very happy to find one available for adoption. She will be sharing a home with their whole family and have lots of attention for her "peek-a-boo" serenades! Everyone in the family has been so patient and visited Lucy several times, where they got to know each other. Lucy loves being a chatterbox and will no doubt have plenty to talk about with them. We wish Lucy and her family the very best on their new life adventure together!
Baby, our Yellow-collared mini macaw, has also found his forever family. When Baby's foster in San Diego had to move out of the county, PEAC had run out of foster homes he could comfortably move into. Luckily, Best Friends in Kanab, Utah, welcomed Baby into their adoption program and Parrot Garden! Baby had spent about 3 years here in San Diego with few inquiries, but almost immediately had a family interested in him once he reached Best Friends. Baby has since been adopted and is in a loving home – he finally got his "happily ever after" that he so very much deserved. Congratulations to Baby and his new family and our deepest thanks to Best Friends for helping PEAC and making Baby's wishes come true.
PEAC has 12 more parrots looking for new homes – including four Blue and Gold macaws and one Greenwing macaw, all from individual homes. Please visit all their pet profile pages at: PEAC.petfinder.com and click on "View My Pets."
We could always use foster homes for our parrots, now more than ever. Please email us directly at peacadoptions@gmail.com or secretary@peac.org if you're interested in becoming a foster "parront"!
Update on Virulent Newcastle Disease Outbreak in Southern California
Virulent Newcastle Disease (VND,) continues to be a concern in Southern California. One property with chickens in San Diego County (in Ramona,) was recently determined to be positive for VND on August 31st, but NO additional positives in San Diego County have since been reported by the California Department of Food and Agriculture. Although this highly contagious and fatal viral disease primarily affects poultry, it is a threat to all birds, including parrots, should they be located near a premises which tests positive for VND. Since only one property tested positive for VND in San Diego County, only a very small area consisting of several properties in Ramona, about 1km in size, has been locally quarantined. The VND regional quarantine zone is still in place around Los Angeles County, Riverside County and parts of San Bernardino County.
Wherever you are located, we encourage all bird owners to practice good biosecurity including not visiting feed stores or locations that contain poultry, waterfowl or feed for these species. If you visit any areas with pet or wild birds, keep separate shoes and clothing to wear and leave outside your home. Then when arriving home, wash up and change into fresh clothing and shoes to wear inside with your own pet birds. If you bring a new bird into your home, it is always good to keep them quarantined in a separate room, away from other birds, with separate food, water, bowls, and wear separate clothing when handling them, for a period of 30 days. Always tend to quarantined birds last, and wash thoroughly after exiting their room. Clothing, hair, hands and shoes can all be sources of transmitted diseases and viruses, including but not limited to VND.
The CDFA has a tremendous amount of information regarding VND, including a "Disease Prevention Guide for Backyard and Pet Bird Owners" with specific guidelines which can be found at: Biosecurity for Pets. Or visit the CDFA's website for quarantine maps, information and details on the current VND outbreak here: CDFA VND News.
Should you have any problem viewing those materials, don't hesitate to reach out to us or respond to this newsletter and we will get you more information about VND.
There have been no new cases in Southern California since September 9th in Riverside County, and the number of new cases has been slowing. If we all work together, use property biosecurity and not move birds from inside a quarantine zone to outside a quarantine zone, this outbreak will end soon.
Class Schedule
As 2019 comes to a close, don't miss our last classes and events for the year!
Classes for "Parrot Behavior, Foraging and Enrichment" (required for adoption) are scheduled for October 19, 2019 and November 16, 2019, from 1:00pm to 3:00pm at San Diego County North Animal Shelter located at 2481 Palomar Airport Rd., Carlsbad, California, 92011. Preregistration is strongly encouraged, so that we know you're coming! Additionally, please let us know which parrot you are interested in adopting so that we may have them present early for a "meet and great" starting at 12:30pm. You may register at our website at: www.peac.org or email us directly at peacadoptions@gmail.com.
Last Outreach Events of 2019
September 26th, this Thursday, join us for #RememberMeThursday at Balboa Park on 6th Ave., between El Prado and Juniper Street, near Nate's Point Dog Park, from 5:45pm to 7:00pm. You can also show your support by sharing messages about parrot and pet adoption on social media using the hashtags #RememberTheRescue and #RememberMeThursday. Let's make sure the world knows there are wonderful parrots and pets of all species just waiting in local rescues to find a home! Visit www.remembermethursday.org for more information about this special day.
October 12th from 11:00am to 3:00pm, we'll have our booth, volunteers and adoptable parrots at Grossmont Center for the MEGA Adoption event "Howl-O-Ween Hounds!" Hundreds of available pets by dozens of rescues will be available, and almost everyone (pets included!) will be in costume! Last year was a blast, you won't want to miss this spook-ta-cular event!
November 23rd is "Doggie Street Festival Adopt-a-thon" at Liberty Station's NTC Park in Point Loma from 9:00am to 3:00pm. It's our fourth time attending, so get ready to holiday shop and adopt! This beautiful location will be filled with hundreds of pet rescues from all over San Diego County - make us part of your day as you peruse the booths and nearby restaurants and shops!
December 7th from 11:00am to 3:00pm, we are back at Grossmont Center for the MEGA Adoption event "Santa Paws!" You know the drill: See a movie, do some holiday shopping, and meet hundreds of adoptable pets, including our parrots! You might find someone special to kiss under the mistletoe and ring in the new year with!
On behalf of our parrots and all our volunteers, I send our warmest wishes of gratitude for your continued support.