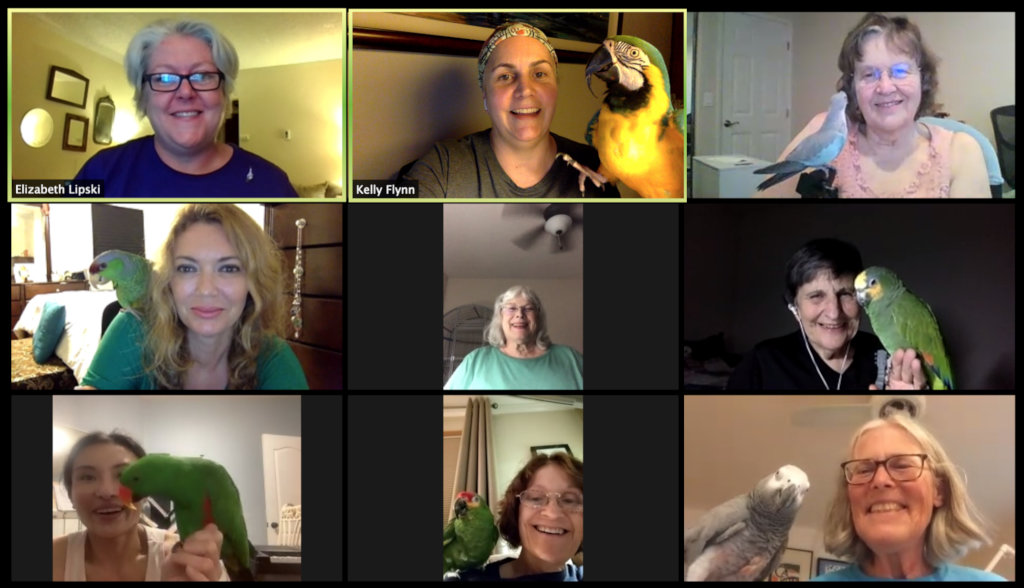 PEAC is Staying Connected While We're Staying at Home!
Dear Donors and Supporters,

We hope this finds you and your family safe and healthy as we send you these warm greetings. We've been doing our best, learning to navigate this new and changing reality we find ourselves in. We certainly miss our adoption fairs and meeting everyone in person. We miss meeting each of you personally every month for our meet and greet classes. We feel quite lucky that many of us have been able to work from home, which has caused a delay in sending our newsletter out - my sincerest apologies for this lag.
Over the past several months, our volunteers have genuinely worked so hard answering emails and questions about companion parrot care, sharing and responding to social media, and completing adoptions. We recently started our monthly classes again (in a virtual format.)
We have so much news to share that this newsletter has been split into two parts!

Today, we can't wait to tell you about the members of PEAC's adoptive flock who have found new homes! Next week, we'll have more updates and news to share in an additional report.
They're Adopted!
PEAC paused adoptions in March and April to determine a new protocol for our process moving forward and to ensure we were meeting all city, county, and state requirements for responsible behavior and social distancing during this pandemic. We have moved our classes to a virtual format, and are spending more time on the phone and through individual video conferences and FaceTime to get to know each other. We complete a virtual home visit by video, and then a quick walkthrough (with personal protective gear for our volunteers,) of the home later. Parrot meet and greets, for now, are in outdoor aviaries or covered porches. Participants are asked about whether they are experiencing any symptoms of COVID-19 (or any illness.) Volunteers use hand sanitizer and have other sanitizing options available to use before entering homes and vehicles. PEAC will continue to monitor and follow local requirements during this fluid situation. Now on to the announcements!
Babie Loo, a male African Grey who came to PEAC earlier this year, was adopted! Babie Loo had shown off a large vocabulary while in PEAC's care, but especially touched his foster mom's heart when he said "Bye Bye Sweetheart" as she left him with his new family. During their visits, Babie Loo and his new family have done so well that it was a good match from the start. Since settling in his home, Babie Loo has enjoyed his new large play gym, and cage and his family have been enjoying Babie Loo's companionship and surprising vocabulary. We're sure they have lots of new adventures planned and wish them the best!
Our beautiful little Winnie found a home! Winnie's curious and sweet nature is appreciated by her new family, who were so happy to have found her. Winnie loves spending time listening to music (and dancing!) with the family, staying busy with foraging toys, and playing the occasional prank like climbing to the top of her companion's head (something they are working on discouraging.) Congratulations to Winnie and her loving family!
Tiki, our charming female, Cinnamon mutation, Green-cheeked Conure found her forever family, and has a new career "modeling" for the family's talented artist! She loves watching tv, getting head scritches, and teaching everyone that she is in charge! (Not really, but sometimes she thinks she is, haha!) Tiki is full of love and enjoys just being part of the family... and she found the right family to love her back! We are so happy about this match. Congratulations! Woo woo!!
We are also so (so!) excited to let you know that Skye was our first adoption of 2020, and he found an amazing "dad" for his new adventures! Skye is a very active, grey mutation, Indian Ringneck parrot who had been with PEAC for two years. Skye must have been waiting for just the right person to come along so he could say "gimme a kiss!" Skye and his new dad, Nic, are fantastic together, and he took the time to make his home the perfect "landing spot" for Skye. Skye is returning the favor by "helping" Nic with his homework, as all smart parrots love to do! Our best wishes for a long, happy life together!
Pierre, a Golden Conure who came to PEAC last year, was adopted! Within a week of being placed into his foster family's home, and before we could introduce him to the world, his foster family contacted our adoption team and said they had fallen in love and wanted to adopt Pierre. We couldn't have been happier since he has found the most wonderful family to appreciate all the love he had to give and his "clown-like" antics. We get the best warm fuzzy feeling knowing that Pierre will have a great life with his (now permanent) family who loves him dearly.
We also have one more "foster failure" to cheer on - Amos! Amos is a female African Grey, who was with PEAC for about two years. She is a little shy and enjoys a regular, calm routine with time outdoors in her aviary. Amos came to PEAC with some feather-destructive behavior but has significantly improved in her foster home. Her foster family recently admitted that they did not want to let her go and applied to adopt her. She fits in so well with their other African Greys and has connected with all the family members. She now eats a healthy diet, gets regular exercise, and actively forages. Playing with her endless supply of toys is one of her favorite activities, as is getting head scritches while on her mom's chair. We are so happy that Amos found the right family to love her.
Congratulations to them all!
PEAC is Zooming Along!
PEAC classes and volunteer meetings have gone "virtual" to accommodate our state's requirement to stay socially distant. Classes are being held the last Sunday of every month via a "Zoom" (a video call,) and if you are a member, you can attend for free - just email us directly (peacadoptions@gmail.com) for a secret code word to use during online registration. Don't hesitate to reach out to us if you have any questions!
A Surprising Follow Up with Munchkin!
Munchkin is a Double Yellow-headed Amazon who came to PEAC from the San Diego Humane Society two years ago. His skull was malformed and undersized, resulting in a lower bill that reached up and over his upper mandible. His right eye was also affected, reducing his sight. When he came to us, he was in pretty rough condition, but Munchkin showed us that he enjoyed human companionship and wanted a family. That is when Melanie saw him on our Instagram page, fell in love, and adopted him!
You followed and supported Munchkin from the beginning, and now we have more to share about "what happens after" - and it's pretty cute! SO cute that "The Dodo" featured their story online and their video has been viewed over 6 million times! Breaking news - Melanie and Munchkin have been asked by a major talk show to do a virtual interview! We'll let you know what happens!
We're sharing a link to take you straight to The Dodo's adorable video titled "Woman Flies Across Country to Adopt a Bird She's Never Met." In case our link doesn't work, you can search TheDodo .com for that title to find and watch. And know that Munchkin found his happy ending because of YOUR support!! That's because...
When We Work Together, Great Things Happen!
In the 1950s, a sociologist named Charles Fritz jump-started the academic study of disaster with a single, vivid insight: People in crisis help each other. First, we help the people nearest, then we help the ones a little farther out, and then farther out again.
I genuinely want to take a moment to honor and thank PEAC's volunteers who have been AMAZING during this unprecedented time. Many stepped up their support for PEAC while keeping full-time jobs in often difficult circumstances and with new challenges. Thank you, volunteers, for your continued dedication and positive spirits!
Additionally, I want to thank our donors for your TREMENDOUS support! You've been busy creating fundraising campaigns for PEAC, donating parrot food, and sanitizing supplies! You've checked that our veterinary bills were paid, gifted our parrots with toys, and asked your friends and family to donate.
Thank you, THANK YOU for never ceasing your support and helping PEAC continue our important work!
When we work together and believe enough in a good cause, good things can happen. We are optimistic for a bright 2020 filled with more love, support, successful adoptions, and an educated companion parrot community.
With gratitude,
Kelly Flynn, President, Parrot Education and Adoption Center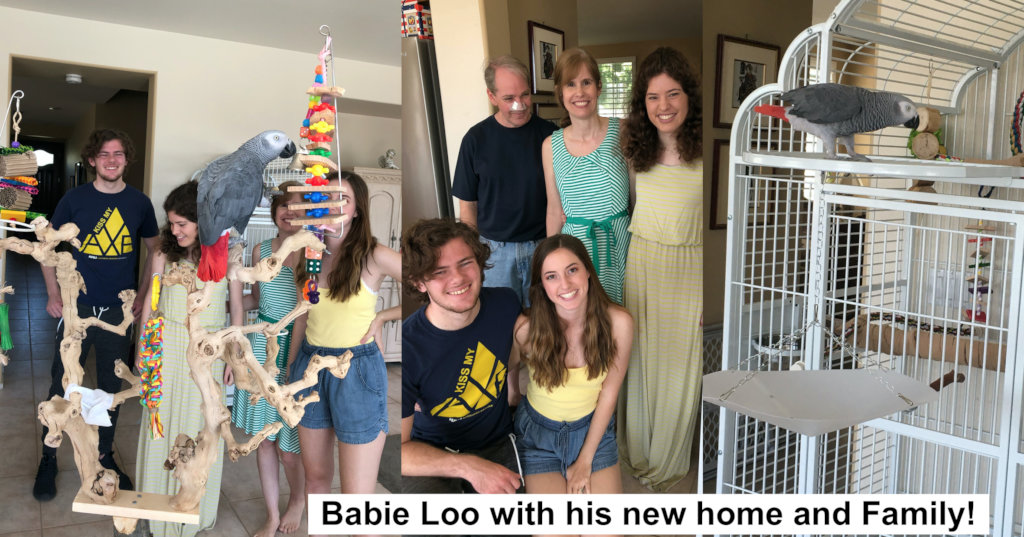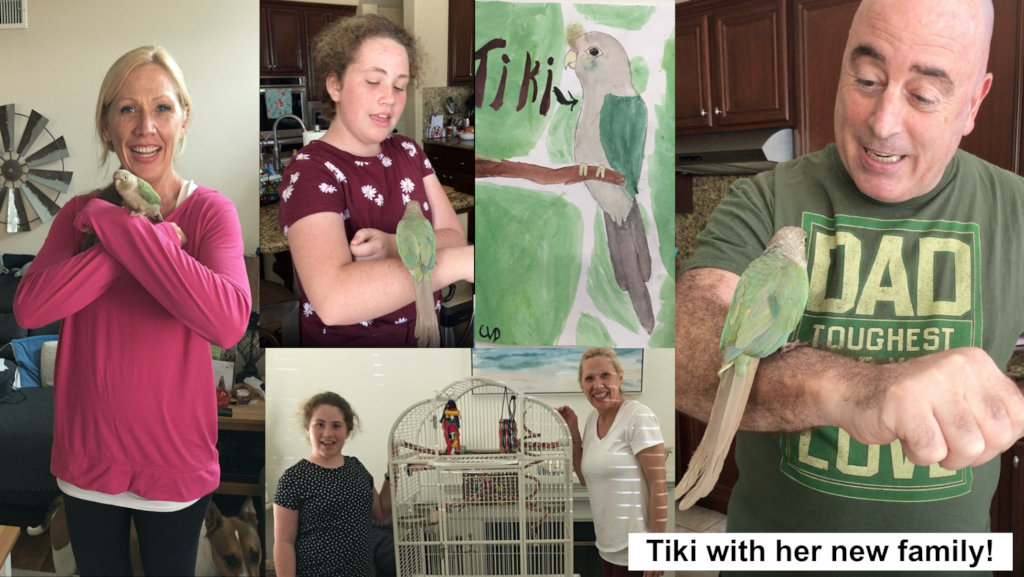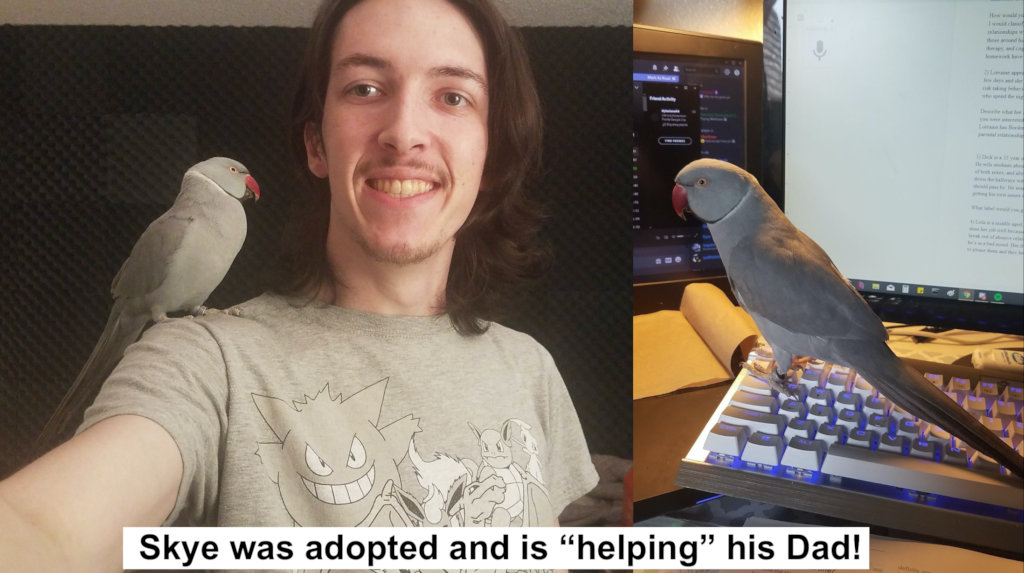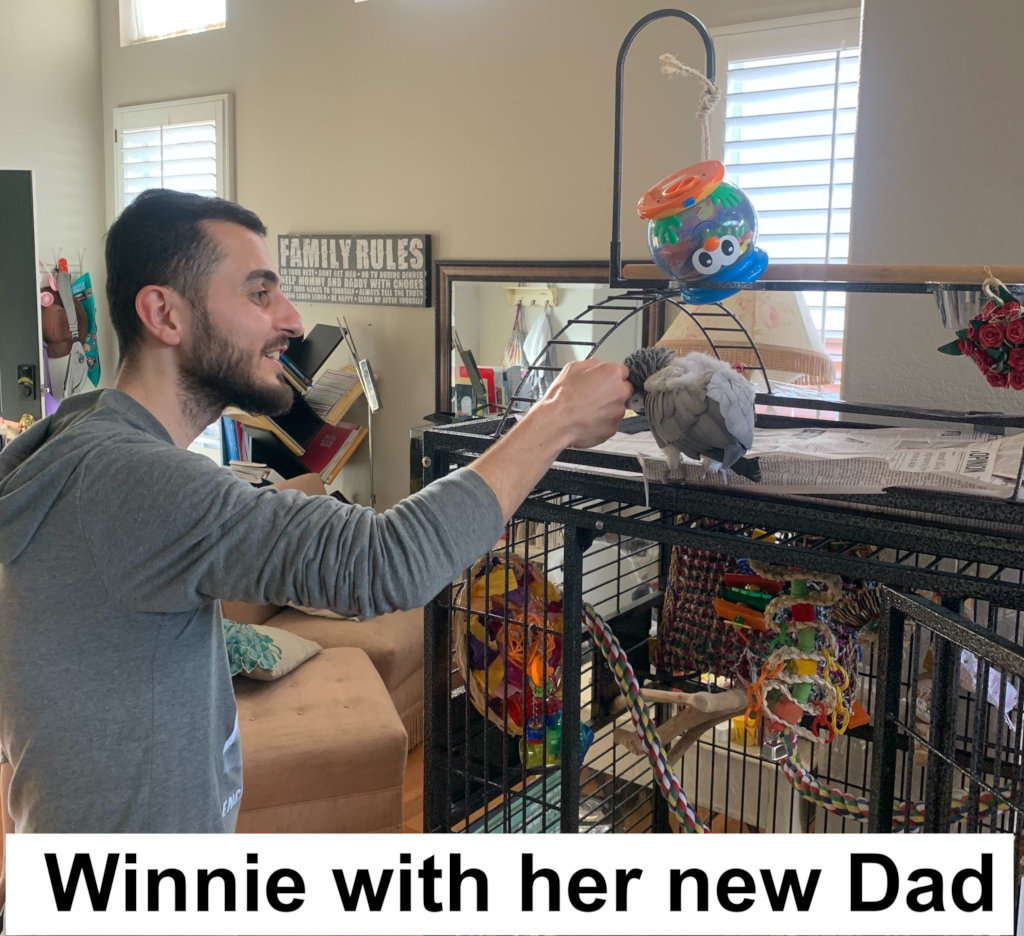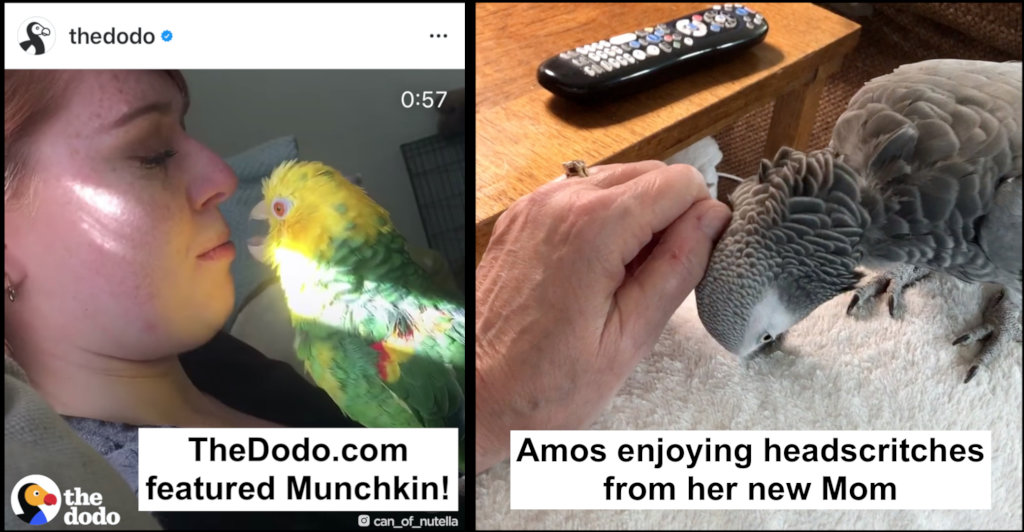 Links: