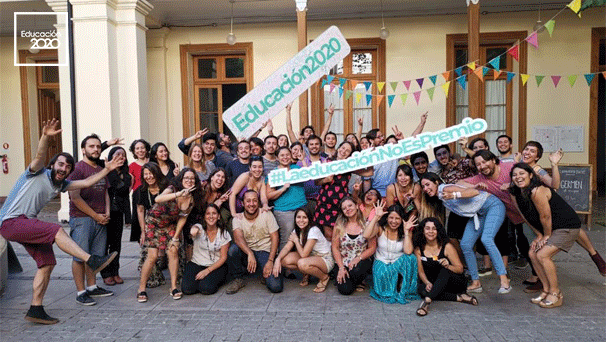 We wanted to share a recap of our most important milestones from 2018. It was quite a year!
We turned 10!
Ten years have passed since our organization began to work to transform the Chilean education system. We have spent the last decade advocating for public policy reforms, working on the ground to bring educational innovations to vulnerable schools, and inviting the community to join the conversation through our one-of-a-kind communications platform. To celebrate this occasion, Educación 2020 created a website featuring 10 stories of people whose lives have been affected by our work. We invite you to explore "10 years, 10 stories."
Highlights from our work on the ground in vulnerable schools
Educación 2020 continues to expand Tutorial Relationships throughout Chile
Tutorial Relationships is an educational movement that builds learning networks based on dialogue, reflection and community. Students learning through Tutorial Relationships demonstrate improved self-confidence, critical thinking, reading comprehension, and communication skills.
After three years of working with vulnerable high schools in the Cautín province of Chile's Araucanía region, we are proud to report that 513 students and 108 teachers and administrators have now been trained in the Tutorial Relationships methodology. Hats off to these educational communities, who dared to innovate and in doing so changed the way students learn!
As schools Cautín begin to implement Tutorial Relationships independently, we are thrilled to begin training teachers and students at two new schools in Chile's spectacular south. Welcome to the learning network to the Josefina Aguirre Montenegro School of Coyhaique and the Almirante Juan José Latorre School of Chaitén!
Educación 2020 made history in 2018 by partnering with the very first "Servicio Local de Educación Pública" (SLEP) office in Barrancas, outside of Santiago. These Ministry-of-Education-run SLEP offices are the cornerstone of the Chile's "New Public Education Law," which provides fairer distribution of resources and personnel to public schools. Establishing their commitment to educational innovation, three vulnerable public schools administered by the Barrancas SLEP office worked with Educación 2020 to launch Tutorial Relationships in November of 2018. The first step in implementing the 18-month Tutorial Relationships program is training the "pioneer" group of teachers, followed by "pioneer" students.
"We feel very privileged to be the first teachers in Barrancas to be trained in this methodology, which I think will contribute to changing our public education system." -Nicole Bascuñán, Sor Teresa de Los Andes School
Highlights from our work on the ground in vulnerable schools
New project launch: " #aMezclarse: More Diversity, Better Education!"
Funded by the European Union, this project will strengthen the right of the migrant community in Antofagasta to a quality education through community awareness building, teacher training, student advocacy workshops, and the creation of a multisectoral network of education stakeholders. Check out the project website to learn more! www.educacion2020.cl
Boeing Inspires Tomorrow's Innovators in Chile
At the end of 2018, Educación 2020 wrapped up a program that brought Project Based Learning (PBL) to 5th and 6th graders at three vulnerable schools in Santiago. Generously funded by The Boeing Company, this initiative promoted innovative STEM learning and the development of 21st Century skills. Through a series of weekly workshops held at each school, 30 teachers learned to utilize PBL to better engage students. In addition to linking PBL instruction to national curriculum, teachers learned how to create integrated projects that align with Gold Standard PBL as defined by the internationally recognized Buck Institute for Education. Noelia Acosta, a 5th grader from the Guillermo Zañartu school shared her own positive experience. "It was fun and I was able to learn. I feel that with this I learn more than in the classroom. I would like for us to continue implementing PBL!"
Highlights from our public policy work
Education is Not a Prize
On Yanuary of this year we launched the campaign #LaEducaciónNoEsPremio (www.noespremio.com) (Education is Not a Prize) in response to the government's recent proposal to walk back reforms designed to create a more inclusive education system. This campaign has garnered over 6,000 signatures to date, including many elected officials and education experts.
We raised our voices in Congress
As well-respected as experts in their field, members of our Education Policy team were invited to present on a variety of topics in the halls of Congress throughout the year. Among others, Educación 2020 advocated for changes to a proposed "Safe Classrooms" law, and fought for the incorporation of more resources and better student/teachers ratios into a proposal for universal daycare.
Supporting young activists throughout Latin America
In 2018, Educación 2020 implemented the "Laboratorio de Incidencia Ciudadana (LIIC)," (International Laboratory of Citizen Advocacy) in Panama. Funded by the United Nations Development Program and Chile's Ministry of Foreign Affairs, the project allowed fifty young people to spend five months developing advocacy skills and creating projects designed to spark change in their own communities. These students then presented "19 Proposals for 2019" -- a report including suggestions on how to improve Panama's education system -- to candidates in the country's upcoming presidential election.
Supporting regional cooperation on education reform
The Latin American Education Network (REDUCA), a coalition of civil society organizations from 14 countries, held its VII Annual Assembly in the Dominican Republic in 2018. Educación 2020 is a leading member of the coalition, and supported its renewed commitment to improve learning outcomes for children throughout Latin America.
Highlights from our leadership team
Mario Waissbluth presents his book in Argentina
One of Educación 2020's founders, Mario Waissbluth, toured the region in 2018 to promote his acclaimed book "Education for the 21st Century: the Latin American Challenge." In Buenos Aires, Waissbluth discussed the challenges confronted by the education systems of the region and how public policy should be constructed to address them
Coming full circle: Matías Reeves steps up as President of the Board
Another of Educación 2020's founders, Matías Reeves, assumed the role of President of the Board of Directors in 2018. Matías, who studied industrial engineering and the University of Chile and received a masters in public policy from the London School of Economics, has big plans for the future of the organization. "A new phase is coming for us to continue advocating for, challenging, and rethinking the education that Chile needs," said Reeves.