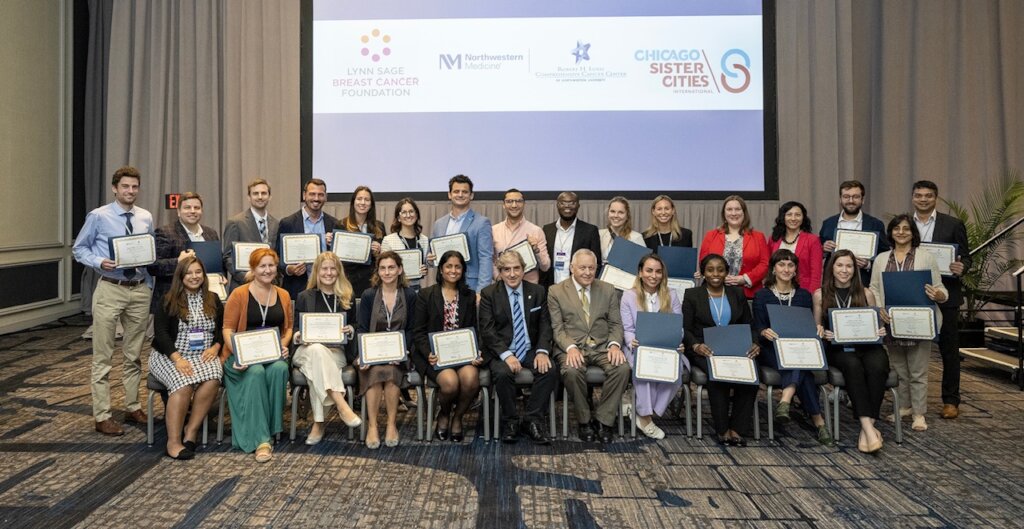 We often joke about October being our "Super Bowl", but the work we do in October is not a joke. In fact, we would like nothing more than to see an October in the near future that no longer needs to be pink.
But before October, we were incredibly proud to be a part of the 25th Anniversary Lynn Sage Breast Cancer Symposium in partnership with Northwestern University here in Chicago in September. Not only did this important breast cancer meeting convene top researchers, clinicians, and advocates from across the country, the Lynn Sage Breast Cancer Foundation flew in fellows from across the country and across the world in partnership with our friends at Chicago Sister Cities. Our deep commitment to investing in early career practitioners is reflected in these fellows -- and we are so proud to see that the next generation of leadership in research and care are bright, passionate and dedicated to eradicating breast cancer.
To start off October our incredible Team Lynn Sage ran the Chicago Marathon! On a cool sunny day 54 runners took to the course -- our largest team yet! -- and raised over $145,000 for breast cancer research, beating our original goal of $125,000 handily! We are incredibly proud to know these athletes and their families -- and are looking forward to seeing many of them return to our 2024 team -- some with their family members running as well!
For the first time in three years we came together as a community for our signature event, An Evening of Collaboration for Breast Cancer Research, where 800 supporters joined us under a pink-lit Chicago skyline and helped to raise almost $1.4 million for research. On top of that, we announced support for the first-ever Chicago Breast Cancer Research Consortium, bringing together Northwestern University, University of Chicago, and Rush University all for the advancement of research, improved outcomes, and better access to clinical trials. We are incredibly grateful for everyone that joined us and supported us that evening -- our hearts are tickled pink!
We are also grateful for our tremendous partners who participated in our Purchase4Pink and Chicago's In Good Taste campaigns. The community that rallies together to support breast cancer research is full of creativity and generosity and we are truly thankful for over 75 restaurants and inumerable retail partners who generously supported us.
There is more excitement to come - and thank you for your support. Collaboration was the theme of our evening -- but it is the key to truly changing the trajectory of this disease.