Project Report

| Sep 16, 2020
When we come together - nothing is impossible!
By Vo Ngoc Tuyen (Kelly) | Head of Corporate Partnerships & Fundraising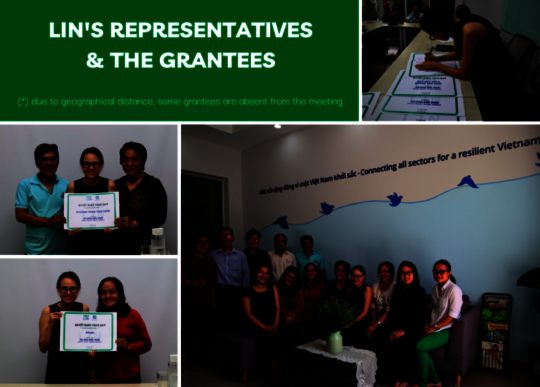 Dear friends,
I hope my message finds you safe and well, wherever you may be.
Three months after we introduced Covid-19 Response Community Fund, we have never imagined receiving such amazing support from the Community, and we are so touched to see many people such as yourself who give a hand wholeheartedly. Thanks to your generous donation and support, 10 local nonprofit organizations (NPOs) working tirelessly on employment, children, youth development and women causes, were able to receive this important funding support which play a significant role to help those organizations to carry on their operations and programs that serve those marginalized groups in their local communities in the next 6 months. This financial aid will somehow alleviate the burden of operational costs to sustain the organizations and resume their activities after the social lockdown.
Please click here to download our initial report of Covid-19 Response Community Fund with summary of our fundraising result, introduction of 10 NPOs receiving the fund and our criteria how to select these 10 NPOs. We will continue to follow up with these NPOs in the next six months to evaluate the impacts of this funding support on their organization and their work, we hope to have some great stories and photos to share with you by the end of this year too.
Moreover, despite all the challenges and barries under Covid-19 pandemic, we also managed to successfully organize our very first virtual conference after months of planning. This new format of LIN's Annual Cross Sector Conference was made to adapt to the new situation. Therefore, we are grateful for the support and understandings of all great sponsors, partners, speakers and supporters to make this event happen.
And another good news also came two weeks after the Conference, the Opportunity Networking event of LIN's Annual Cross-Sector Conference which had to be delayed due to the social distance rule, is finally happening on 30th September thanks to the recently lifted restriction on event gathering in Ho Chi Minh City.
Our goal is to create opportunities for business and non-profit representatives, philanthropists to meet and connect with potential partners towards the 5 main themes including Education, Gender Equity and Social Inclusion, Environment & Climate Change, Job Training & Youth Development, Economic Empowerment & Entrepreneurship. If you are in Saigon and interested in attending the event, you can register to join us here.
Once again, on behalf of the LIN team and our community, we thank you for your generosity, support and kindness.
Should you have any question or need any further information in the meantime, please do let us know.
With gratitude,
Vo Ngoc Tuyen (Kelly)
Head of Corporate Partnerships & Fundraising
Links: