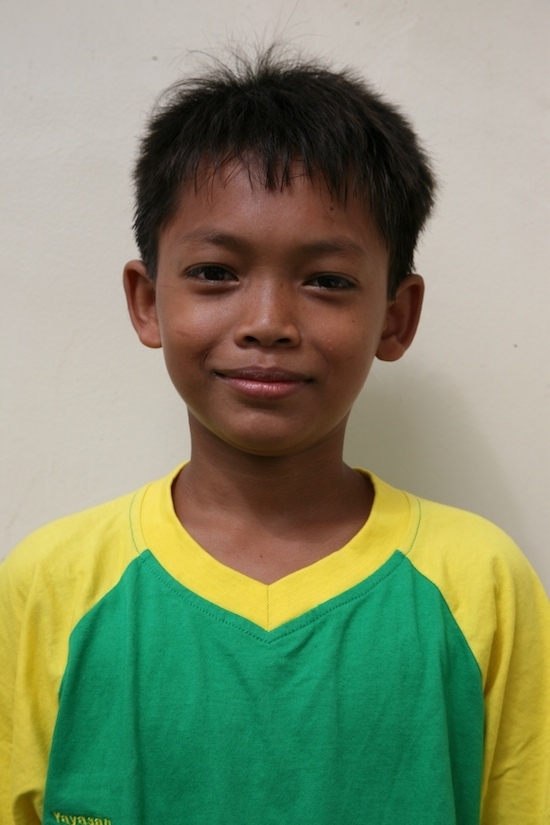 Thanks to the generous support of our donors, XS has made enormous strides in the past 3 months. Since January of this year, we have produced over 5,000 products - all from non-biodegradable waste. With the revenues that we generated, we have been able to commit to the education, housing, and medical needs for 2 more children who had been earning their livings picking trash. Our commitment will support both of these young boys. We are now waiting to raise enough funds to commit to the support of a third child, which will bring our total to 24.
The picture on this site is of Putra. He is one of the two boys that we are now able to support thanks to donations through GlobalGiving. Putra's parents were divorced. No one knows where they are, so Putra was living with his grandmother in a 9 x 12 square foot house that was made of bamboo. His grandmother is very old and has no income. As a result, there was no money for schooling, so Putra dropped out. He started wandering the streets and picking trash. Putra and his grandmother also received food from their compassionate neighbors. Now he is in a wonderful boarding home with other children. He gets three full meals a day, and he goes to school. He can stay in the boarding home as long as he stays in school and as long as there is money to support him.
Our goal is to support all the children we help through their high school years, so they can have a more successful lives in the future.
The funds that we received have also allowed us to move away from a volunteer staff to some full-time permanent employees, which means that XS can begin to build institutional knowledge - a critical element of our growth. One of the people we hired was a sales manager to help us increase our ability to sell our products in Indonesia and abroad. This is very important for us as another goal is to become self-sufficient - supporting our environment and social activities through profits rather than grants.
Our sales effort was successful enough, that we hit our production capacity about one month ago. Now we are trying to find and train additional sewers so that we can increase the number of products we can make each month. This is a bit of a Catch-22 because we need additional funds to bring on the sewers, but without additional grants or sales, we cannot get the funds. So we are looking at innovative ways to bring in money while we gradually build our internal capacity.
We could not be in the position of growth and progress that we have achieved if it had not been for the donations made by people such as you. Thank you!
Links: