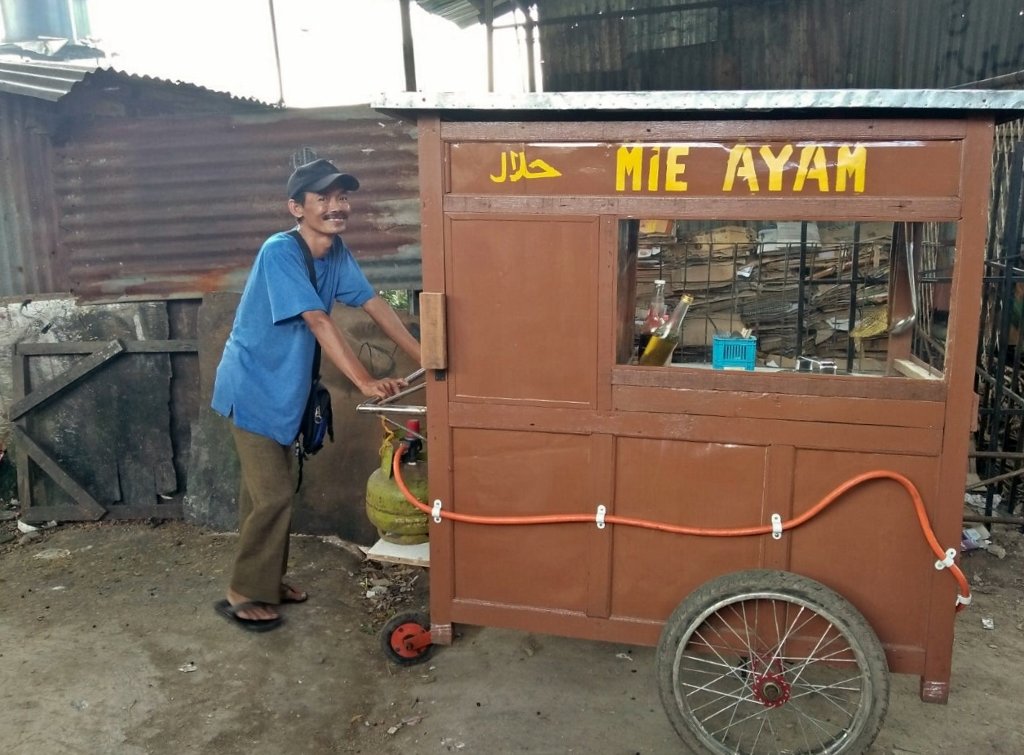 Sometimes you just know you can have a better life, a better job and be a better example to your children and community.
That's how it was with Pak Heri. Heri lives with his wife, 2 children and a big extended family of trash pickers in Jakarta. Years ago, before the family moved to the garbage dump and Heri became a trash collector, he had a small food card and sold Mie Ayam (noodles and chicken) street food to earn a living. He always wanted to have his own food cart again - someday.
When XSProject and the Business Club at the Jakarta Intercultural School offered Pak Heri a micro-loan to build a food cart, he didn't hesitate to accept. This was that opportunity to change his life that he had been hoping for.
In no time, Heri had his own food cart built.
Today, Heri is still rising very early and collecting trash from a small number of homes. While he is out, his wife, Sani, cooks the Mie Ayam and stocks the cart with food. He's home by 11:00AM to pick up the food cart and is on his way back out by 1:00 PM. He returns home around 9:00PM.
Heri is not yet making enough money just from food cart sales to support his family, so he still collects trash to make ends meet. He wants to find a permanent spot to park his cart so he can get regular customers and start to build and then expand his business.
At XSProject, we think Heri is on to something BIG That is why we invite you to help us with something LITTLE: GlobalGiving's Little by Little Campaign that is running from April 3-7.
GlobalGiving is matching your donations up to $50 at 50%. Our goal is to raise $3,000 towards helping Heri and other trash pickers build carts and subsidize their food cart business for the rest of this year.
One person, one moment and your donation is the gift of a lifetime. So please don't wait, make your donation now.