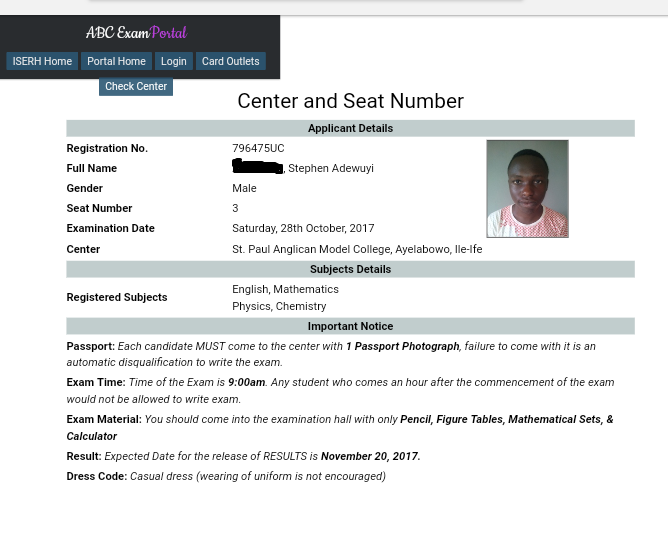 'This project report is a submission to GlobalGiving's 2017 Fail Forward Contest, where organizations are asked to share a story of when they tried something new that didn't go as planned and how they learned from it. Enjoy!'
In the year 2015, the Executive Director of the Initiative for Sound Education, Relationship & Health (ISERH) was the only person in charge of all the administrative works of the organization, including Aspiring the Best Competition (ABC) – through which teenagers are given scholarship to write Senior School Certificate Examinations (SSCE) and school supplies. He was looking for funding/sponsorship for ISERH's projects and at the same time looking for the strategies to make the ABC application form available to every teenager living and school in the State of Osun, Nigeria.
He failed to achieve the two missions consequent upon the fact that those who would have funded or donated towards the projects refused to do so, because he had no team. They saw him as a young man who was looking for a means to enrich himself. He couldn't achieve the second mission as well, as a result of the unavailability of the Aspiring the Best Competition's application forms in all the cities/towns across the state, aside Ilesa town.
Having realized the reasons for this failure, ISERH Executive Director learnt that he must look for like-minds to serve in the Administrative Team of the organization and as well design a better strategy of getting all teenagers within the state have unrestricted access to the ABC application form – hence, benefitting from ISERH's scholarship and school supplies. He rolled out volunteers' application on the directive of the ISERH Board of Trustees, and was successful to employ 11 brilliant professional like-minds. This formidable team worked tirelessly in bringing both human and financial resources to the organization.
Today, through the efforts of our ICT Director, ABC Application Form can be accessed anywhere on this planet via the ABC Exam Portal: http://abcexam.iserh.org/. Our recent success in becoming a permanent partner of GlobalGiving is a testimony of a collective efforts of ISERH's Management Team. The past failure has brought us knowledge, experiences, opportunities, and widened our project's reach.
We are convinced that we are at the verge of becoming an international entity to be reckoned with, in the nonprofits sector working on education, leadership development and health.
Links: