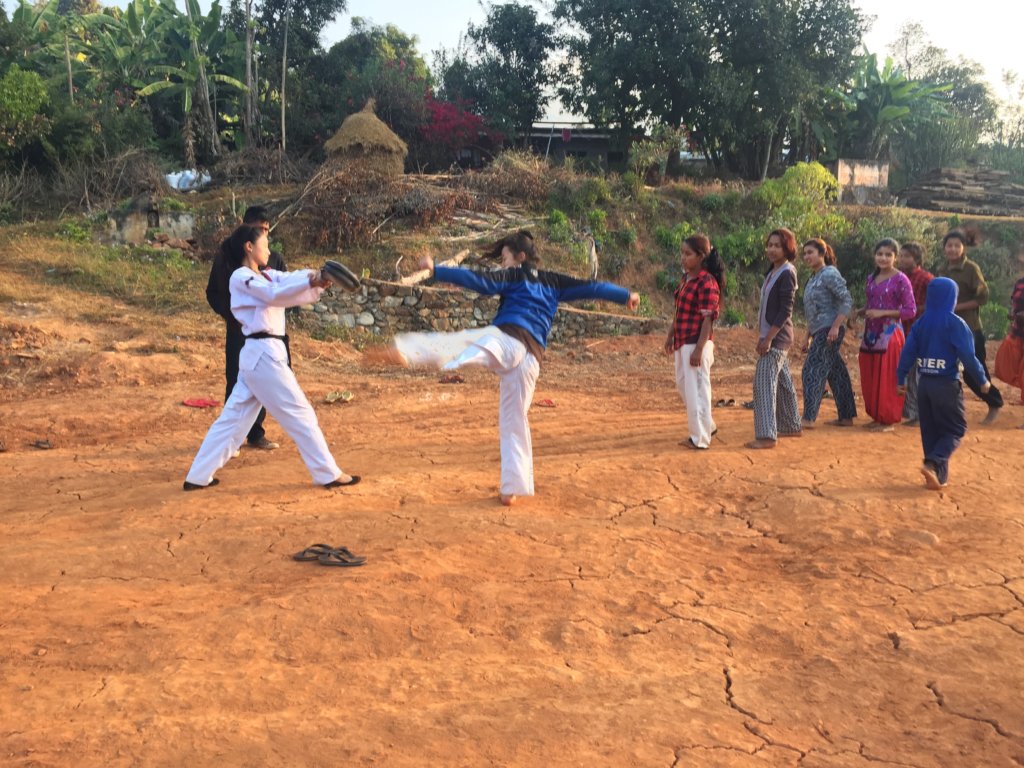 Meet Rita Tamang.
Rita is 16 years old and black belt in Taekwondo. She discovered her passion for Taekwondo when she was 8 years old. Almost 2 years back, earthquake destroyed her village – Kharanitar of Nuwakot district of Nepal. She had to give up her Taekwondo lessons because other things took over after the quake. Other girls who were also taking Taekwondo lessons also had to drop out.
Since last year, Visible Impact has been working to unleash the social and economic leadership of 15 adolescent girls of her village, by providing them mentorship on various issues such as academic support, support for co-curricular activities, workshops on social issues, leadership and accountability, entrepreneurship, storytelling etc.
On December 1, we started a fundraiser for these girls through Global Giving, where we attempt to raise USD 5000 for girls like her. We have been able to raise 800 USD so far, but we have already been able to show colors with the fund raised.
What has already happened with the donation?
With the donation, we have encouraged Rita to utilize her Taekwondo lessons to start her own class. Starting this month, she has started teaching Taekwondo lessons every morning for two hours to 15 other girls in the village and the number is growing
With the fund raised from Global Giving, Visible Impact will be able to sponsor Taekwondo classes for 6 months for 15 girls.
The girls in her village have been receiving self-defense lessons that will make them less prone to physical violence against them at home and community..
Rita has become an entrepreneur examplar in her village. She will be able to earn 250 Nepal Rupees (~2.5 USD per girl) for the coaching per month. That is a good income at that age, and other girls have been motivate to become entrepreneur as well.
Rita comes from Tamang community, an ethnic group of Nepal where women rarely come out of private space to public space. Rita has not only proved that women from her community, but any adolescent girl and women, can come upfront to become independent.
So, what is going to happen after 6 months then, you ask?
After 6 months, Helping Hands Kharanitar, which is local partner of Visible Impact, will register a Dojo in Rita's leadership at the village. We will then coordinate with the Village Development Committee office to allocate regular funds for Taekwondo classes for adolescent girls in the village. Also, we will link Rita to district and national level Taekwondo championships.
Eventually, more girls will become a social champion like Rita. We are proud of what Rita has been able to achieve with our and yours support.
We still need to raise more money from 20 more people to fulfill this challenge. If you trust us, donate here.