Project Report

| Apr 8, 2021
Flood & Landslide Relief in Kyushu - Final Report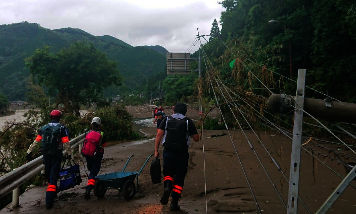 The heavy rains that struck the Chubu and Kyushu regions in July 2020 caused extensive damage to the areas. The subsequent flooding and landslides were also responsible for 77 deaths. Civic Force's supporters generously poured resources into relief efforts that funded rescue operations, relief item distributions, and collaborative projects with local NGOs. Please see below for further details.
Medical Assistance - ARROWS transferred patients who were rescued from a flooded nursing home to nearby hospitals. The medical team also treated evacuees at evacuation centers and prescribed medications.
Rescue Operations - On July 7, ARROWS delivered relief items to 70 victims who were stranded at a nursery school in Kuma and provided medical examinations. On July 8, the team rescued over 20 people who were stranded and transferred them to safety. On July 11, the team rescued a dog and cat stranded in an isolated area and returned them to back to their owners.
Evacuation Center Management - ARROWS helped manage five evacuation centers in Kumamoto. Kuma Athletic Park was a makeshift evacuation center where evacuees slept on the ground with only a vinyl sheet. The park is now used as a storehouse for relief items after ARROWS facilitated transferring the evacuees to two safer evacuation centers. ARROWS also assisted setting up the new evacuation centers.
COVID-19 Prevention - In the midst of the COVID-19 concern, ARROWS provided specialized support at evacuation centers. Civic Force's tents were used as isolation areas in case evacuees experienced fevers. ARROWS also promoted increased awareness for infection prevention including handwashing and gargling by placing advocacy posters throughout the area.
Procurement & Distribution of Relief Items – ARROWS provided timely distribution of relief items including masks, disinfectants, towels, mattresses, beverages, socks, fans, etc.
Thank you for your kind support in this project. The impact that you helped make in the lives of our beneficiaries is immeasurable and will be cherished. As Civic Force prepares for future disasters, we hope to again count on you for your generosity and assistance. Thank you once again.