Project Report

| Jul 29, 2023
Unbreakable Bonds: Conquering Cancer with Love and Support
By Charles Githu and Elizabeth Waichinga | Faraja Communication Department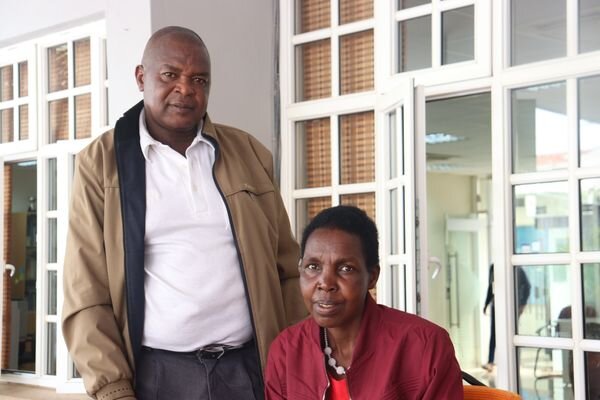 Esther, 50yrs old.
Esther's world came crashing down when she received the devastating news of her cancer diagnosis. Experiencing extreme dizziness and frequent nausea, she never imagined that her symptoms could indicate something as serious as cancer.
"Although I was diagnosed in 2020, I recall experiencing regular menstrual cycles since around 2013," Esther recalls. It was her husband, Ntoiti, who insisted that she seek proper medical care, as she had previously relied on small dispensaries that merely provided painkillers. Living in Meru while Ntoiti worked in Kenya's Capital City- Nairobi-Kenya's, Esther would complain about heavy bleeding, assuring him it was a common women's issue. However, Ntoiti couldn't believe that women would endure such heavy bleeding.
Esther and Ntoiti went to different hospitals before finally being referred to PCEA Chogoria Hospital in Tharaka Nithi County. A series of tests revealed the urgent need for treatment and further examinations more tests in Nairobi where well-equipped diagnostic facilities are available. However, financial constraints posed a significant challenge, forcing them to postpone until they could gather the necessary funds. It was during their time at MP Shah Hospital that the tests uncovered Esther's cervical cancer.
"I was completely shocked. I had researched her symptoms and believed she had fibroids," Ntoiti explains, adding that he had anticipated she would undergo a hysterectomy. "But cancer... where do we even begin?" Nevertheless, he remained devoted to being her caregiver and support system, tirelessly seeking to understand the diagnosis and available treatments.
The family, like, most Kenyans, relied on the National Hospital Insurance Fund (NHIF) which only paid for part of her treatment. "Little did I know that my small-scale business would not be sufficient to cover our family's basic financial needs, let alone afford a single cycle of chemotherapy!" Ntoiti had to act swiftly. "I approached churches, knocked on doors, and reached out to friends and family." He wasn't afraid to ask for help. He dedicated his business profits to the treatment, eventually having to close the business altogether.
Ntoiti's relentless determination paid off as he sought medical care for his wife, eventually leading them to Faraja Cancer Trust. At the Faraja offices, they were taken aback by the warm reception and genuine hospitality extended to them. Every person they encountered that day left a lasting impression, offering comfort and even a comforting beverage.
Their application for assistance was approved by Faraja, bringing a renewed sense of hope to their journey. Throughout the remaining chemotherapy sessions, Esther and Ntoiti are immensely grateful for the dignified support they received. Despite arriving at times without having had breakfast, they are greeted with a cup of tea, water, and an abundance of care.
Ntoiti emphasizes the crucial role of unwavering support from husbands, highlighting how few men stand by their wives during the challenging journey of cancer treatment. He firmly believes it is unethical to abandon the mother of one's children when she needs support the most. Esther wholeheartedly agrees and expresses immense gratitude towards Faraja for infusing them with hope and making their arduous journey bearable.
The Faraja Medical Support Fund is an endowment fund that supports patients through treatment for cancer. The fund is fully dependent on the generous donations from well-wishers like you. Cancer is reported as the third leading cause of death in Kenya and the primary cause among non-communicable diseases. Unfortunately, late-stage diagnosis contributes significantly to the high cancer-related death toll. During the National Cancer Summit 2023, a recent report highlighted the distressing fact that a large proportion of cancer cases, approximately 70%, are identified in advanced stages when a cure becomes nearly impossible.
At Faraja, we take a proactive approach by facilitating support groups catering for various types of cancers and outreach programs to ensure that more Kenyans are aware about the risk factors and early signs of cancer. Early detection plays a pivotal role in achieving better treatment outcomes, as research indicates that 30% of cancers can be effectively treated when caught at an early stage.
As our valued supporters, we extend our heartfelt gratitude to you for bringing much-needed hope, help and life to families like Esther and Ntoiti's, as well as countless others in need. Your donations make a significant difference in their lives.