Project Report

| Oct 10, 2019
Training Teachers in Cape Town Gives Children Brighter Futures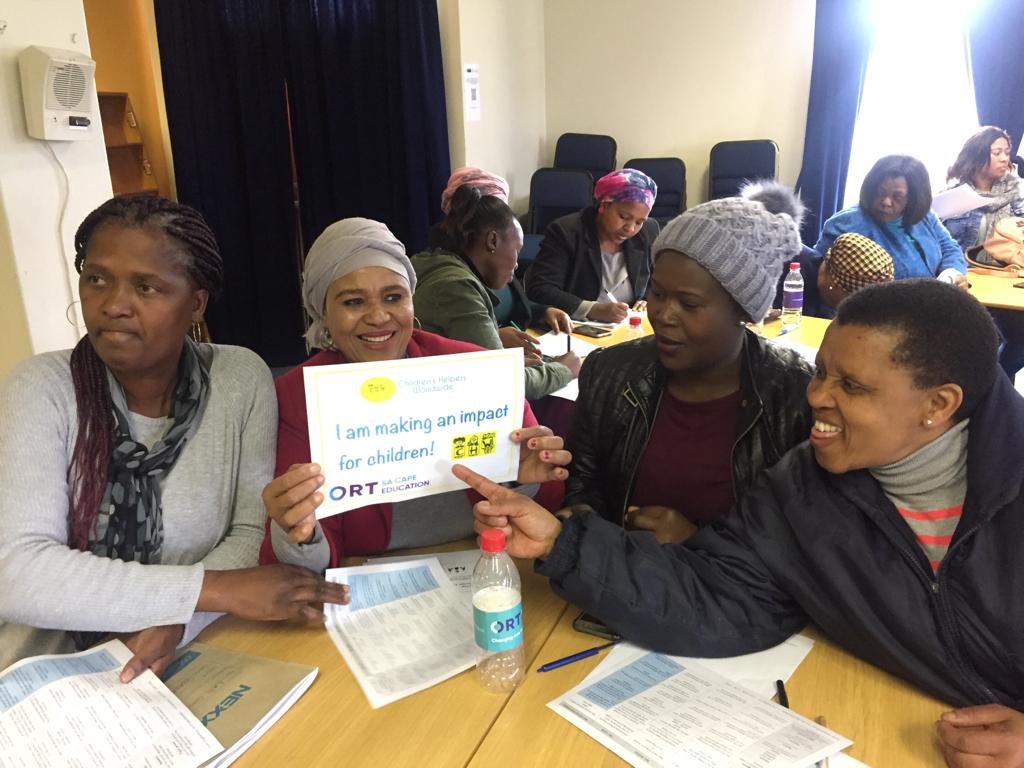 Thank you for your support for ORT SA CAPE's programmes in Cape Town, South Africa. ORT SA CAPE runs science and robotics programmes for children, as well as training sessions for teachers who are working in underprivileged communities.
Your support, through our page on GlobalGiving, helped towards three recent teacher training sessions at GROW Education, Windmeul Primary School and Hangberg, Pinocchio Educare. In total, 77 educators attended these sessions.
Bev and Karen from ORT SA CAPE gave an update about the training sessions:
---
The Training Sessions
One of ORT SA CAPE's core projects is training teachers to use the LEGO resources, 6 Bricks and Playbox. During the training workshops, teachers are given multiple opportunities to engage with new knowledge through application activities. Such repeated exposure to new content and methods promotes learning, as well as retention of what is learned. The training is offered as a hands-on workshop to ensure that participants are equipped with practical ways to integrate the materials within their teaching curriculum. Perceptual, cognitive, physical and motor skills development are all covered in the initial 3- hour training session. ORT SA CAPE offers follow-up support to the participants and will visit schools and classrooms in order to assist practitioners and teachers to promote the use of the resources in the classrooms.
ORT SA CAPE has been offering the LEGO 6 Bricks and Playbox training to teachers from disadvantaged communities since 2016. In 2018, ORT SA CAPE reached over 1,200 teachers and 38,000 pupils. By September 2019, ORT SA CAPE had already trained 1,300 teachers with a projected total for 2019 of at least 1,400 teachers trained, indirectly reaching approximately 45,000 pupils.
Teachers' Feedback
Natasha is the Principal of a community early childhood development centre in Mitchells Plain. The area has been plagued by gang violence and crime and the children are exposed to this on a daily basis. Natasha was very excited to implement what she had learnt as she thought that the LEGO was a great way to get children to talk about the things that are bothering them by encouraging them to build "their news'' and then verbalise what they had built. She said, "The workshop was fruitful, I learned a lot and I am excited to implement [these strategies] in my class".
Another teacher, Nomampondo from a school in Phillipi Village commented, "This is a great eye opener and I cannot wait to start working with my LEGO kit. The LEGO blocks will be used for all learning areas – Home Language, Maths and Life Skills". She is a Grade R [Reception] teacher with 30 children in her classroom. She struggles with classroom management as well as language development in her classroom and is excited to use the tools learned to assist her with this.
Kay from Windmeul Primary, who teaches Grade R in a multi-lingual school, felt that the training enhanced her ability to work with children from different language backgrounds. She stated that the training also enables her to include the use of language activities in all content areas and that the LEGO resources would excite learners to talk to each other. She is grateful for the opportunity and for receiving such a valuable resource that will benefit all her learners. She said, "The training was very helpful, and the resource will allow thinking and creativity and extend learners' vocabulary''.
---
Bev and Karen shared the photos that are included with this report.
ORT SA CAPE also took part in CHW's "making an impact" campaign, and you can see photos of some of the teachers holding up our "impact" sign. Teachers have a very important impact on children's futures, and it is wonderful that you have helped with the training of teachers by supporting ORT SA CAPE's programmes. Your kindness is giving many children in Cape Town the chance to have a better quality education and a brighter future.