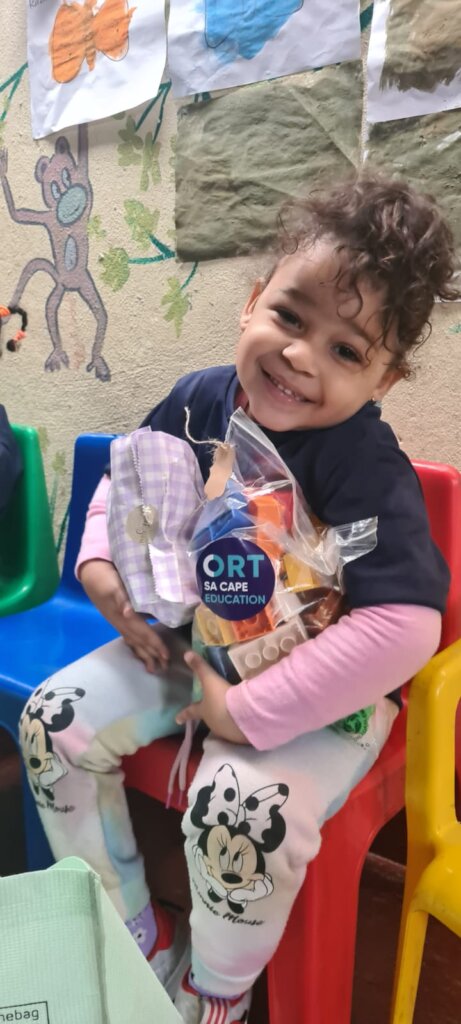 Everyone at Children's Helpers Worldwide (CHW) is very grateful to you for supporting food and education programmes in South Africa, through our page on GlobalGiving! Our partner organisation, ORT SA CAPE's main focus is on education and teacher training. However, as the level of poverty rose during the lockdowns, ORT SA CAPE also started a food programme in 2020.
Below is the latest report from Bev ORT SA CAPE, about the programmes your contributions have been supporting:
----------
During 2022, ORT SA CAPE has continued with its Learning through Play training and support programme for Foundation and Intermediate Phase teachers (Grades R [Reception] to 6) across the Western Cape, South Africa.
We believe that learning through play empowers children to become engaged, creative lifelong learners in an ever-changing world. It also allows teachers to explore new and innovative ways of approaching their teaching. Play creates a platform across language, culture and context and allows growth and development in an unthreatening way.
Since January 2022, ORT SA CAPE has trained over 1200 teachers across our various short courses. Our partnership with CHW allows us to expand our reach and change more lives through education.
Our education team spent time in 2021 developing new courses that expand our learning through play initiative and build on the content already covered in previous courses. Our three new offerings, namely, Perceptual Skills Level 2, Playbox Level 2 and Coding 101 have been positively received.
We have also piloted a course aimed at Intermediate Phase teachers. This course shows teachers how to use Lego as a resource to enhance language development across the curriculum. Since February 90 teachers have attended this training with very positive feedback.
On the 7th May 2022, we hosted a group of ECD [Early Childhood Development] practitioners from a very underserved community in Khayelitsha. Twenty educators from various schools were hosted at ORT SA CAPE's training venue for the day. They attended two training sessions, one on Perceptual Skills and the other on LEGO Playbox. We will also provided lunch and transport to and from the venue. Each teacher received a Lego Playbox to take back to their classrooms.
The 18th of July is a very special day in South Africa, one on which we celebrate Mandela Day. Citizens are urged to contribute to society by doing good on this day to commemorate the birthday of Nelson Mandela.
This year ORT SA CAPE took part in three Mandela day initiatives:
We hosted 30 children from Baphumelele Orphanage for the morning where they enjoyed a visit to the Science Centre as well as some fun activities with our staff. They enjoyed lunch and we gifted them with a lovely warm winter blanket to take home.

Members of our education team partnered with SA Hockey Association who hosted a day for 40 ECD teachers from Vygieskraal. The theme was ''An active child is a healthy child''. Our team presented Lego activities to the teachers and each teacher received a set of resources for their classroom.

One of our ECD learnership students dedicated her time to an underprivileged ECD centre in Manenberg. We assisted her with food parcels and Lego for each learner.
As mentioned in previous reports, ORT SA CAPE started a food relief initiative in April 2020. This initiative continues and we supply food parcels to needy families every month. Below are some testimonies to this incredible project that assists so many people during very difficult times. Thank you to CHW for the support of this food relief initiative.
"Little Stars Daycare would like to thank you from the bottom of our hearts for your donations. It will surely help feed the hungry learners that don't get the basic needs from home." - Sandra, Principal
" I would like to extend my gratitude and thanks for the food donations which we have received. It is a big help as many of the parents are struggling. At least with this donation I can provide these children with a decent meal on a daily basis. Once again thank you." - Lena, LA Tiny Tots Educare
" What an amazing and rewarding program this is to show love in action towards our fellow humans. We are totally blessed to share with those less fortunate... I love that so many children come along and just to see their happy faces makes my heart glad. ORT SA CAPE is truly a blessing to our community and all the ECD centres and communities that are being fed through this amazing initiative. I am grateful to be part of ORT SA CAPE as a whole and I can only proclaim blessings over the wonderful and most inspirational Foundation of which I am a part of. Bless you for your love and commitment towards my community. I am grateful!" - Dawn, Manenberg Project Manager, ORT SA CAPE
Thank you to CHW for supporting our various projects that empower people and strengthen communities. ORT SA CAPE is most grateful.
----------
We are excited to share with you that GlobalGiving will be running its "Little By Little" campaign from Monday 12 September, starting at 5 am UK time (6 am in South Africa) and ending on 16 September. During this time, donations of up to $50 (around £41) will be matched by 50% by GlobalGiving! You are already part of this wonderful project, and have helped children in Cape Town by improving the quality of their education and providing them with food. We would be so grateful if you could share this project during the Little By Little campaign. If you can invite just one more person to contribute, this will help to continue to make a difference for the children!
Thank you again for all your support for this project, and for caring and making such a positive impact for children in various communities around Cape Town!
--------
With thanks to Bev for the photos included in this report.