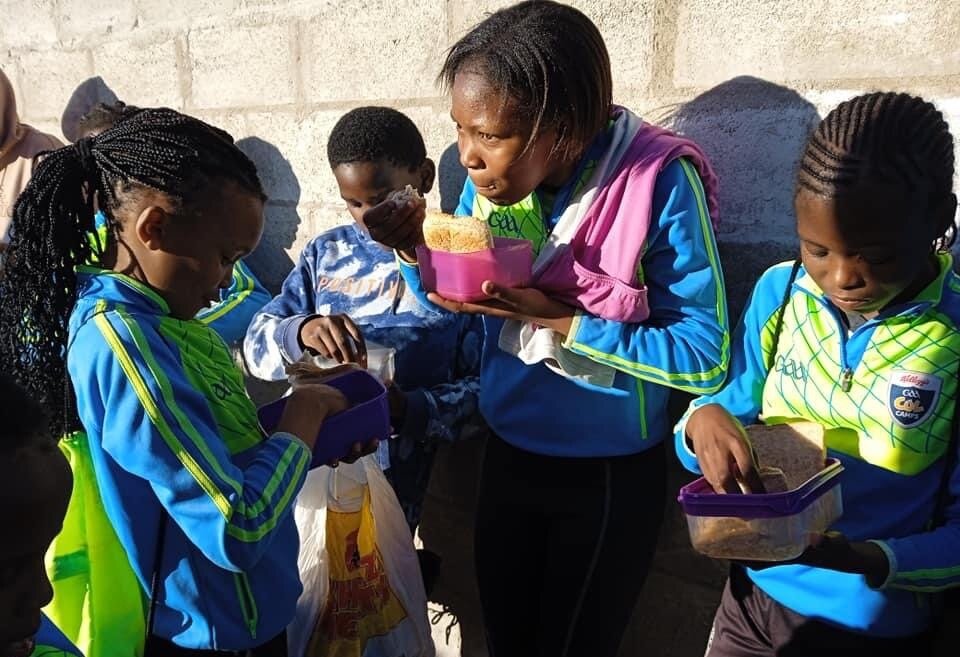 Thank you so much for supporting education and food programmes run by our partner organisation, ORT SA CAPE, in South Africa. These have been challenging times and your support is truly appreciated and is making a big difference!
Below is a report from Bev at ORT SA CAPE, showing how your contributions were used over the past few months.
-----------
For the past 28 years, ORT SA CAPE has been operating at the forefront of education in the Western Cape,South Africa. We focus on educating, training, supporting and empowerment of teachers in under resourced communities.
Our vision is a future where all teachers receive quality training and all children have access to quality education. Ultimately, better trained teachers result in better educated children.
ORT SA CAPE's interventions continue to have a strong focus on play-based learning as well as computational thinking and problem solving. We focus on Early Childhood Development (ECD) and Foundation Phase (FP), working with educators across these phases who teach children aged 0 -9 years.
Through play, children build flexible skills that help them take on the future with confidence and develop a love for learning, improve mental health and build resilience.
Since January 2022, ORT SA CAPE has trained over 2500 teachers across our various short courses, impacting almost 80 000 learners. These courses include: Perceptual Skills Level 1 and 2, Lego Playbox Level 1 and 2, Lego Six Bricks Level 1 and 2 and Introduction to Educational Coding and Robotics.
The continued support from CHW allows us to expand our reach and change more lives through education. The donations [we received since our last report] were allocated to our monthly food relief, as well as our training initiatives for ECD practitioners. These included workshops on Perceptual Skills and Lego Playbox held in October and November
Perceptual skills have been called "the keys to all learning". These are cognitive skills that children learn through the five senses and apply across all learning areas. This short course demonstrates how teachers can use LEGO blocks and everyday resources to teach foundational skills through fun activities.
LEGO Play Box is a versatile and interactive resource that lends itself to teaching a range of skills through fun activities, promoting learning through play. Teachers participate in several practical activities that cover perceptual skills, as well as emergent literacy and numeracy. Each participant receives a Lego Playbox, sponsored by The Lego Foundation for use in their classrooms.
''All children have the right to feel safe and have access to quality education and healthcare. But to date, early childhood development has been not just under recognised, but grossly underfunded," T.K. Kristiansen, Chair of the Board of Directors at The LEGO Foundation.
Over the years, ORT SA CAPE has developed a robust methodology to monitor and evaluate the effectiveness of our teacher development programmes. We collect and analyse three types of data: participants' written feedback immediately after each workshop; brief pre- and post-training assessments (knowledge & skills surveys); and, where applicable, lesson observation data gathered during classroom support visits. Both online and paper-based data collection methods are used.
The feedback from teachers is compellingly positive, indicating that the training has strengthened teachers' insights into the impact of learning through play. The data suggests teachers leave the training confident they would be able to implement what they have learnt and will be able to support the learners who struggle with learning barriers.
Therapists who work with at risk children as well as teachers working with special needs learners have been included in our training programmes in 2022. It is encouraging to see what impact learning through play and the Lego manipulatives have during therapy sessions.
Our food relief also continues with monthly donations of food parcels to needy families, ECD centres and soup kitchens. We have also recently partnered with an all-girls soccer school, Ikasi Soccer School, they are able to provide meals to those who attend their training sessions every Monday and Friday. Thank you to the donations from CHW that have allowed us to continue providing this much needed support.
ORT SA CAPE would like to thank CHW for the continued support we have received throughout 2022, we have been able to reach more beneficiaries this year than ever before and continue to empower people and strengthen communities.
-------------
We are very grateful to each person who has supported ORT SA CAPE's work through CHW. Thank you for all your help.
We wish you a peaceful and joyful holiday season!