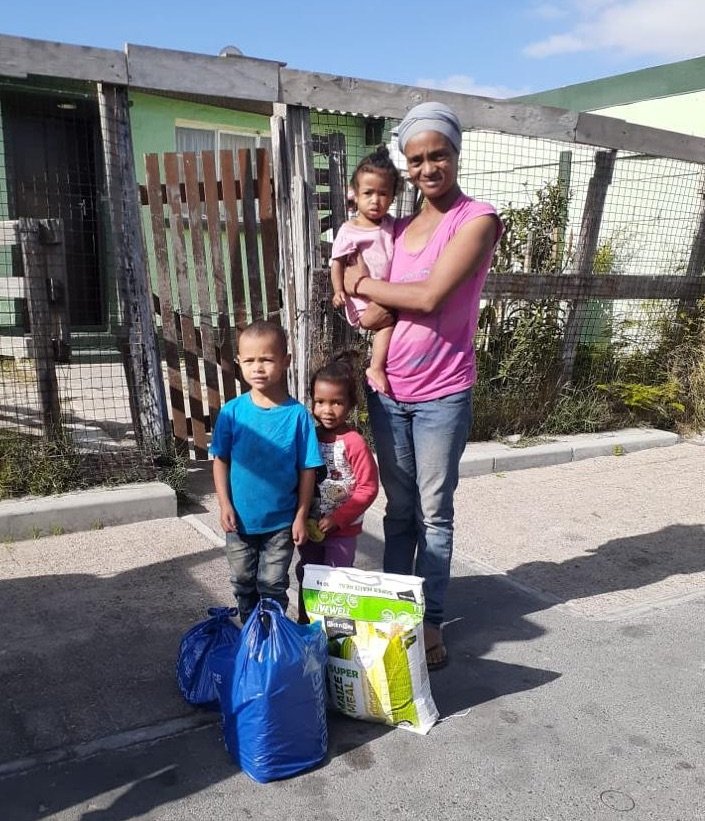 Thank you so much to each person who has continued to support ORT SA CAPE in South Africa, through Children's Helpers Worldwide's page on GlobalGiving. Your help is making a difference during very challenging times. ORT SA CAPE focusses on education and on training teachers, as well as holding workshops for children. During the lockdown in South Africa, ORT SA CAPE adapted, so that it could bring its educational resources online, and support its beneficiaries (including pupils and interns) to continue learning. ORT SA CAPE also started a food programme in response to the increase in poverty caused by the lockdown.
Bev from ORT SA CAPE has shared photos from the programmes and has written the report below, giving the latest news on how your support has made a difference.
The interns mentioned in the report are part of the YES programme. This is a South African scheme aimed at helping unemployed young people. Organisations can take on interns for a year and give them training, and these are paid internships.
Report from ORT SA CAPE:
---
ORT SA CAPE is an education nonprofit organisation focusing on training and supporting teachers in disadvantaged communities. During 2019, ORT SA CAPE trained over 1,700 teachers indirectly reaching approximately 51 000 pupils.
With the onset of the Covid-19 global pandemic and the subsequent national lockdown on the 27 March in South Africa, we have been unable to train face to face. We have rallied our resources to help our beneficiaries in other ways. We have adapted our approach and are incredibly excited to be able to blend onsite and online learning. Presently course materials are shared via WhatsApp which allows for learning to continue. We are in the process of developing an ORT online platform which will allow for better online and blended learning opportunities. Our first full on-line training offering, Perceptual Skills Development, will be rolled out from the end of August 2020.
Due to our continued work in communities and our regular contact with our interns, learnership students and beneficiaries during lockdown, their need for food parcels as well as the growing need within their communities has come to our attention. We are acutely aware of the deepening food crisis in these areas. Many live in child-headed or grandparent-headed homes, or have been working with children who live in such homes. Others are living in homes where there is now little or no income. Due to this, we began redirecting some of our funding, where possible, in order to help. We were also fortunate to receive donations specifically for food relief.
Although this is not our core activity, we decided to assist families in Manenberg, Khayelitsha and Du Noon, where we have an extensive network and many of our interns are based. Since the end of April, we have endeavoured to feed families in these communities on a bi-weekly basis. Most families have an average of six members per household but they often also help to feed extended family as well.
Manenberg:
Our food relief initiative started in Manenberg at the end of April, when we became aware of the urgent need there via one of our staff members who lives in the area. We are currently providing 4,200 meals a week in Manenberg. ORT SA CAPE|YES interns who are assigned to the schools in Manenberg are assisting us in the packing and distribution of these parcels.
One of the households helped in Manenberg has nine family members, living in a small two bedroomed house. Manenberg is a community that is dealing with gangsterism and drug abuse and this family has been affected by the latter. The food parcels they have been receiving go a long way in helping their family during this difficult time, especially as most of their family members have lost their income.
"Today was an exceptional day in my life, and in the lives of the people who assisted in this feeding scheme but most importantly in the lives of those we have supported with the food parcels. It is because of your generous contribution that it was a major success.'' – Dawn, ORT SA CAPE's Manenberg Project Manager.
Khayelitsha:
Founder Educare in Khayelitsha has children from 50 families who attend their school. They provide the children with two meals a day. Since closure, these children have had to go without their daily meals from the Educare Centre. ORT SA CAPE has been assisting them in providing food parcels for these 50 families as well as educational resources for their learners to use at home.
Du Noon:
Our food relief distribution in Du Noon is also via day care and educare principals who continue to assist their learners and staff during the forced closure of their centres.
Some donations given through the GlobalGiving page before the lockdown started had been assigned to LEGO Playbox training. As we are unable to train face to face, we have postponed this training until schools re-open at the end of August. In the meantime, we have donated LEGO resources to families from schools that are still closed, along with an instruction booklet for parents on how to use the resources to educate and entertain children at home. In this way children's learning can continue despite their schools being closed.
Other donations given through the GlobalGiving page [especially during the previous Little By Little campaign] has been allocated to our feeding scheme (information above). This initiative currently assists 140 family monthly by supplying food parcels to these families every 2 weeks. We estimate that we are providing at least 35,000 meals a month. We recently added families from Hangberg, a fishing community in Hout Bay, Cape Town to the feeding initiative. We are currently supporting 20 families from this community.
----
Everyone at CHW is extremely grateful to each person who has made it possible to continue to support the communities served by ORT SA CAPE at this very challenging time.
Whilst lockdown restrictions have been eased somewhat since March in South Africa, there are still prohibitions (there are currently "level 2" restrictions in place). The impact of the lockdown on poverty levels has been high and there is a continuing need for assistance with food. GlobalGiving will be running a second Little By Little challenge in mid-September, and we will be looking to support the food programme specifically during that challenge. Please feel free to get in touch if you would like any further details.
Thank you so much for making a difference in the lives of children, young people and families from disadvantaged parts of Cape Town. Your support is greatly appreciated.