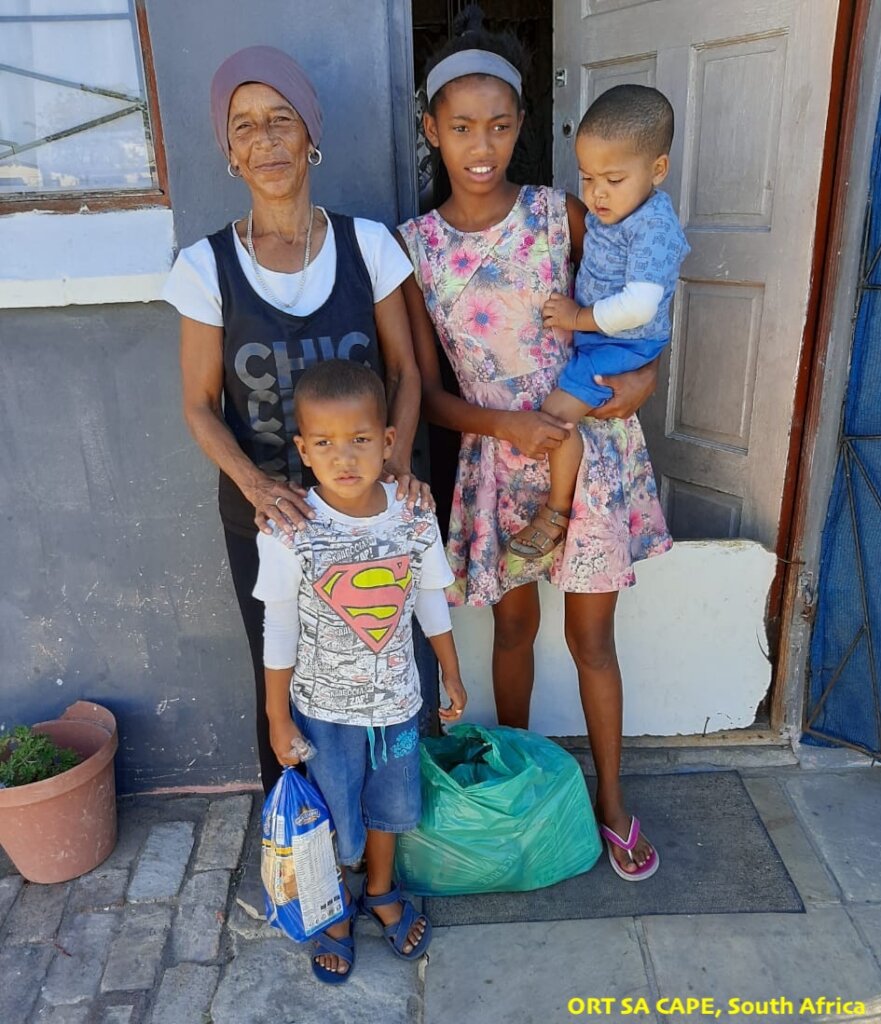 A big thank you for supporting food and education projects for children in Cape Town! Our partner organisation, ORT SA CAPE, focusses on education programmes for teachers and children, with the aim of making sure that children from disadvantaged areas receive a better quality education.
During the first lockdown in 2020, ORT SA CAPE also started a food programme, as the level of poverty rose. The food programme is continuing this year.
All of us at CHW thank you so much for your contribution towards these programmes. Below is an update from Bev at ORT SA CAPE:
---
"Since the beginning of 2022, ORT SA CAPE has returned to face to face training. We have run 10 workshops in February and March for over 420 teachers. These courses included topics like Perceptual Skills, Lego Playbox and Six Bricks, Demystification of Coding and How to use Lego to enhance language development across the curriculum.
We have also continued with our monthly food relief initiative, we are currently supporting over 200 families, 6 ECD [Early Childhood Development] centres and one soup kitchen...
Part of the funding [received from CHW] allows us to supplement the food relief initiative to maintain our reach. Our food relief takes place on a monthly basis and we rely on volunteers to assist us with the distribution process. Beneficiaries collect their parcels from two central hubs and the elderly and infirm have their parcels delivered to them.
Unfortunately, the need for food relief continues and many people are desperate for assistance. We would like to continue and expand our efforts, so that vulnerable people are able to satisfy their basic needs.
Below is an email from one of our beneficiary organisations, MES – They Mould, Empower and Serve street people holistically so that they are enabled to live independent, sustainable and meaningful lives.
'"I don't know you yet you blessed us with SOOO much! @ ORT SA Cape Education and Little Steps Day care, thank you for ALL the groceries, fruit, vegetables, cleaning goods and toiletries! Our shelves were empty this morning and here your parcel arrives… Thank you ORT!... Have a lovely afternoon. Kind regards Franita"
As ORT SA CAPE's core focus remains the training and support of teachers, we are grateful to CHW for their continued support of our education programmes. [Part of the funding from CHW] has been allocated to various teacher training initiatives allowing us to reach more teachers and expose them to the various training sessions we offer.
Educators from various ECD centres enjoyed a workshop on demystification of coding held in the ORT SA CAPE classroom at the end of February. Teachers also participated in the ''Purposeful Play'' workshops we hosted in February. Each teacher received a Lego Playbox for use in their classroom. This series of workshops was held in person and on-line and over 280 teachers participated over 5 sessions. ECD practitioners participated in a LEGO Playbox session held in the ORT SA CAPE classroom on 18 March. They learned about the importance of play in early education. [Photos of the workshops are included with this report.]
ORT SA CAPE prides itself on making a meaningful difference in communities in South Africa and driving our country forward. We are extremely grateful for the continued support from CHW. Your further support will ensure that we can deliver on our promise to train and support teachers and learners in disadvantaged communities in South Africa so that a quality education is received by all."