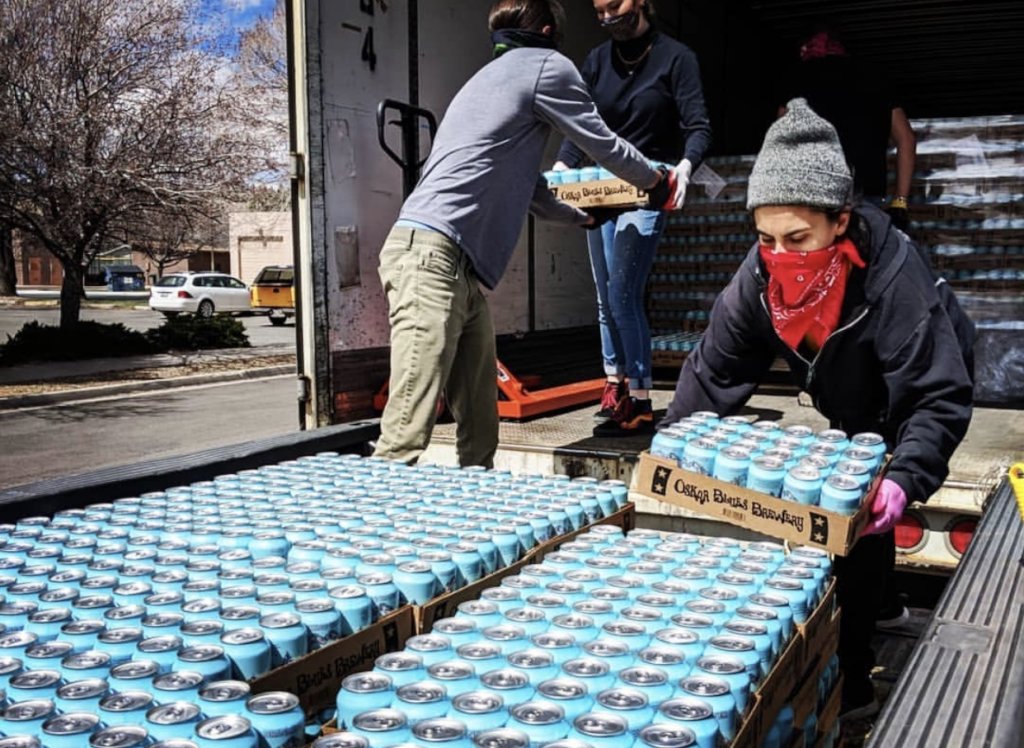 Can'd Aid spreads people powered do-goodery through Towns, Tunes, Treads & Trails, and Love Yur Mama efforts nationwide. Can'd Aid's core programs develop healthy and whole humans capable and inspired to nurture a healthy and whole planet.
Through a signature program, Towns, Can'd Aid has a rich history of responding to communities in need post-disaster. From mucking + gutting homes ravaged by flooding to providing small emergency assistance grants to individuals and businesses in need, Can'd Aid has a proven track record of impactful grassroots efforts in the wake of disaster. However, one of the most significant impacts made to date has been and continues to be the disaster relief canned water program. Can'd Aid has distributed over two million cans of water throughout the United States and Puerto Rico in response to 30 natural and man-made disasters.

The people of the Navajo Nation, an extremely vulnerable population, have been hit especially hard during the COVID-19 global pandemic. With the pandemic's negative ripple effects, necessities such as water, milk, and eggs are nearly impossible to secure in hard-hit communities throughout the region. According to Jessica Stago, Director of Native American Economic Initiatives at the Grand Canyon Trust, several communities have been asking for water. With many community members lacking access to clean running water and temperatures soaring well above 100 degrees, the need for water is increasing. Jessica explained that "the need for clean water is probably greater than the numbers show. If you have one person asking for water per community, there's probably 20 families who need water".

From the onset of COVID-19, Can'd Aid has been providing canned drinking water to the people of the Navajo Nation, where infection rates are far above national averages. Since March, Can'd Aid has established several strong relationships with local groups and organizations such as Grand Canyon Trust, White Mountain Apache Tribe, and the community of Window Rock. Through key relationships, we have heard repeatedly that water continues to be a significant and increasing issue for the community.
In response to the needs, Can'd Aid has made a commitment to advance the water program to new levels by securing new water partners, purchasing new equipment, and making several capital improvements to the program.
Since March, Can'd Aid has shipped and distributed over 228,000 to the communities within Navajo Nation. With new partners and new equipment, Can'd Aid is able to continue and enhance providing water throughout 2020 and for the foreseeable future.
We continue to be grateful for the support of GlobalGiving community.
Links: