Project Report

| Jan 28, 2020
Salvage Therapy Rescues Ruth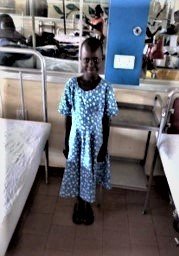 Ruth was 9 years old when she first came to St Mary's Hospital Lacor in Gulu. She is from a village in Lira, the district that borders Gulu in northern Uganda. Her father brought her to St Mary's in June 2019 after she experienced a one-month history of progressive and painful abdominal swelling.
When she was admitted to our hospital, Ruth was quite ill. Her nutritional status was very poor and she had severe wasting. Upon examination, she had a grossly distended abdomen and an ill-defined mass that was palpable and very large. She underwent blood work, a chest x-ray and an ultrasound of her abdomen. The ultrasound revealed that she had multiple tumors in her liver, a separate large mass within her abdominal cavity as well as fluid in the abdomen. A biopsy of the large abdominal mass was performed which confirmed that she had Burkitt lymphoma.
Ruth required supportive care, including nutritional support, and was started on first-line (FL) chemotherapy for Burkitt lymphoma that consisted of cyclophosphamide, vincristine, methotrexate and treatment to prevent the spread of disease to her central nervous system.
Unfortunately, Ruth did not respond to FL treatment as we had hoped. Therefore, after two cycles of FL therapy, she was immediately changed to the second-line treatment which is intended for patients such as Ruth who do not respond well to FL therapy. The drugs used in this second-line regimen are different to FL. She responded very well to this salvage regimen. Although it is more intensive - meaning that patients can experience more prolonged or serious side effects than with FL therapy, Ruth tolerated second-line therapy well. She completed all planned treatment and achieved a complete response. Ruth was recently seen at the hospital and has no evidence of disease. And, she is recovering her strength.
Thanks to your generous donations to this project, poor children from rural villages have access to the necessary treatment for Burkitt lymphoma, including salvage therapy when needed, in order to provide them with the hope for long-lasting cure and the chance to fulfill their dreams. Thank you again for your support.