Project Report

| Aug 6, 2018
A Young Boy with Burkitt Lymphoma in Rural Uganda
By Dr Valeria Calbi | Hematologist, Volunteer, St Mary's Hospital Lacor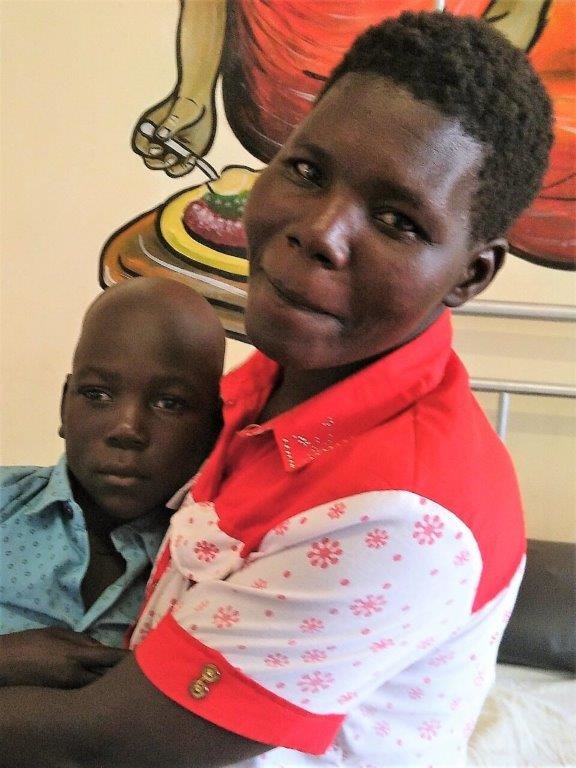 Jonathan was 7 years old when he was first admitted to St Mary's Hospital Lacor in Gulu, Uganda in March 2018. He had a two-week history of progressive abdominal pain and swelling. His parents took him to a doctor who referred him to our hospital. The journey to our hospital was difficult due to poor access to roads and transportation. Jonathan and his parents had to travel via motorcycle for two hours and then another two hours by bus in order to reach us.
Jonathan is one of three surviving children in his family. Four other siblings died and his mother found it too painful to talk about their deaths. He lives with his parents and two siblings, aged 15 and 13 years old. They live in a grass-thatched house in a village in the Apac District which is a predominantly agricultural region in northern Uganda. His parents are subsistence farmers and are dependent upon the help of their children to pick crops during the harvest season.
Upon admission, Jonathan was found to have wide spread disease throughout his abdominal cavity and fluid surrounding his heart. He also had facial swelling. A biopsy was performed which confirmed the suspected diagnosis of Burkitt lymphoma. He was promptly started on chemotherapy and had marked improvement within a few days. His mother was very happy because he looked so well. He received his second cycle of chemotherapy. After this cycle was completed, his parents asked for a temporary discharge in order to return home.
Once at home, Jonathan was happy to see his siblings and friends in his village. Then, harvest time began and everyone in the village, including Jonathan and his family, were busy with harvesting corn and soya as well as stocking up on seeds and other foods. Harvest time is a joyful time because the entire community comes together to do the jobs that are necessary to prepare for the future when food and work may become scarce. During this time, Jonathan's father became ill and his mother had to care for him until he recovered. Meanwhile, Jonathan continued to play and help out in the fields by fetching water until one day he could no longer open his one eye. His eye began to bulge and then, he could no longer see out of this eye. His parents thought that an evil spell had been cast over their family. By this time, Jonathan was a month overdue for his treatment. His parents brought him back to Lacor Hospital as soon as they could.
His parents had a hard time accepting that Jonathan's new symptoms were consistent with his original diagnosis. They did not understand that Burkitt lymphoma requires on-time treatments until all planned therapy has been completed in order for their child to have the best chance for cure. After many discussions with the parents, it was agreed that Jonathan and his mother would remain in the hospital's local accommodation so that Jonathan could complete all treatment without delays. Chemotherapy was re-started. Jonathan's facial swelling decreased and he can now see. Although Jonathan's mother misses her other children and husband, she wants to do whatever she can for her youngest child and prays that he will live and be cured.
Jonathan's story shows how difficult it is to access cancer care in northern Uganda. Furthermore, it illustrates how difficult it can be for parents to support their family including a child with cancer at the same time. Many parents think that once their child feels and looks better that their child is cured. Therefore, they have minimal understanding of the need for their child to complete all planned treatment (and on time) and to bring their child for follow up visits after treatment is completed to ensure that should problems arise, these can be dealt with immediately.
Your generous donations have made it possible for us to provide treatment to children from families who are very poor - such as Jonathan's. We thank you for your support.