Project Report

| Jan 23, 2023
Eliya Insists Healer Release Grandson
By Wilfred Dranimva | Nursing Officer, BL Ward, St. Mary's Hospital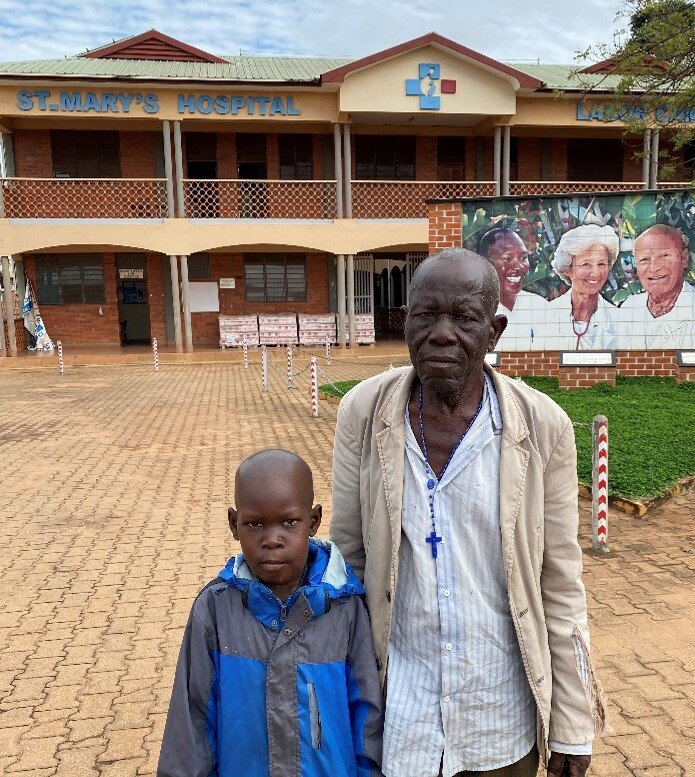 At the beginning of July 2022, Emanuel developed symptoms of cancer. He initially complained of pain and swelling in the right cheek. At the time, he was 10 years old and living with both of his parents in a village in the Maracha District of Uganda. His parents took him to a nearby clinic. He was referred to the Kiryandongo Hospital (KH) where he was admitted and treated for one week. The team at the KH suspected a childhood cancer and referred Emmanuel to our hospital, St. Mary's Hospital Lacor in the Gulu District of Uganda which is a very long drive from KH (distance, 145 kilometers). Due to financial constraints, the parents took Emanuel home instead of to St. Mary's. Once home, he was taken to a traditional healer to receive treatment since the family members strongly believed that his condition was a result of witchcraft. The traditional healer told the family that Emmanuel was used by an individual for ritual purposes. His treatment by the healer was going to cost the family 310,000 Ugandan shillings, one live goat, and a sheep to slaughter to eliminate the powers of "witchcraft" affecting him.
When Emmanuel's grandfather, Eliya, heard about the child's condition, he visited him at the healer's shrine and demanded that the traditional healer immediately release his grandson so that he could take him for appropriate medical care. The traditional healer refused to do so unless his fees were paid. The grandfather rejected the healer's demand due to his strong religious beliefs. To secure Emmanuel's release, his mother paid the money and gave the healer the goat and the sheep. Then the healer set Emmanuel free.
On August 31st, 2022, Emmanuel was taken to a clinic in Maracha where the health worker suspected cancer and immediately referred him to St. Mary's for cancer diagnosis and treatment. The family was not able to provide the necessary funds for transport and other upkeep. Our hospital was informed about the financial problems and we made the necessary arrangements to organize everything for him – transport, local accommodation, and food. When he arrived at St. Mary's, he was promptly admitted to the children's oncology unit. Upon examination, he was found to have a huge jaw mass, loose teeth and a wound in the mouth that was oozing pus. A biopsy of the jaw mass was taken and revealed that he had Burkitt lymphoma, a common childhood cancer seen in the rural regions of equatorial Africa. Chemotherapy was initiated as soon as possible. As of January 2023, he has one cycle of therapy remaining to complete. He is in remission - the swelling in his jaw has resolved and he is pain-free.
Emmanuel's grandfather, Eliya, who has remained with him at our hospital throughout Emmanuel's treatment is extremely grateful to our staff because they facilitated Emmanuel's diagnosis, offered free treatment, and provided other means of support such as transport, food, and accommodation. He wishes to thank the donors who donated to this project because he understands that without your support, St. Mary's may not have been able to provide the services that they did to support both of them. Eliya has pledged to return to his village and help to educate community members about the early signs of childhood cancer. He also pledged to eliminate myths about childhood cancer since those strong beliefs about witchcraft by Emmanuel's other family members led to cost-prohibitive and inappropriate treatment by the traditional healer. Thank you so much for supporting this project so that children with Burkitt lymphoma can have access to appropriate care and have the best chance for long-term cure.