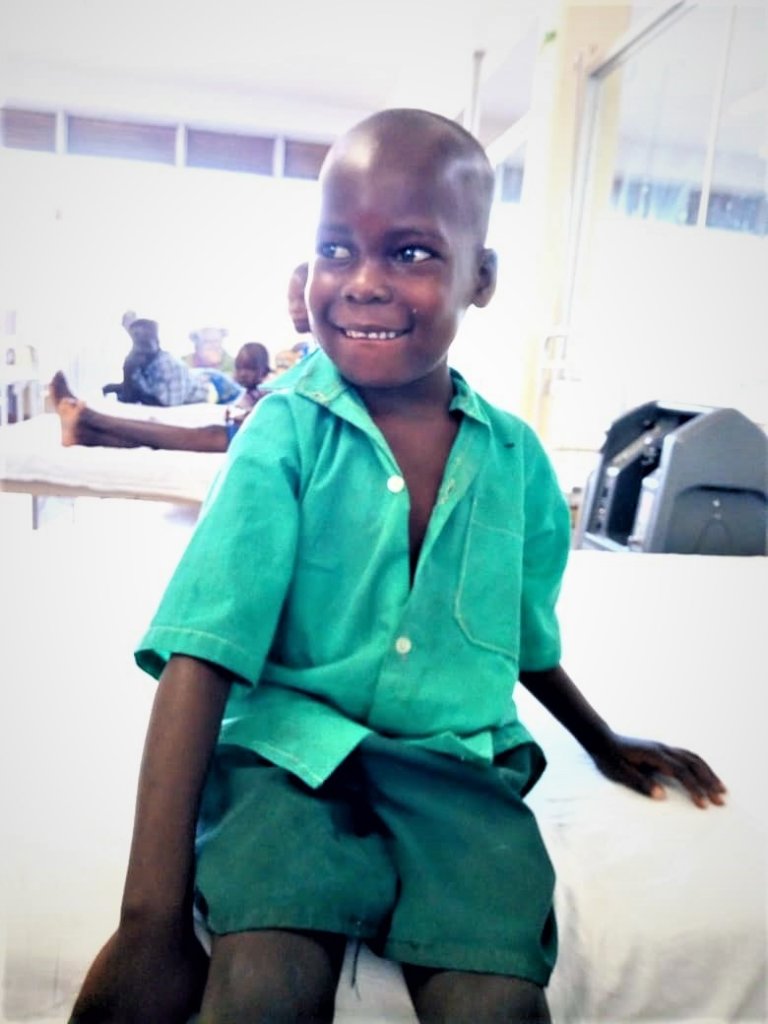 After experiencing a week-long history of a rapidly growing mass in the right side of his face, Guido's parents brought their five-year old son to St Mary's Hospital Lacor in Gulu, Uganda.
Upon admission to St Mary's, Guido's face appeared deformed due to a very large mass on the right side of his face that extended from his upper to lower jaw. He was in pain and had great difficulty in swallowing such that he could barely drink, let alone eat. Inside of his mouth, his teeth were loose and displaced. Given the classical features of the mass and its very rapid growth, the doctors suspected that he had Burkitt lymphoma. Guido underwent a biopsy of the mass and had other tests performed. The biopsy confirmed that he had Burkitt lymphoma. Fortunately, the tumor had not spread to other parts of his body.
Guido was started on chemotherapy as soon as possible and after two cycles of therapy, he no longer had any visible signs of his jaw mass and his face was normal in appearance. He has continued with therapy. This has been a challenge for his parents. They are subsistence farmers and have seven other children to care for at home which is a very long distance from St Mary's. His mother has remained with Guido throughout treatment, including the times when he is in-between treatment cycles. Although, Guido's tumor visibly disappeared very rapidly, his parents understood that their son must complete all planned treatment (a total of six cycles of chemotherapy) to ensure that he has the best possible chance of achieving a long-term cure.
Guido and his mother were able to stay at the hospital's Rainbow Family Home. At the home, he has been helped to overcome his initial sadness and shyness which were largely due to the disfigurement of his face caused by the tumor. Now, that his mass is gone, he is a much happier little boy. He participates in social activities with other children and enjoys attending the Rainbow Family Home School.
A rapidly growing jaw mass in a five-year old who lives in equatorial Africa is a very classical presentation of Burkitt lymphoma. A major factor in whether or not a child survives this highly curable cancer is access to a hospital capable of diagnosing and treating them. Parents dependent upon seasonal farming work and with other children to care for at home find it financially very difficult to pay for treatment and for other expenses associated with being away from home for prolonged periods of time.
Your generous donations to this project help us to provide not only the necessary treatment, but also other types of support that children with Burkitt lymphoma and their families need. Thank you!