Project Report

| Jan 17, 2022
A Sudanese Boy's Journey to Uganda for Treatment
By Wilfred Dranimva | Nursing Officer, BL Ward, St. Mary's Hospital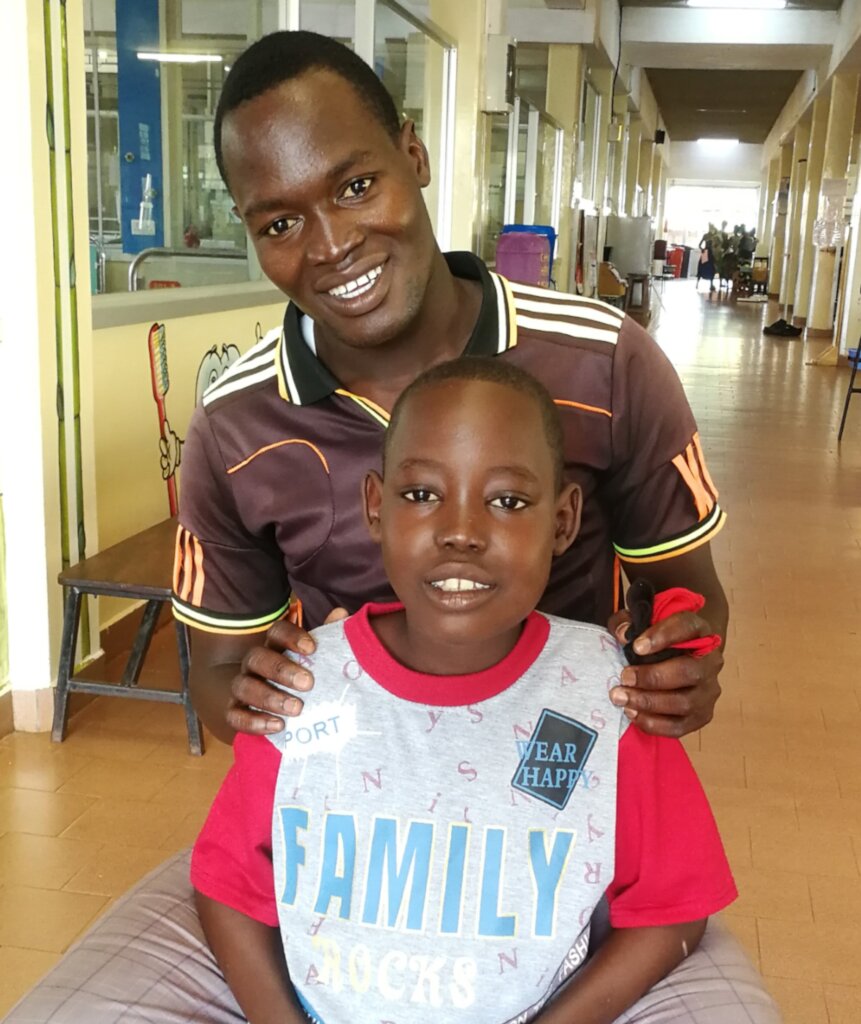 In December 2020, Ukony developed a small gum sore which was initially treated with homemade remedies. There was no improvement and Ukony, then had rapidly increasing swelling in his jaw. During the third week of January 2021, he was taken to a teaching hospital in southern Sudan 60 kilometers (km) from his home. He underwent a tooth extraction, but he only became worse. He spent an additional two weeks at this hospital waiting for his family to obtain the amount of money needed to cover his travel costs to the Juba Osura Tuna Hospital, a major hospital in Sudan. He arrived at the Juba Hospital at the end of February where the doctors recommended that Ukony be transferred to our hospital, St. Mary's Hospital Lacor in Gulu, Uganda as soon as possible because they were unable to diagnose and treat him for suspected Burkitt lymphoma (BL). Ukony spent an additional 10 days there because his family lacked funds to travel from Sudan to Uganda. Plus, he and his brother (who was accompanying him) both required negative Covid-19 tests to enter Uganda. In the end, their church provided the funds to support the costs of their 1000-km journey to Uganda.
When he arrived at our hospital on March 8, 2021, he was directly admitted to the Burkitt Lymphoma Unit. Ukony was eight years old at the time of admission. He had obvious facial asymmetry due to the large swelling of his left jaw. An oral examination showed a mass which extended from the floor of his mouth to his jaw. Several of his teeth were loose and displaced. The ultrasound examination of the mass revealed a firm intramuscular tumor infiltrating his left jaw. A biopsy was performed which confirmed the suspected diagnosis of BL. Fortunately, he had no other sites of disease.
He was started on the INCTR protocol for BL and completed initial therapy in June 2021. Because he had a partial response to first line treatment, he was treated with the protocol's second line therapy in hope that he would go into remission. He completed second line therapy in August 2021. He remained at our hospital until November and further scans demonstrated that he was in remission. Because Ukony and his brother were so far from home for such a long period of time, we kept in constant touch with his family by sharing updates and photographs of his progress via mobile phone communications. Ukony and his brother have made the long journey home. Ukony will be followed by the Juba Hospital team in Sudan. The team will share their updates about his disease status with us.
Ukony's story illustrates the challenges many children with BL face – delays in referrals due to lack of knowledge of local health care professionals about BL and then delays in reaching a hospital capable of treating BL when their families are very poor and unable to readily provide funds for transportation. Ukony's case was more complicated because he needed to travel to Uganda because it was not possible for him to be treated in southern Sudan. He and his brother required Covid-19 tests in order to enter Uganda which further held up his transfer to St. Mary's. The lengthy trip from South Sudan to our hospital also delayed Ukony's treatment. BL, although a highly curable cancer, is a rapidly growing one that if not diagnosed and treated promptly can lead to a poor outcome, including death.
Thanks to your generous donations, we were able to treat Ukony for free and to provide him with hope for cure when treatment for BL was unavailable in his home country. Thank you again for your ongoing support!