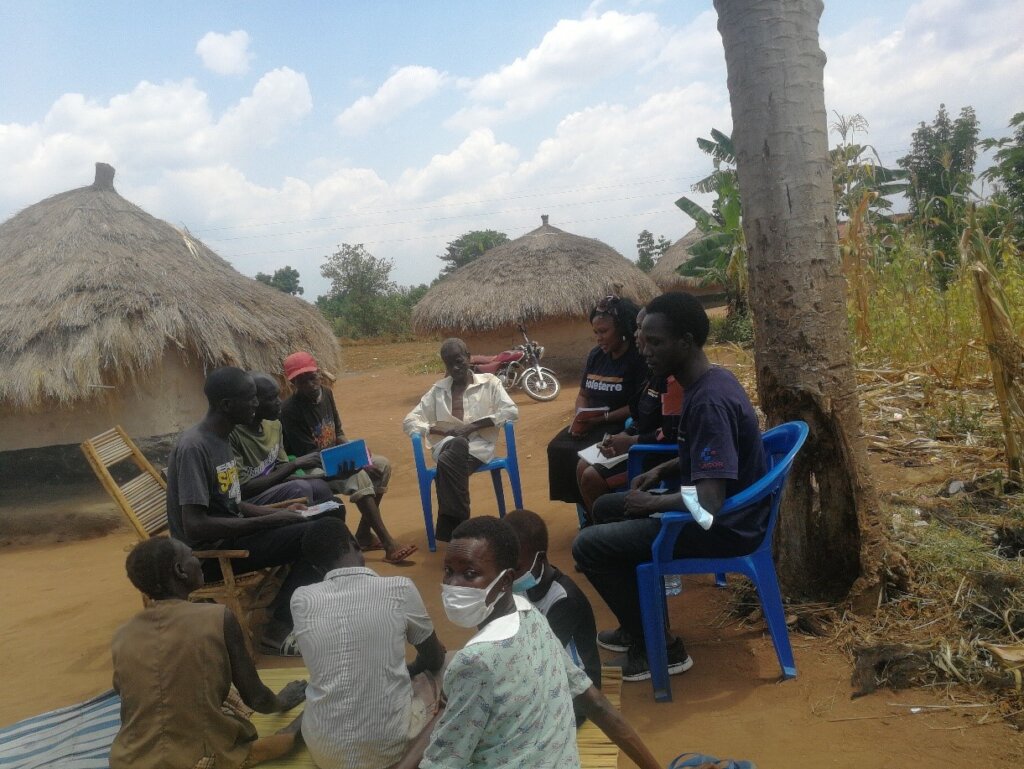 In early January 2022, Nancy, aged 11 years, developed a toothache and a small swelling on her upper gum. Her mother initially treated her with over-the-counter medications, but when the swelling increased, she took her to one clinic after another seeking answers about what was ailing her daughter. Nancy's condition continued to worsen, and her mother brought her to a major health center in their home district of Oyam in northern Uganda. The health center referred her to our hospital, St. Mary's Hospital Lacor in Gulu which is not far away from Nancy's home district. Nancy and her mother arrived at St. Mary's at the end of January. We found her to be extremely malnourished and she had a very large jaw mass which was painful to the touch. She underwent appropriate tests, including a biopsy of the mass which confirmed that she had Burkitt lymphoma.
Nancy began treatment for Burkitt lymphoma on February 2, 2022. After the first cycle of treatment, her mother who is the bread winner for the family requested that Nancy be discharged so that she could return to work. Nancy's father had passed away and her mother had four other children to look after. Unfortunately, Nancy did not come back to the hospital on time for her second cycle of treatment. We sent a team to her home to bring her back to us. After a rapid response to the first cycle of treatment, when we saw Nancy at home, her jaw mass had regrown. Because her mother needed to work, her aunt agreed to accompany her back to the hospital. Nancy resumed chemotherapy in late March – eight weeks after her initial cycle of treatment. Her aunt left Nancy alone in the hospital without anyone to look after her. Nancy returned home and her treatment was abandoned for the second time.
Our team visited Nancy at home at the end of July 2022. Her tumor had regrown since late March. Nancy's living arrangements were difficult because her mother was remarried and living with her new husband and Nancy was living with her grandmother. We brought the family and community members to Nancy's home to educate everyone about Burkitt lymphoma, its management, and the importance of adherence to planned treatment as well as the family's important role. The community members decided to withdraw Nancy's eldest sister (aged 17 years) from school so that she could take care of her at St. Mary's. Nancy resumed treatment – we decided to restart all therapy from the beginning to give Nancy the best chance for cure. Her sister has remained with her at the hospital and Nancy has now completed three cycles of therapy but must continue to receive an additional three cycles of therapy. She has responded well to treatment.
Nancy's home-life presented us with many challenges. Because her father had passed away, the only financial resources for Nancy and her siblings were derived from her mother's income. Nancy's living arrangements were complicated because her mother remarried and left Nancy in her grandmother's care. Our decision to involve the community was vital in ensuring Nancy's return to our hospital and adherence to treatment. Without the community's support and intervention, it would not have been possible for the family to continue to bring Nancy to our hospital for her much needed treatment.
We would like to thank her community for getting involved and making the difference in Nancy's care. Thanks to your generous donations, Nancy has received free treatment throughout this year. Thank you again for supporting children like Nancy who deserve every opportunity for a chance for long-term cure.