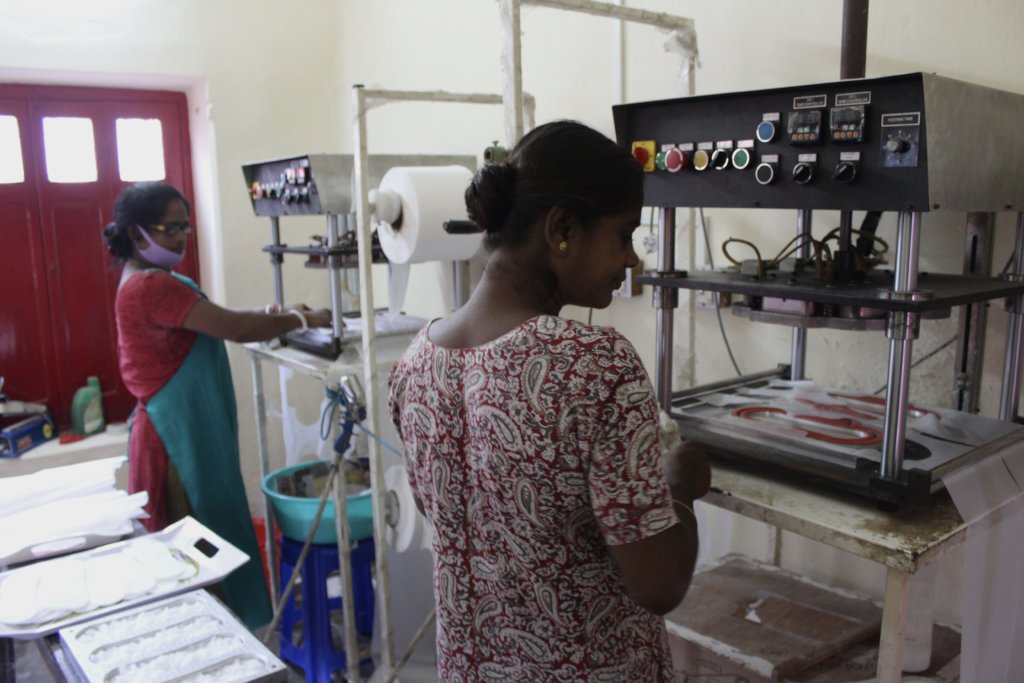 Dear Donor,
I was talking to the Director of New Light, Urmi Basu about Mukti and the women who are working at the sanitary pad plant this morning. She told me story after story of heartbreak and challenges but at Mukti, it's calm.
Mukti, which means liberation in Sanskrit, was chosen by the women as their company name because it represents what the project means to them. Social ventures such as Mukti, which give women the opportunity to work and to become financially independent, are extremely important in the fight against human trafficking. Without such initiatives, women who voluntarily exit sex work or escape sex trafficking would be at a very high risk of being forced back into the trade because of a lack of economic opportunities.
The social impact of Mukti does not stop there. Through their daily work, the workers of Mukti are empowering other women. In a country where only 3 in 10 women have access to sanitary napkins and 2 in 10 girls drop out of school after they get their first period, creating affordable, biodegradable alternatives to commercial pads and spreading awareness on menstrual health is extremely important.
This is why an important objective of Mukti is to distribute pads to school-age girls. Through these pads, Mukti contributes to the prevention of absenteeism, school drop-out, and even early marriage and childbirth. These distributions are carried out alongside a menstrual health awareness campaign to ensure that the girls are knowledgeable about their bodies and to shatter taboos that may affect their self-esteem and well-being. The rest of the pads are sold to women who don't have access to low-cost sanitary pads and are at risk of gynecological disease, gender-based violence, and missing work.
Because the napkins decompose in about three months, women can simply bury the pads in a pit and don't have to worry about hiding them or throwing them away far from their houses. Moreover, these pads don't harm the environment like all other alternatives currently present in the low-cost market, making them an innovative and ecological concept.
Mukti is a social business with a three-fold social impact: Giving employment to victims of human trafficking, distributing pads and creating awareness among at-risk girls, and reducing pollution connected to menstrual management methods.
By donating, you're helping empower women to empower others, all while taking care of the environment.
When you donate monthly, this helps us keep the stream of pads for girls funded. Thank you for your ongoing support.
Warmly,
Shana