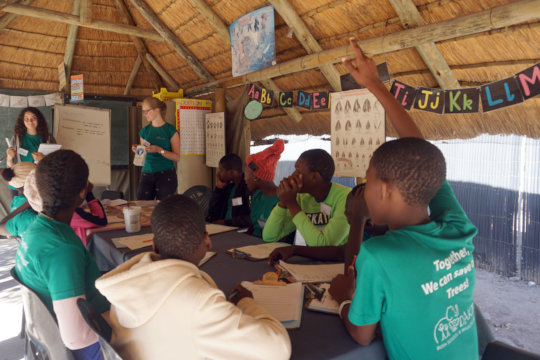 DAKTARI Bush School & Wildlife Orphanage works with local schools to educate children about the importance of protecting their environment. Each Monday, DAKTARI welcomes eight to ten new students to attend lessons and learn how to care of the wildlife and value their environment.
During this week, the kids learn about the environment with lesson about the impact of plastic on nature, anti-poaching, discovering the signs and tracks of the animals… At the end of the week, they make South Africa a better place lesson, in which they have to write down 6 promises that they are going to follow all their life. Those promises must be toward positive changes for themselves and the country, so they can proudly and directly be players of Making South Africa a better place.
During the lesson on the environment on every Tuesday, the volunteers make a little game with the children so they can understand better the impact of throwing rubbish on the ground for example. They have to guess how long it will take until rubbish like tin can or glass will break down to soil. The kids were very surprised to learn that certain things like plastics bottles are non-biodegradable and will never disappear. We know this lesson impacted them, because 7 of the 10 kids of the week chose to promise that they would never throw rubbish on the ground.
With your help we can continue to provide an education to these children so they learn about the impact of protecting and respecting the environment.