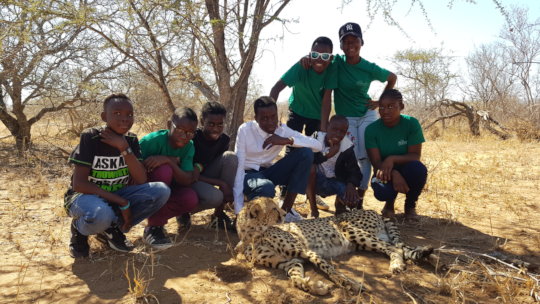 Every Friday, our volunteer teachers pick the weekly winner amongst the children that participated in our Environmental Education programme. As the most participative, respectful, involved, and curious students, the winners receive a gift along with a small tree to plant in their village. Every two to three months, DAKTARI also prepares a special treat for our weekly winners, so this September we took 10 most promising children from our education programme on a trip to Tshukudu Bush Camp for a day of exciting safari adventures.
Tshukudu Bush Camp is famous for its very human-friendly cheetah that was born in Tshukudu to her mother that was brought to the game lodge by the police after finding her being hand-raised in an apartment. When her 3 cubs were only six months old, the mother died and the cubs were hand-raised by the lodge staff in order to survive without their mother. The three cubs eventually grew up, but despite being free and not losing their natural instincts to hunt, they remain very friendly towards people. The children were excited to meet the famous cheetah and were even able to pet her. They also went on a safari drive, where they were happy to see two big white rhinos, giraffes, hippos, and other wild animals they don't normally get a chance to see. The guide also told the children a lot of interesting facts about the animals, their importance for the environment and the dangers they are facing.
Seeing the sparkles in the children's eyes after a day of fun and adventure gives an extra boost of energy to the work we do and after every trip like this one we are even more determined to inspire the future generations to preserve the precious natural environment.

Spring is in the air! Nature is waking up again and so are all the wild animals that have already started their annual season of welcoming new babies into this world. Ideally, the babies born in the wild stay there with their mothers, drinking their milk and learning to survive while exploring this brand new world. However, for various reasons some babies sadly don't get the chance to be raised by their mothers and are left to survive in the wild on their own. But, some of them are lucky enough to be found by nice people and brought to DAKTARI, where we make sure to give them the best care until they are strong enough to join their peers in the bush.
We were brought the first of our little baby gang in early September from a neighbouring farm, where they found a small bushbuck all alone and covered with ticks. They brought her to us and we have been hand raising her every three hours ever since. We named this gorgeous little bushbuck Pixie and she is now growing up happily along with our sheep Mouton, until she is strong enough to be released back into the wild.
We found our baby squirrels Jackpot and Lotto abandoned in our camp, while Fifi was brought to us by the good people from Sausage Tree Lodge. They are sharing their temporary home with our baby bunny named Burrito, who just like the squirrels decided to try and explore the big wide world a little bit too early. They are now all good friends and being syringe fed by our long term volunteers until they are big enough to rejoin their friends.
Our last, but no less cute baby was found abandoned at Thornybush two weeks ago. We named this little bundle of joy Peekaboo and have been syringe feeding her every three hours (including during the night). She's now beginning to explore her surroundings, happily jumping around and playing peekaboo every evening.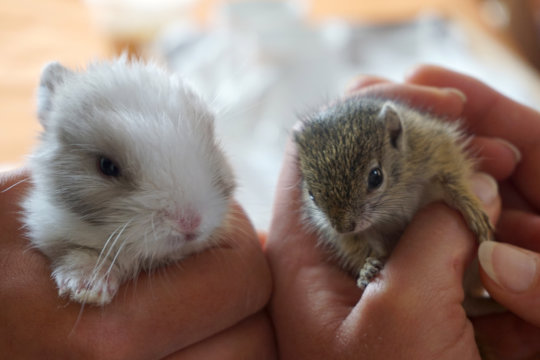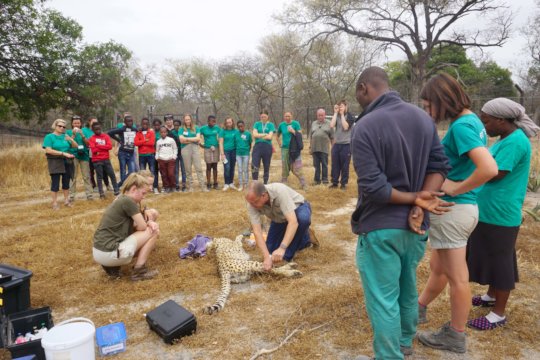 Welcome back in Martin's newsletter!
A quick update about the health of our wonderful Cheetah "Sir Martin".
Dr Peter Rogers, our Hoedspruit wildlife veterinary, visited DAKTARI to complete a full health check up on Martin. As he is getting older now we wanted to be sure that he is in good health and we are giving him the best care he deserves for his retirement.
After slightly sedating Martin, Dr Rogers gave him a full body check, including teeth, claws and blood tests to control his kidney and liver functions. The blood tests came back clear and Dr Rogers has confirmed Martin is in very good health for an old man!
In the meantime, Dr Rogers gave a full description and information facts to the local children and volunteers about cheetah. It was even possible to take pictures of each kid next to the cheetah while it was sleeping. The children could go home and show their pictures with the cheetah to their parents and peers.
Many thanks for your support and we will keep you updated with any changes to Martin's health.
WARNING: Javascript is currently disabled or is not available in your browser. GlobalGiving makes extensive use of Javascript and will not function properly with Javascript disabled.
Please enable Javascript
and refresh this page.